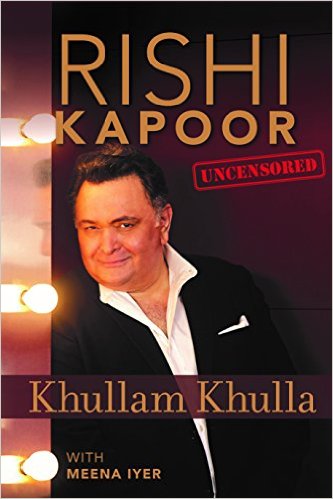 Book Review : Khullam Khulla by Rishi Kapoor
Another Bollywood biography, Khullam Khulla by Rishi Kapoor, is about his life and almost 50 years of his dedication to Indian Cinema. Rishi Kapoor himself has written this 'uncensored' biographical book along with Meena Iyer. 'Khullam Khulla' is a Hindi phrase that means candid and frank, which goes completely in line with the persona of Rishi Kapoor. Interestingly, the name of Rishi Kapoor's biography matches with one of his super hit song from the movie Khel Khel Mein.
Being the biographical account of Rishi Kapoor's life, Khullam Khulla incredibly sketches his life and career. From being a child actor in Mera Naam Joker (1970) to a naughty old man in Kapoor & Sons (2016), Rishi Kapoor has played numerous versatile characters on screen. There is a lot to tell about his larger than life glorious days and Khullam Khulla by Rishi Kapoor does justice to everything a true fan would want to know.
In his biography, Rishi writes about growing up in the family legendary stars, Raj Kapoor and Prithviraj Kapoor. He remembers he skipped his school to act in his debut film and his first National Award. Apart from the cinema talks, Khullam Khulla by Rishi Kapoor also mentions some of the unknown and controversial side of the actor. Rishi tells it all; from the encounter with Dawood Ibrahim to his professional relationships with heroines and otherwise. He also opens up about the period of fighting depression. Above all, Khullam Khulla is all about his honesty to his craft.
Writing Style

Interesting
Vowelor Review
An actually uncensored account of Rishi Kapoor's life with so much to tell. A true feast for a fan.
About the Author : Rishi Kapoor & Meena Iyer
One of the finest and legendary actor, Rishi Kapoor, started his career as a child artist in his father, Raj Kapoor's magnum opus film Mera Naam Joker. His first lead role was in Bobby in which his style and chocolate boy image became a trend. He started a new era of musical romance films in Indian cinema. Rishi became the most successful and remembered actor of 1970s. After almost half a century, he has played so many characters including the negative roles like a don in D-Day and the non-mainstream roles like a pimp in Agneepath. His career in itself is an inspiration for any actor.
Meena Iyer is a senior journalist at the national daily, the Times of India. She is the editor of Bombay Times and best known as a film critic. Meena has friendly relations with almost the whole film industry and can be seen on film sets as well.