Accidentally Working Class is an urban fiction book by the author Karly Lane (also known as Karlene Blakemore-Mowle) published in the year 2022. The book chronicles the lives of the Appletons, one of the oldest and richest families around. 
Accidentally Working Class is different and far better than any urban fiction that has recently made its way out to the readers. It belongs to the contemporary genre and will eventually give some life lessons, while leaving you doubled up at times.
Here's a snippet from the book:
Quinn felt the shift of uneasiness around the table begin to grow. 'Firstly, my three children, Jethro, Tobias, and Davina,' she said, her gaze falling on each one in a measured, calculating move. 'You've all been employed and part of the Appleton's business now for a long time. Years, in fact. The company has given you a lifestyle many would envy, and for very little asked in return from you. In fact, all that is asked of you is to turn up to the meetings and make a useful contribution to the company that's given you everything.' Gran paused, and her eyes hardened. 'And yet none of you have bothered to come along to a meeting even once this year. In fact, I can count on one hand the number of times any of you have even been seen at the office in the last three years. I am sick and tired of dealing with this kind of disrespect.'
Quinn was too scared to look over at her parents' faces, but she could sense the discomfort from everyone present.
'Mother, you know that we've had a number of disruptions this year…' her father began.
Gran cut in briskly. 'Renovations on your house, running three times over budget, is not an acceptable excuse to avoid your responsibilities to the company.' 'Well, I've had health issues,' Davina put in from up the table.
'Darling, a boob job and a stint in rehab are not classed as health issues,' Tobias countered snidely. 'Oh, you'd know, Mr. Chin Implant,' Davina retorted. 'And, for the record, it didn't work. You still have a weak chin and now you just look like an aging Roger Ramjet.'
'You take that back, Crack House Barbie,' Tobias sneered. Quinn closed her eyes briefly and counted to five, releasing her breath slowly, just the way her therapist had taught her to do in times of stress. 'Enough!' Gran snapped impatiently. 'You've all been fired.' A chorus of disbelief echoed around the table and
Greta glared at her grandmother. 'You can't fire your own children. It's a family company.' 'Oh, I can,' Gran said simply. 'Which brings me to my grandchildren. I'm putting a stop on all the company cards, and your trust funds have been frozen until further notice.' The what now? Quinn opened her eyes and blinked uncertainly, exchanging a confused glance with her brother. All thoughts of Bryson suddenly vanished.
Book Review: Accidentally Working Class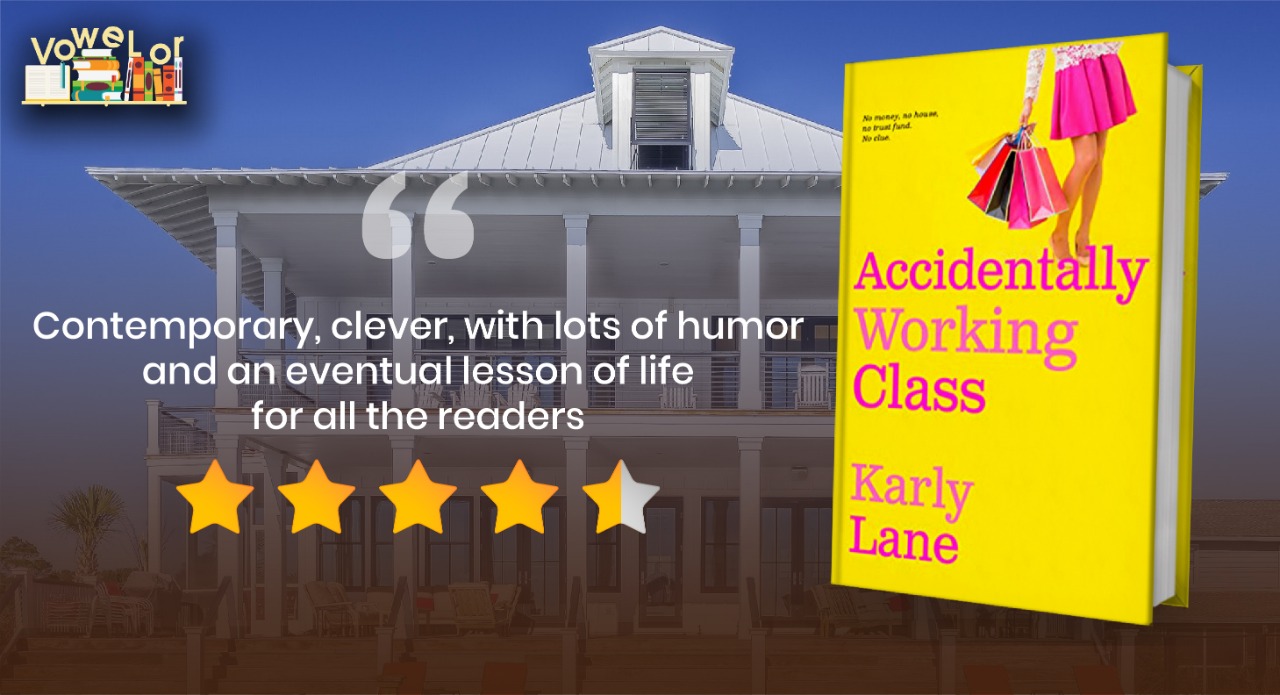 The storyline of the book is just so good, something that I haven't read in a very long time, refreshing, insightful, and something that make us pondering over the kinds of lives we all lead. Are we grateful for all we have? Have we worked enough for whatever luxuries we have? Have we started taking it all for granted? If not, are we still putting enough efforts for it?
Plotline aside, the way each situation has been penned down is commendable, just the enough humor and insights. I absolutely recommend it to all the readers.
| | |
| --- | --- |
| Storyline | ⭐⭐⭐⭐⭐ |
| Characters | ⭐⭐⭐⭐ |
| Writing Style | ⭐⭐⭐⭐⭐ |
| Vowelor Review: Contemporary, clever, with lots of humor and an eventual lesson of life for all the readers | 4.5 |
✅ Get your copy of Accidentally Working Class by Karly Lane on
Amazon now
!
My Thoughts about the Book
As someone with a regular eight hour job, I understand exactly what it takes to get a monthly paycheck; bunch of working weekends, limited social life, late nights, strict deadlines and whatnot. Because you know, we aren't bestowed with unlimited wealth and luxuries from our early lives and we have been taught that each of that said luxury needs a certain effort from our sides. However, there is a specific sect of people who fails to understand that.
Karly Lane's Accidentally Working Class tells the tale of one such family, where the younger generations have been taken all of which that is provided to them, for granted. As their misdemeanors progressed towards being blasphemy towards their legacy, all of their luxuries get cut off by the family matriarch. As an advocate of independence myself, I absolutely loved the concept of teaching people what it takes to be it. With the incorporated humor element, the story becomes even more relatable.
If you are someone like me, you'll absolutely love the book. If not, try picking it up and trust me you won't get disappointed.
About the Author: Karly Lane

Karly Lane is an author and part-time pathology collector from the Mid-North Coast of New South Wales. She has recently published her nineteenth book, Accidentally Working Class. It is an urban fiction that chronicles the life of a certain Quinn Appleton, and her adventures as well as misadventures as a privileged-turned-working class.
She is a wife and mother of four. She lives in rural Australia, which is the backdrop of most of her women-centric novels. Karly also writes romance and suspense titles under the name of Karlene Blakemore-Mowle.