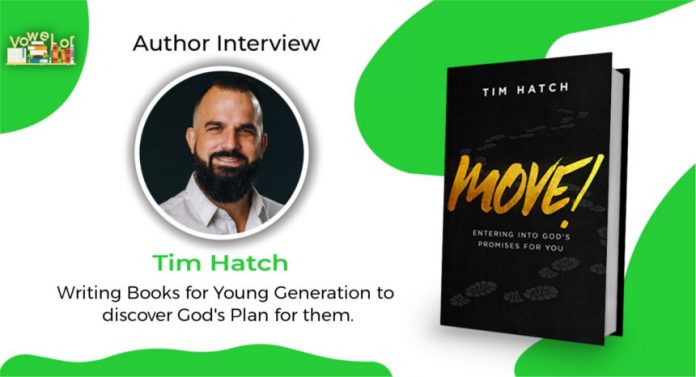 It is not easy to comprehend the wisdom in religious books for today's generation as they were written hundreds of years ago. Author and Pastor Tim Hatch is making it right by putting Christian wisdom with modern-day perspective in his books.
At Vowelor, we had a chance to have an exclusive interview with Author Tim Hatch whose latest book, Move: Entering into God's Promises for You, got published in 2021. It is about mindsets and principles that help you to move forward in life.
Before we get to our conversation with Tim Hatch, let us first know a little more about the author.
About the Author: Tim Hatch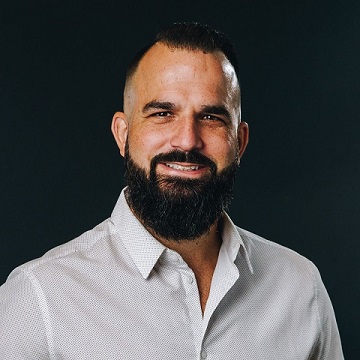 Tim Hatch is an author and pastor at Waters Church, Massachusetts. Tim's debut book, Move, got published in 2021. Tim believes in sharing gospel-centered solutions to modern-day problems of the young generation. And, that is one of the inspirations behind writing this book.
Not only writing, but Tim also runs a podcast 'The Deep End' where he discusses faith, the Bible, politics, society, etc. Tim also leads a TV show 'You Matter to God' which is aired across Southern New England reaching 400,000 homes every week.
Tim was raised in a small town in Western Massachusetts. Monson. It was nice but everyone knew too much about him. He wanted to be surrounded by more people and nearer to bigger cities.
His parents became devoted Christians just before he was born. They started a church with his pastor grandfather when he was young. He was raised in a loving family all his life. The greatest blessing he could imagine.
Tim holds a Master's Degree in Theology and has over two decades in public ministry. He has planted 6 churches and pastors an international multi-site church today.
Further, Tim Hatch discussed his childhood, his reading habits, and more interesting things about himself. Read his answers below.
What were you like at school? Any childhood memory you would like to share.
I was a good student and sometimes a handful for my teachers. I can remember great times in band and in the math league.
What is your biggest achievement till today?
Not sure. Perhaps finishing this book.
Which writers inspire you?
Tim Keller, John MacArthur
Writing is stressful at times. How do you relax your mind?
I have a silly video game on my phone to take my mind off the job. I also love doing my YouTube channel and appreciate the interaction in real-time with real people that provides.
What is your favorite motivational phrase?
Do not fear, for I am with you!
What advice would you give to your younger self?
God will always provide. When you think it's over, it's not.
What books do you like to read personally? What are you reading currently?
History, The American Story by David Barton. I am also reading Unseen Realm by Michael Heiser.
If you could have been the original author of any book, what would it have been
and why?
The Da Vinci Code. I would have used my talents to encourage skepticism in governments rather than the church. It's a thrilling book with the wrong target in mind.
What made you decide to sit down and actually start writing?
I want to spread what God has given me to far more many people. I wish to encourage and uplift the body of Christ.
Do you have a special time to write or how is your day structured?
No, I'm very busy pastoring and YouTube producing. I fit it in around those times.
About your Book: Move! Entering into God's Promises for You
Read Preview on Amazon
Move by Tim Hatch is a practical and uplifting book that focuses on 'movement mindset'. The book discusses the lives of Joshua and Caleb and through their actions, the reader can learn to lead a life of acceptance, seek God's presence and his plans to move forward positively.
It helps you not to fear the change and move forward rather than being stuck into your current life condition. After each chapter, Tim has shared questions to ask yourself and actions you can take to imbibe these learnings in your life.
Stay connected to read the full book review of Move by Tim Hatch which will be published on Vowelor soon!
What genre is your book? What draws you to this genre?
Christian inspiration. This sort of book is what helped me grow in faith for many years.
How was the idea for the book originated?
I began by exploring previous sermon series. One of them led to the book and I'm quite happy with it.
What makes 'Move: Entering into God's Promises for You' stand out in this genre? What should a reader expect from it?
I think this book stands out because of Covid lockdowns. It's time for people to get moving again. I feel we have slid into a "cave" mindset and God does not want that for any of us.
The book teaches important life lessons through Joshua and Caleb, the heroes from Bible. Any special reason for using these characters?
They made it where God wanted them out of 600,000 Jewish men. That is incredibly inspiring. You could say they had a less than 1% chance of success and they got it. What made them stand out is the key to an age of self-doubt and constant comparison.
What is the reason you write for; is it for the readers or your own self or some other thing?
For the readers. I haven't made much on this book yet and I'm more concerned that people grow closer to God through it.
Any special experience about 'Move: Entering into God's Promises for You' that you would like to share.
Visiting Guatemala and the last chapter. I actually wrote that last chapter on my third trip to the country after swearing I'd never return upon my first trip. The Lord changes us and then leads us in ways we may not want but always need.
Future Plans
What are your ambitions for your writing career? Are you working on your new project?
I've begun work on my second book, "Erasing Emptiness: Finding Fulfillment in God No Matter Where You Are."
What does success mean to you as an Author?
Sales in many countries and translation of my book in many languages.
One learning that you'd like to pass on to young debut authors.
Get going. You'll never think you're good enough, smart enough, or able. God will empower you as you step out and start.
Your opinion about Vowelor.
I'm excited to work with you!
Want to know more about Tim Hatch? Connect with the author on Facebook, Instagram, Twitter, Youtube, and his official website.
Are you also an author? Get your book featured on Vowelor now!