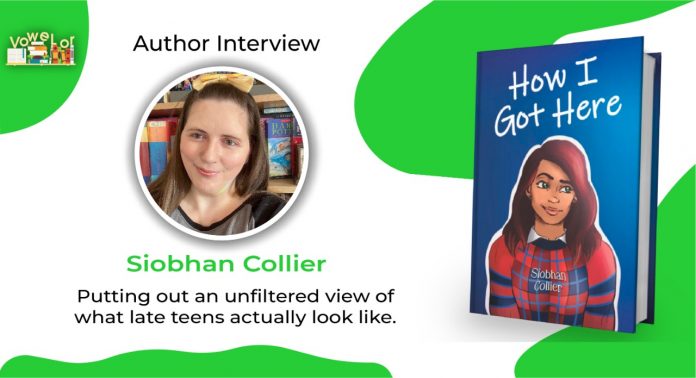 Teen years are one of the most complicated time frames of one's life. Dangling between 'not too young' and 'not too old', we tend to make choices that may or may not have considerable repercussions. Siobhan Collier has penned down one such story of the choices one makes under the avalanche of teen emotions. However, what actually matters is letting go of such experiences, forgiving oneself, and making better choices after that.
After the release of her book, How I Got Here; we, at Vowelor, had an interesting conversation with Siobhan about her writing. But, before we continue with her interview, let us know a little more about the author.
About the Author: Siobhan Collier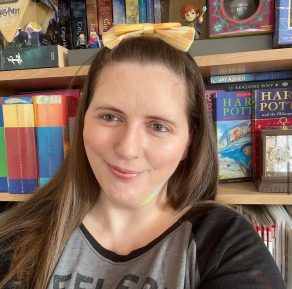 Siobhan is a full-time author from Essex, a county in southeast England, with her son. She has recently published her debut novel, How I Got Here which is a contemporary young adult story revolving around Kayleigh and her struggles through her late teens.  
Siobhan loves reading classical literature, romance, mystery, and crime novels, however, young adult contemporary is her favorite genre. Due to her love for literature, she has been writing since she was fourteen years of age. 
Further, Siobhan shared about her childhood, her writing journey, her inspirations, and more interesting things about herself. Here are all of her interesting answers: 
Tell us about your parents and family.
I come from a somewhat mishmashed family. My father left not long after I was born and I've had a stepdad since I was 4, so for all intents and purposes he's my dad. Altogether I have six brothers and sisters (I'm the second youngest of the seven of us) but there are step and half as well as full siblings.
When and where were you born and brought up?
I was born in Essex, and I've grown up here too. The only time I left to live elsewhere was when I was at university in Lincoln. I always dreamed about emigrating as a kid but unfortunately for me, it hasn't worked out.
What were you like at school? Any childhood memory you would like to share?
I was fairly quiet at school. Most of my reports said the same thing, intelligent but doesn't try as hard as she could. I think it comes down to the school I went to in year one, they set pieces of work in the morning and we had all day to work on them. I often finished before break, so spent most of my day playing. Also, having an Irish name in England, especially back before the internet gave us all our answers, they would mispronounce my name, and I was shy, so I would never answer the register when they called me. I would make eye contact, or raise my hand, and that was it.
What are your educational qualifications?
I got a Bachelor in Media Production, as well as my GCSEs and A Levels. I've been studying since then too, a bookkeeping course, management courses with my day job, things like that. I didn't take English past my GCSEs, my English teacher at the time put me off. She didn't like me very much, but I'm not sure why.
What is your biggest achievement till today?
I think there are a couple of big achievements in my life! I'm a single mum to a fifteen-year-old (who is slowly reading my book but hasn't commented much yet), and I developed a rare blood condition when they were a year old. I wrote the first draft of my book when I was in remission. That was a massive achievement for me.
Which writers inspire you?
There are so many writers who inspire me. C.S.Lewis, Enid Blyton, Ann M. Martin, Judy Blume, Paula Danziger were all big influences on me as a kid. More recently, I love Julie Mayhew, Becky Albertalli, Holly Smale, Holly Bourne, Mel Darbon, Annabel Pritcher, Sarah Crossan, Simon James Green, Patrice Lawrence, Katherine McGee, Krystal Sutherland, and Erin Lange … there's a huge amount of YA writers out there with a wealth of talent. Outside of YA, I'll read Sophie Kinsella, Neil Gaiman, Jane Austen … and I love a good classic, like the Count of Monte Cristo or Anna Karenina.
Writing is stressful at times. How do you relax your mind?
I tend to go in cycles. So if I'm struggling with writing, I'll read. If I can't read or write, I'll go out and do something. It gives your brain time to rest and come up with the next scene and gives you inspiration and experience for other book ideas.
What is your favorite motivational phrase?
The only one I can think of, I'll probably have to edit a little! But, "chuck it in the bucket and move on." – if I'm getting too bogged down in the details, it's a good reminder to pause on that and get to the next part, be that my book or something in my day-to-day life.
What advice would you give to your younger self?
I think mostly I would tell my younger self to have more confidence in her abilities, to ignore all the voices around her that tried to minimalize her passions. Those voices still linger even now, as memories, and I wish younger me had the conviction in her talents to continue regardless. And that bravery is about action despite fear, to be brave in pushing her writing and reaching out for new opportunities.
What books do you like to read personally? What are you reading currently?
As above, I love reading books from the genre I write in, so Young Adult contemporary is my go-to. But I do like classics, whatever the genre, and if a friend has a recommendation I will read it too. I think that's the best recommendation for a book, someone who cares about you saying "I think you'll like this". But I will read pretty much anything so long as the characters are compelling.
Currently, I'm reading an MG contemporary, "The Retake" by Jen Calonita, about a girl whose friend is growing distant, and an app appears on her phone to rewind to the past and try and make a difference. I can see where the story is going but the richness of the characters is making it enjoyable nonetheless.
If you could have been the original author of any book, what would it have been
and why?
The Geek Girl series by Holly Smale. It's a great mix of young adult narrative, Holly's past in the modeling industry, and an abundance of facts that the main character, Harriet, can relate to in her everyday life. It's funny but touching and so visual as well.
What made you decide to sit down and actually start writing?
I think it was my tendency to watch television with my family and start saying lines before they were spoken, or ending an episode frustrated by the character's decisions. So I started writing out my own interpretations, then learned it was fanfiction I had fallen into. But after a while, I started thinking about what I would put into a story I had created myself and as I worked on one, new ideas sprouted up. It wasn't a conscious decision to be a writer, it's something that just felt natural.
Do you have a special time to write or how is your day structured?
My job is flexible in hours so I tend to write around shifts. I feel more comfortable writing in the evening when there's no pressure to stop and do other things, but it's not set in stone. I do it when I can, where I can!
What is the reason you write for; is it for the readers or your own self or something else?
I think I write because it feels natural to do so. It's like on the page I can live lives that were never an option for me. I can delve more into how people work, why events go in the pattern they do, and use everything I'm still learning to create a good narrative. Even if I didn't think to publish, I would write. When I was relearning everything again after my episode with my blood condition, writing was one of the things I got back to first. That others think I can tell a story well is a bonus.
About the Book: How I Got Here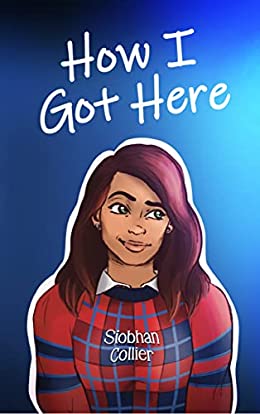 How I Got Here is one book that portrays late teens as messed up as they actually are with concepts like constant need for validation, peer pressure, emotional instability, and some bad decisions. Kayleigh, the protagonist, had a past just like any other teen, but she got a chance to start over in a new place and among new people. Though it was pretty much a shocker to her, what's there to see is how she uses this very chance to a new life. 
What genre is your book? What draws you to this genre?
How I Got Here is a Young Adult Contemporary. I love YA Contemporary for a few reasons. With kids' books, the world is full of wonder and magic. In adult books, there's an intelligence to the writing that respects the reader's comprehension. Young adult mixes the two and asks big questions, and tackles important issues. There's still magic and hope, there's determination, and there's intelligence for the characters and readers. Whichever genre YA falls into – contemporary, romance, horror, fantasy –there are always those elements. And I recently saw a talk that Holly Bourne was part of, where she said that the teen years are so formative because according to studies done, that was the age we would begin to find our place in tribes centuries ago, and it's still part of our DNA. Even adults wonder where they fit and reflect on the strong memories formed as teenagers to look for clues. It was something that resonated with me as a YA lover!
What was the inspiration behind writing this book?
I had a few sources of inspiration. I had been writing another story and had created a character who still feels like a younger version of Kayleigh. I wanted to give her more of a voice, from a teenage perspective. I was also reading some of the earlier young adult books and noticing a theme throughout them that was a necessary talking point, but only seemed to go one way. I wanted to explore a different path, at a different point. And from the immigration aspect, when I was seven, two girls from Michigan joined my class. I was amazed and started asking my parents to emigrate. They said no, but it was something I always wanted to make happen. Putting it in a book was the easiest way to do so.
What makes 'How I Got Here' stand out in this genre? What should a reader expect from it?
I think what makes it stand out is the fact that the angle I've chosen is different to a lot of stories dealing with the same subject matter. Those books discuss the emotions as the events are happening, how they came to be, and the climax is the decision. In How I Got Here, the decisions have been made, and the aftermath includes rebuilding relationships and exploring the resulting feelings from the events before the book. Hindsight is always a better perspective, and that is what I was working with more throughout the story. A reader should expect themes of friendship, the changing relationships we have with our parents as we grow, the search to find our place with our peers, and the impact that peer pressure can have on our future and other relationships in our lives.
The book focuses on concepts like migration, peer pressure, constant need of validation in teen years, a fresh start, and a lot more. What were the hardest and the easiest things or ideas to incorporate?
That's a tough question! I think my first draft had a lot more issues thrown in, like I was trying to do everything all at once, but only in a superficial way. Knowing what to cut and what to develop was harder than putting it in, in the first place. I kept asking myself "what is important for the story?" Whether that was directly involving Kayleigh herself, or it would be indirectly influencing a relationship she had with another character. I also wanted to touch each element with respect and compassion, so sometimes the hardest thing about any idea was the correct word or way of phrasing a line, or how someone would naturally react to another person in their state of mind. In short, the ideas were easy, the details were harder.
Is there any special experience throughout the writing process of 'How I Got Here' that you'd like to share?
The writing process has been a long one for me with this story. I wanted to do the themes and the characters justice and that meant rewrites, edits, and beta readers … I wrote the bones of the story while my mind was still catching up with what my body had just been through, and it's taken several years of re-reading it and knowing it wasn't where I wanted it to be to hone the story. In that time, I've met several people who have made me think of a character I've created, which has been a strange coincidence for me!
Future Plans
What are your ambitions for your writing career?
I would love to be able to just write full time, have my books in bookstores, be able to attend events like Young Adult Literature Convention as an author, write books that mean something to me that touch others too. Having a successful writing career would be my dream role.
Are you working on your new project? What will be your next book about?
I have a few WIPs at the moment. I've been working on a story from Carter and Curtis' perspective, set a couple of years after How I Got Here. It's a dual narrative, of them trying to work out a decent relationship as the next stages of their life begin. I also have a first draft that's still stewing that was inspired by Billy and Me, by Giovanna Fletcher. I had wished for that story to be closer to her own experience and it wasn't, and that made me start plotting a story that at least follows the loosest interpretation – an established relationship between two teenagers before one of them becomes famous and what happens as a result in their relationship. And I've also been plotting out a story based on fairy tales, but I'm still working on the plotline for that. So, lots in the works! But Carter and Curti's story will probably be the next book, the others still need developing.
What does success mean to you as an Author?
I think success as an author is being able to walk into a bookstore and see your name on the spines in the racks or on the future tables. It's going to a book signing as the author and having people wanting to engage about their favorite characters, or which scene stood out to them. And it's also being able to live just off book sales, no other career subsidizing your rent/food, etc so you can write and edit all the time, and create books that readers will enjoy.
Do you prefer self-publishing or traditional publishing and Why?
I don't have a preference. I've looked a lot into traditional publishing and met a few agents, who are all so passionate about books and such great cheerleaders. I think though, that both have their benefits and their limitations, so it's just about what is right for the author. In the end, after subbing to a few agents and getting wonderful feedback, I decided that in this instance, self-publishing would be best for me. I'm still learning as I go along, but it's been an interesting process so far.
One lesson that you'd like to pass on to young debut authors.
I think the lesson would be to do research, take your time, and consider what's important to you. In terms of the content of your book, don't be afraid to cut something, or stand by a decision you've made for your book, whether you have an agent or have an editor. Don't be afraid to redraft and edit to make your story stronger. And trust your gut, if it's telling you to self-publish then do so, if it's saying to try for traditional publishing, then best of luck!
Your opinion about Vowelor.
I've been learning a lot from Vowelor, and Guneet who I've been working with is always warm, and quick to respond. She's talked me through things I don't quite understand and involves me at every stage as much as possible.
Want to know more about Siobhan Collier? Connect with the author on Instagram and Facebook.
Are you also an author? Get your book featured on Vowelor now!