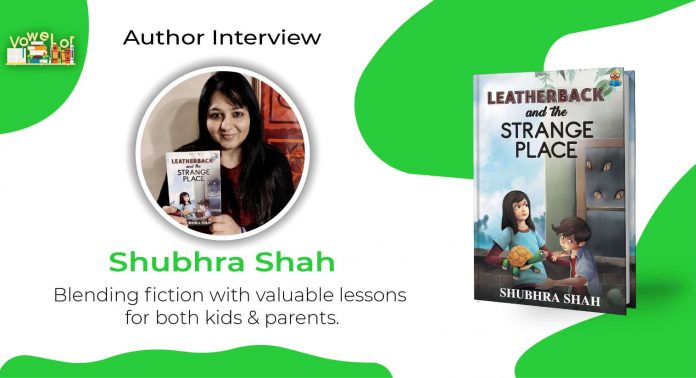 In recent years, parenting has become a hot topic for writers. Although it is much needed, some authors get too preachy and less practical. But, there are some witty authors who succeed in writing books that help parents as well as kids.
Vowelor feels proud to introduce you all with Ms. Shubhra Shah, author of 'Leatherback and the Strange Place', who beautifully combines fiction with valuable lessons for both kids and parents to create interesting stories.
Without waiting anymore, let us know more about the author in this exclusive interview she gave to Vowelor.
About the Author: Shubhra Shah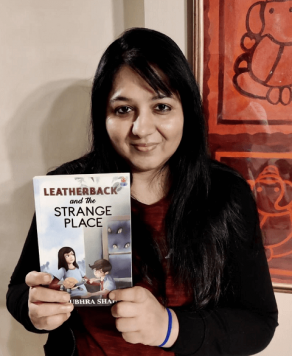 Shubhra Shah is a psychotherapist turned author from Alipore, Kolkata. Her debut book 'Leatherback's Big Win' got published in 2016. She wrote her second book in the same series with the title 'Leatherback and the Strange Place'. It was released in 2019.
She grew up in her great grandfather's huge heritage house with an extended joint family and a lot of space for them to play. All together they were 50 people under one roof.
Her parents are very simple homely people. They were available for her and her brother at all times and raised them with a lot of love and care and gave good education.
Her childhood was amazing and her grandmother was the one to recite bed time stories to her and her cousins.
Shubhra completed her education in English from Saint Xavier and did vocational training in psychotherapy from Kornash.
She shared more about her early life and how she got into writing stories. Read further to find out.
What were you like at school? Any childhood memory you would like to share.
I was a Tomboy in school, very mischievous and naughty. I was an average student and sometimes I would even struggle with my English language. My childhood memories are mostly of the gang of cousins I had with whom I was always up to some thing.
What is biggest achievement till today?
My achievements are that as a psychotherapist I have given relief to many people that is very gratifying, I have raised two beautiful kids as a single parents and of course I am very proud of my two published novels.
Which writers inspire you?
I love Indian writers like Ashoke Banker, Chitra Banerjee Devakaruni. I was very much inspired by David Mitchie, Ken Folett, Jeffery Archer.
Writing is stressful at times. How do you relax your mind?
I relax by swimming and walking, music and movies.
What is your favourite motivational phrase?
It's never too late , so just do it.
What advice would you give to your younger self?
Read more.
What books do you like to read personally? What are you reading currently?
I like to read non fiction, right now I am reading " The Rape of Nan King" iris Chang
If you could have been the original author of any book, what would it have been and why?
I would have loved to author " Dalai Lama's Cat" it is a highly evolved book spiritually and it can change a person's life for the better.
What made you decide to sit down and actually start writing?
While I was studying for my psychotherapy classes many thoughts were passing through me , I started noting it down, and since I have always been a story teller to my kids I started creating a story.
Do you have a special time to write or how is your day structured?
No, I write as and when I get some ideas or sometimes I make voice notes and then inculcate it in my stories.
About the Book: Leatherback and the Strange Place
Leatherback and the Strange Place features a young girl Sara and her animal friends – Leatherback the tortoise, Queenie the cat, Loro the parrot. The story is about solving the mystery of how her mother went missing.
Leatherback leads the investigation with Sara and her friends and end up in a house and during the course the lessons they learn. Shubhra has beautifully incorporated events and villain etc. to make the kids learn about life's challenges.
Stay tuned for the complete review of Leatherback and the Strange Place that will be published soon on Vowelor.
Wise Words from the Author

"Stories can change lives it helps you uplift your mood and sometimes it restores hope and faith- something which gets worn out in this competitive world, stories should be able to change one's inner voice, from a defeated person your own voice can tell you to become a warrior in life." is what I like to tell parents and emphasize on importance of reading.
We had some more questions about the book and author Shubhra Shah shared quite interesting things about it.
What genre is your book? What draws you to this genre?
My books 'Leatherback's Big Win' and 'Leatherback and the strange place' is coming of age fiction holding powerful messages for both kids and parents. I enjoy reading and writing stories which is interesting but at the same time children can take valuable lessons.
What makes 'Leatherback and the Strange Place' to stand out in this genre? What should a reader expect from it?
My second book 'Leatherback and the Strange Place' is a mysterious tale through the tortoise who already has a keen insight into the human world. In this story I have has added a few villains as I feel the children should read about the negative forces present in this world, this book also emphasizes on the fact that one should come out of their miserable comfort zone and fight all odds in their life. My favorite quote from the book is " Bullies are a coward in the grab of toughness, but cheaters, they are plain and simple hateful." This being a strong message for children competing in any field.
What is the hardest & the easiest thing about writing a children's book?
Hardest thing about writing for children is that because one has to be very careful and tactful while writing for children, as they are very observant and impressionable , the story has to be interesting and paced in a manner that it holds their attention. The easy thing about writing for them is that the language can be lucid and easy going.
What is the reason you write for; is it for the readers or your own self or some other thing?
I write for the over all happiness that I get from telling stories and how my stories influence and empower children.
Any special experience about 'Leatherback and the Strange Place' that you would like to share.
When unknown readers reach out to me and appreciate the story I really feel encouraged, the book launch of the book went off really well and holds a special place in my memories.
Future Plans
What are your ambitions for your writing career?
I would like my books to reach to every corner of the world and I hope that someday a cartoon film is made both my books.
Are you working on your new project? What will be your next book about?
I am working on a new fiction which is actually meant for adults.
What does success mean to you as an Author?
If I can convert non readers into readers that would mean a lot to me. I have been called to many schools and addressed over thirty thousand children on reading and inspirational messages on my books, that is part of my success.
Where can you see yourself in 5 years' time?
Coming up with some academic books.
Your opinion about Vowelor.
Hands on and useful.