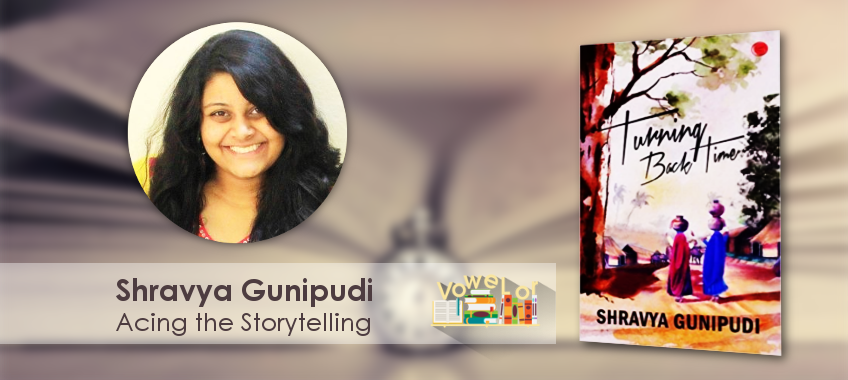 We all love good stories. Don't we? But a good story gets even better with the way it is told. Remember your grandma tales? No one would tell them better the way she did or still does. So without a doubt, the storytelling matters a lot.
Very little number of authors have that magic of words that could embark the story onto the walls of heart and brain of the readers. In Indian literary landscape where the 'college romance' authors rule, there are some writers who stand out of the crowd because of, what else, their storytelling.
At Vowelor Featured Program, we had a conversation with one such author who has definitely aced the art the art of storytelling – Shravya Gunipudi. Her story for a being Chartered Accountant to her debut novel 'Turning Back Time' is definitely worth reading.
About Shravya Gunipudi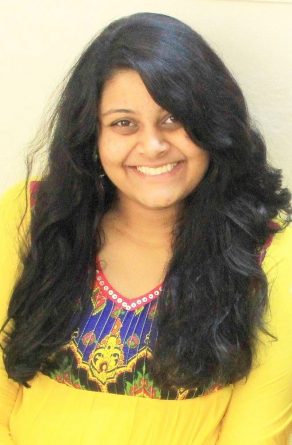 Shravya Gunipudi was born in a tiny city called Tirunelveli in Tamil Nadu in the year 1993 but She was brought up in Hyderabad. After being a less-spoken in early days, She went on to become Chartered Accountant. She is now a qualified Company Secretary and holds a B. Com degree majoring in Accounts and Finance.
Her writing journey started at the age of 9 and she has been writing since then. She has been awarded at a lot of platforms and been a part of 19 anthologies with 17 published stories. She is also the editor of the project 'The Book of Dreams', by Numerique Publications. Shravya believes writing is the utmost form of expression that calms the mind and frees the soul.
Now that you have known her as an author, let us know Shravya as a person on the inside while she answers our questions candidly.
What were you like at school? Any childhood memory you would like to share.
This is going to be a long story.
Till I was a teenager, I used to be an introvert. So, during that time, I was always by myself. I hardly left class, had very few friends, got average grades and would find numerous reasons to bunk school. Then things changed.
When I turned 14, I became an extrovert. I was hardly ever in class, participated in every contest that came my way (Essay writing, Kabaddi, Elocution, Skits, Throwball, Singing, Basketball, Crafts, etc) and was also Captain, Cultural Secretary, and Head Girl during the last three years of my school life. I ended up being the Commerce Topper in junior college. This drastic change, in a nutshell, is my favorite memory.
What is your biggest achievement till today?
Ever since I was eight years old, I had a dream… to call myself an author. It took 15 years, but nothing can make me feel happier than that.
Which writers inspire you?
Sophie Hannah, for the way she effortlessly spins thrillers with unimaginable twists and turns. Josephine Cox, for the depression she manages to invoke in her readers' minds
.
Writing is stressful at times. How do you relax your mind?
I use writing as a means to escape from stress.
What is your favorite motivational phrase?
Either write something worth reading,or do something worth writing about.
What advice would you give to your younger self?
Stay strong and never give up. You'll rise like the Phoenix one day.
What books do you like to read personally? What are you reading currently?
I love reading thrillers and tragedies. At the moment I am re-reading Doll by Nicky Singer. Amazing book.
If you could have been the original author of any book, what would it have been and why?
I feel like I would have loved to write any book by Judy Blume if I could have the courage to portray sex as blatantly and as matter-of-factly as she does.
What made you decide to sit down and actually start something?
An article I read about the 'worst regrets people have before they die'.
Do you have a special time to write or how is your day structured?
I write on my phone. Yes, you read that right. Most days, I will wake up after midnight and quickly type down a chapter or two on my phone. Then the next day I will make adjustments to it on my laptop.
Turning Back Time By Shravya Gunipudi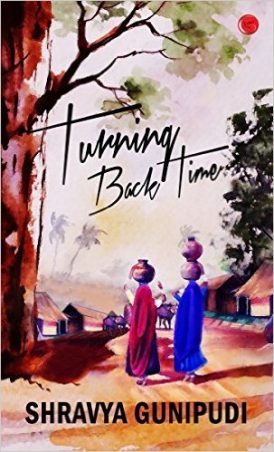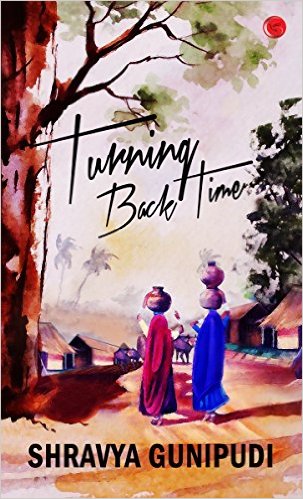 Turning Back Time by Shravya Gunipudi is not one story but a number of emotionally striking stories interweaved together with the protagonist, Alia, being the string.
Shravya Gunipudi has devised this character, Alia, a 25-year-old girl and the story of Turning Back Time revolves around her. Alia is not into getting attached to anyone. She lives with her mother and is the only bread-winner of the house. For that, she does two jobs, one at a daycare center and other at an old age home where she meets and gets friends with four elderly characters – Raman, Hema, Girish, and Sita.
Each of these characters in Turning Back Time by Shravya Gunipudi are well thought. Alia gets to know the story of their lives and the decisions they took. Shravya has effortlessly  portrayed sensitive topics like domestic abuse, Sati, love and sexual harassment. All these stories have one thing in common i.e. they leave the characters regretting 'If I could turn back time, I would' …Read More
What genre is your book? What draws you to this genre?
I really can't tell the exact genre. It is a mixture of romance, tragedy and philosophy. I have always been drawn to tragedies because I believe they invoke the best response from readers.
What is the hardest & the easiest thing about writing?
The hardest is connecting the loopholes. The easiest is the part where you just get to sit down and write spontaneously.
What is the reason you write for; is it for the readers or your own self or some other thing?
I write to set forth a message in a light-hearted manner. I write to prove, in my own little way, that Indian Literature is so much more than just romance by creating a visual experience through words.
What makes 'Turning Back Time' to stand out? What should a reader expect from it?
To me, TBT stands out because of the plot. I believe it portrays different approaches to life, one that can make most readers connect deeply. Readers can expect to be taken on a journey that will hopefully leave them with a strong impact.
Any special experience about this book that you would like to share.
I loved writing about Alia, who is very similar to me, and also connected deeply when writing about Girish. So, these are the two special experiences for me.
What are your ambitions for your writing career?
I wish to continue writing as many quality novels as possible before I lose my vision in 40 – 50 years down the line!
Are you working on your new project? What will be your next book about?
I am working on a novel at the moment. This will have a psychological touch to it. I am aiming at a lot of twists and turns with this one.
What does success mean to you as a Writer?
The other day, one of my friends said that it is alright to compromise on quality content for mass appreciation, as that is what success truly means. But to me, success is not that.
Success is not the number of readers I can gain, but the number that I can retain.
Where can you see yourself in 5 years' time?
I see myself as a reasonably known author and a reputed Chartered Accountant.
Your opinion about Vowelor.
I only recently came to know about Vowelor and I have to say that there is great strength behind this initiative. I know it will go far. You guys have such innovative and enthralling ways of engaging crowds and I really hope you make it even bigger very soon.