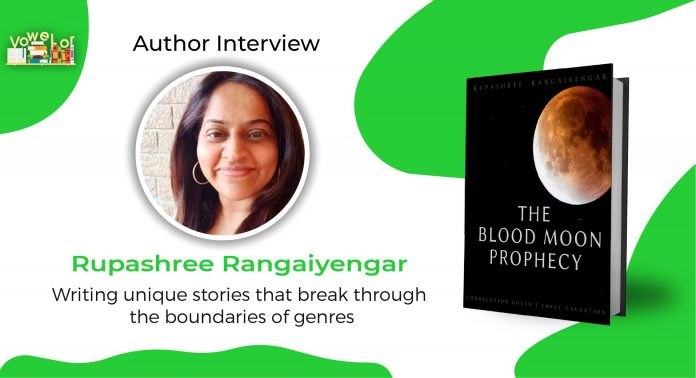 Writers always dream of writing a unique story. They experiment with storylines, characters, writing styles etc. to ensure that their story stands out in the crowd. Just a handful of authors actually succeed in doing that.
We are happy to introduce you to an Indian author, Rupashree Rangaiyengar, who has gone a step further to break the boundaries of genres in order bring an absolutely unique fantasy-sci-fi thriller – 'The Blood Moon Prophecy'.
Let us know more about author Ruparshree and her books in this exclusive interview she gave to Vowelor.
About the Author: Rupashree Rangaiyengar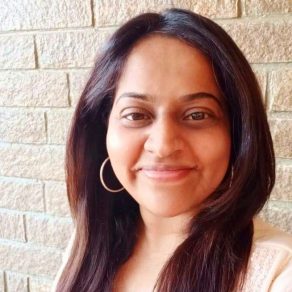 Born in Mysore, Rupashree Rangaiyengar is an author of two books, an artist and a software engineer working at a reputed MNC. She is a single parent to a very curious, intelligent and calm 7 year old son.
She acquired a Bachelors of Engineering degree in Information Science from NIE, Mysore and went on study Masters of Engineering in Computer Science at Cornell University, New York.
Rupashree's father is an agriculturist and owns beautiful fruit and vegetable farms. Her mother used to be a Lecturer of History in Mysore Maharani's college but she gave up her career to raise kids and manage the family.
During the interview, Rupashree shared more about her childhood and how her writing journey started. Read further to know.
What were you like at school? Any childhood memories you would like to share.
I used to be very studious and the class topper in both academics and extracurriculars. Education has always been very important to me.
My childhood was interesting as I took Carnatic Classical Instrumental Veena classes and painting classes. I topped the X Standard board exams and there were press interviews. The look of pride and satisfaction on my parent's face is a memory that I cherish.
What is the biggest achievement till today?
I along with a group of mothers were successful in getting the Government of India and Ministry of Women and Child Welfare to identify the struggles of Indian Women facing domestic violence abroad .We got laws passed to safeguard them and their children through the Justice Bindal Committee Report.
But, I guess my biggest achievement is yet to come. I will start my own Software Company within this decade.
Which writers inspire you?
I'm inspired by biographies of eminent people and books on software entrepreneurship. The most recent books in this genre that have impacted me profoundly are Nikola Tesla, Hit Refresh by Satya Nadella, Zero to One by Peter Thiel.
Writing is stressful at times. How do you relax your mind?
Writing is therapeutic for me . I use it as a way to de-stress from my daily job!
I also paint , play music , practice yoga and meditation regularly and hence my stress levels are fairly low.
What is your favourite motivational phrase?
Do or do not, there is no try

– Yoda, Jedi Master in Star Wars
What advice would you give to your younger self?
Yes, you have emotions that are felt deeply. No, they cannot be explained rationally.
What books do you like to read personally? What are you reading currently?
Of late, I only read non-fiction. I'm currently reading 'The upside of irrationality – Dan Ariely' & 'Istio: Up and Running' (Computer Science Book).
If you could have been the original author of any book, what would it have been and why?
Atlas Shrugged by Ayn Rand. Because I'd be the one writing : "Don't ask questions that no one can answer' & 'Quiet' by Susan Cain. I'm an introvert and this book helped me recalibrate and function better in workplaces dominated by extroverts and make an impact in a world that cannot stop talking.
What made you decide to sit down and actually start writing?
Paradise for me is where I can read a book with a cup of coffee while lying down on my settee. So, it was natural to start writing as a logical progression to my love of reading. A couple of my satirical pieces have been published by Unreal Times in the past. Although, I have a very busy software engineering career; COVID and WFH gave me a couple of free hours which I dedicated to writing.
Do you have a special time to write or how is your day structured?
I usually write first thing in the morning post my yoga and meditation, but before my office work commences.
What is the reason you write for; is it for the readers or your own self or some other thing?
I write to communicate ideas and possibilities.
About the Book: The Blood Moon Prophecy
The Blood Moon Prophecy is the sci-fi fantasy thriller novel written by Rupashree Rangaiyengar. It was published by Notionpress in Feb 2021.
From the outside, it may seems like a typical 'apocalyptic' story but there's a lot more to it that makes it unique.
The story through time from past to future with 4 different storylines including ancient secrets, biohacking, quantum computing etc. Each storyline has its own plot which interestingly connected to main character of the book, Selina Ramanujam, who is on her way to avert the 'blood moon prophecy' and save the world.
Stay tuned for the complete review of The Blood Moon Prophecy that will be published soon on Vowelor.
Rupashree interestingly answered a few more questions about her book and future plans. Lets have a look.
What genre is your book? What draws you to this genre?
It is a science thriller fiction book with heavy emphasis on astronomy, science, history, quantum computing, biohacking and human behaviour. All these topics are of immense interest to me.
What makes 'The Blood Moon Prophecy' stand out? What should a reader expect from it?
It is a two part book. The first one is the 'Blood Moon Prophecy' and the sequel to this is 'OPTUMASS' about to be released soon.
The Blood Moon Prophecy is a thriller unlike other books in this genre. It takes you through time & space for a roller coaster ride. There are 4 stories which have their own stories and are all connected by one grand plot woven intricately. Each story has a plot set in the past, may it be the Mayan Kingdom, Ancient Greece or India during Chalukyas .
As you move into the time zone depicted in the story, the reader becomes aware of the existential threat faced by people as described in a prophecy. The protagonist of each sub story has the task to pass on their learning and try to avert the disaster. Each sub story has strong female characters who are not limited by time, gender, intelligence or capacity.
In the present times – A Mayan Hieroglyphic reader, a Sanskrit Professor of South Asian studies, a Biohacker and a Quantum Computing Scientist need to come together and act. Logic would dictate they have nothing in common. However, the universe does not work on logic alone.
The main protagonist, Selina Ramanujam, has an uphill task to search through time, cultures and regions for data and act intelligently to avert the 'The Blood Moon Prophecy' from occuring again. Her only tool is an ancient ayurvedic treatise on virology called 'Kali Sukthi'.
What is the hardest & the easiest thing about writing this crossover of Sci-fi and Astronomy?
Hardest thing was to weave together the historical dates and times of each story with the astronomical incidents of ancient times with the contemporary events.
Easiest thing was research as it was personally very exciting and interesting.
This is your 2nd book; how was the experience different from publishing your 1st book "The Socrates Method & Other Short Stories"?
The effort and research involved in this book was more.
Any special memory/experience about this book that you would like to share.
A special shoutout to my book review team : Anand Raja, Ravi Ayyer, Adanna
Watson, Rashmi Nagaraja, Vasudev Anand and Sathvik Prasad. They read
each one of my chapters patiently and provided insightful feedback. It helped me polish my craft and get better with each story. Working and communicating with them was the best experience while writing the book
Their reviews are available at the end of the book. I am truly grateful to them for having been with me on this six month journey of writing 'The Blood Moon Prophecy'.
Future Plans
What are your ambitions for your writing career?
I have another 5 books coming out in 2021 spanning Art, Computer Science and Fiction.
My only ambition is to write books that entertain and engage my readers. If I were to win a Booker while doing this, I promise not to complain! :D.
Are you working on your new project? What will be your next book about?
My upcoming book is 'Seeing India : Through The Eyes Of An Artist'. This book describes the folk painting forms of all states in India. For example: Mysore Painting is native to Karnataka , Kalamkari to Andhra Pradesh, Pichwai Painting to Rajasthan and Mural paintings to Kerala .
It contains the techniques of how to paint in each art form and also copyrighted paintings from me. It is my attempt to chronicle the rich artistic history and heritage of India. The precursor to this book can be found on my art site.
Parallely, I'm working on the sequel to 'The Blood Moon Prophecy' called the OPTUMASS .
What does success mean to you as an Author?
If a reader writes to me about the parts they enjoyed in a book or posts an honest review, I'd consider that as success. It shows me that they connected to the book and the story.
What do you think of India's publishing industry's future?
It will be mostly digital libraries as the pandemic redefines our reading and sharing habits.
One learning that you'd like to pass on to young debut authors.
Writing is like building muscle, you only get better with practice.
Your opinion about Vowelor.
Vowelor is a much needed platform. Their ability to provide unbiased reviews all the
while helping users find the next book to read is a great value add to bibliophiles. Genuinely happy to see readers hundreds of like minded readers on this platform.