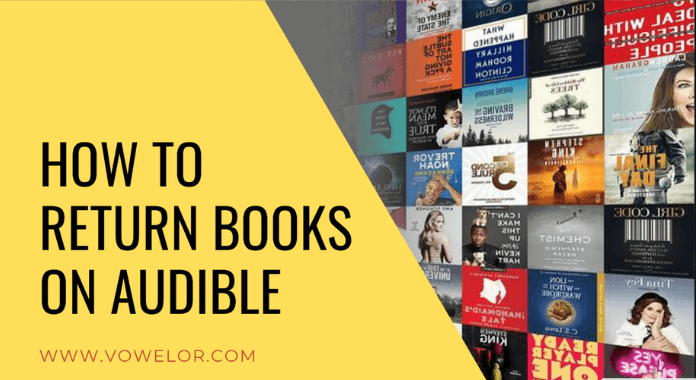 There is no denying in the fact that Audible has many tempting offers for readers. And, one such offer is that you can return a book on audible. Isn't that awesome, right? (I am going to rename Amazon Audible as Awesome Audible)
Returning a book on audible is not hard, only if you know the exact steps of how to return a book on audible.
So here I am explaining the process of returning the audiobook in an easy and step by step manner.
Related: Audible Review: How does Audible Work
How to Return a Book on Audible
Following are the steps to return any audiobook on audible.
First of all, you need to visit the official website of Amazon Audible and sign in.
Now click on your name on the top.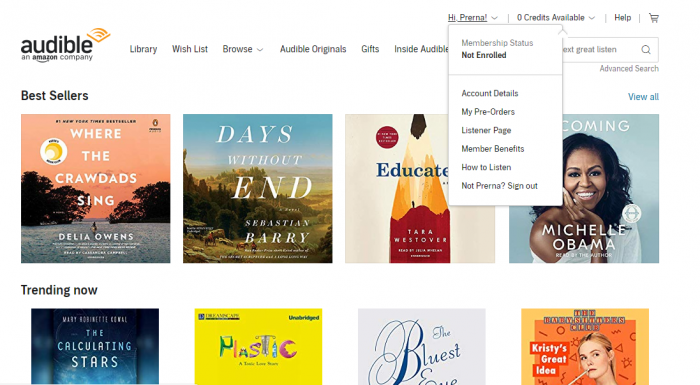 In the dropdown menu, click on the Account Details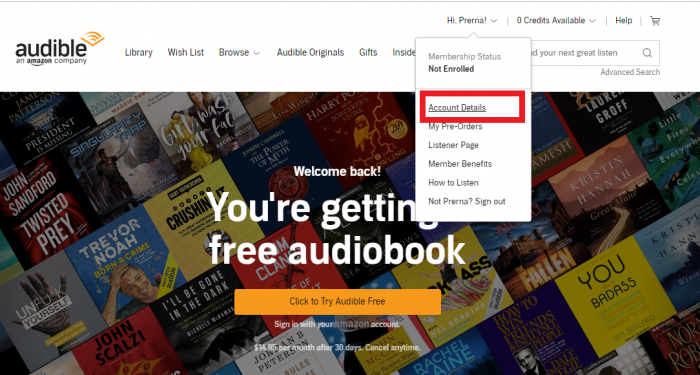 On the left side, click on Purchase History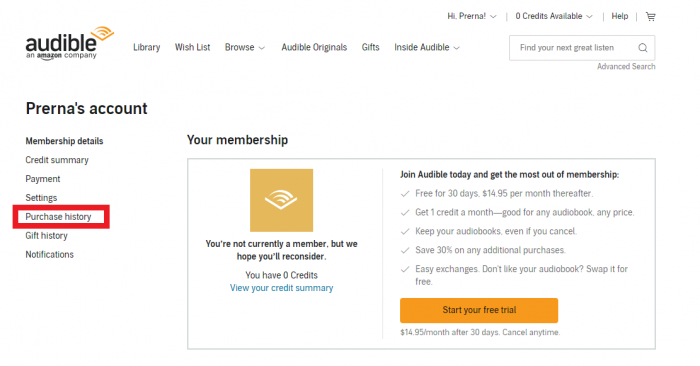 The next page will show you the entire history of books purchase (as sorted by you). You can see Return Title in front of every audiobook. If a particular book cannot be returned then it will say Not eligible for return.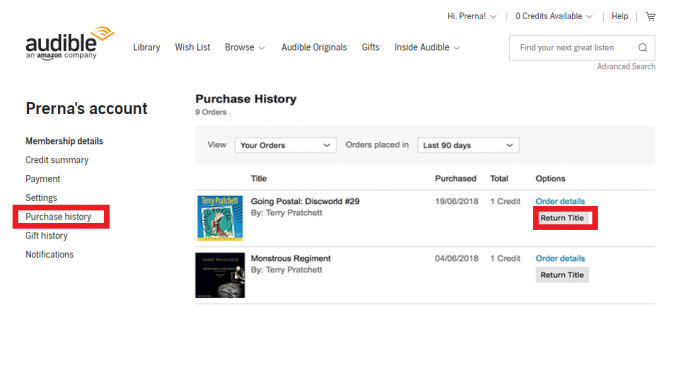 As you click on the Return button, you need to select the reason of returning the book in the dropdown.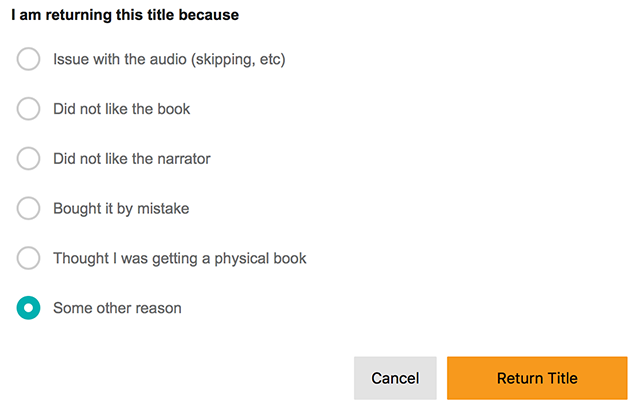 After performing the entire steps, you have successfully returned your book on audible.
You cannot return the title using the mobile app. So you need to log in on the official website for returning the audiobook. 
As you have learned all the steps for returning the audiobook, now I think you should also be aware of certain terms that Audible follows for any refund.
Audible Return Policy
To return the book successfully, there are few policy guidelines of Amazon that you have to keep in mind. Below are the same for your reference.
You need to be a member of Audible to return the books.
You can only return a book if you are an active member of the Audible program.
You can return a book on audible within the 365 days of its purchase.
You will get a refund in whichever form you have paid for the book. That means if you have bought a book through audible credits, then audible credits will be refunded in your account after returning the book. Whereas if you have paid via Credit/Debit card, then the money will be refunded back to your account.
You can easily return a book even if you have not listened to it.
Why Can't I Return a Book on Audible
Though you can return most of the books, still there are some books which you cannot return on Audible.
And how you can know which books you can return and which one not, for that, you have to see the option corresponding to the book title you have purchased.
If you see the option 'Not eligible for return' that means the return services are not included in that particular book.
Though there is not any fixed number of books that you can return. But, if you are overusing the benefits of returning the audiobook, then Audible may reach out to you and ask you the reason for returning the books. Audible customer service will also help in finding the best book for you.
Other questions which people generally ask
Is there any limit on the books we can return on Audible?
No, there is no limit. But, there are certain titles which do not fall under the audible exchange service. Also, if you are overusing audible return then you might be inquired by the Audible customer care.
Otherwise, you can return audible books for as many times as you want.
In how many days you can get Audible refund?
The number of days in which you can get your amount refund back depends on how you pay for it at the time of buying the book. If you have paid through credit card, then you will get a refund within a few hours of return.
However, if you have paid through other payment methods then it might take 7 to 10 business days depending on the mode of payment and the financial institution involved.
Conclusion
When I did the research in the market. I was actually surprised that more people didn't know that they can actually return a book on audible.
In my opinion, it is one of the audible's best features. It makes a lot of sense. You can simply return a book if you don't like it.
For most of the people out there, they simply think, if they don't like a book after purchasing, their credit simply flushes away, and that's not true. They can simply go to their library and choose the option to return a book.