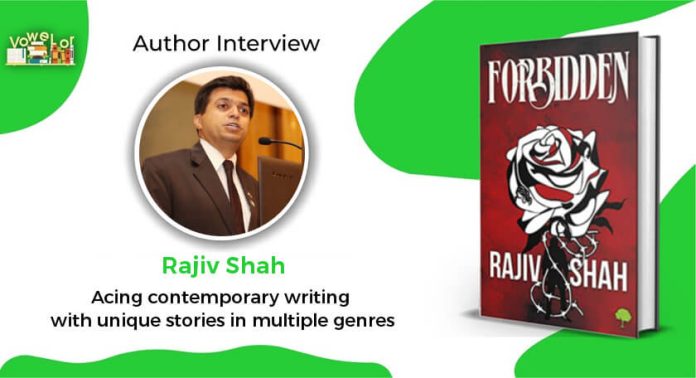 Contemporary authors mostly stick to the boundaries of the genres they write in. Still, there are some authors who go beyond the set boundaries to create unique stories. Rajiv Shah is an author who succeeded in doing exactly that with his book 'Forbidden'. It is a beautiful concoction of romance, thriller and so many twists and turns.
With the release of Forbidden, we had an opportunity to speak to author Rajiv Shah about his book, his writing career, personal life, and upcoming plans. But, before we get into that, let us give you a brief introduction of the author.
About the Author: Rajiv Shah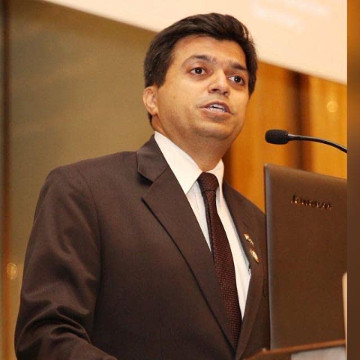 Rajiv Shah is an Indian-origin author, entrepreneur, finance consultant, and angel investor from the UAE. His first book 'Forever: A Love Saga' was published in 2017 which gave him a great debut as a writer. Rajiv released his second book 'Forbidden' in 2022 and has been receiving great reviews from readers.
Rajiv was born and bought in Mumbai and holds a Chartered Account rank. He has over 2 decades of working experience in India and UAE since 2004.
He has wonderful parents, Mr. Kantilal Shah and Mrs. Nilam Shah who have always been a big motivation and support for him. He has two older siblings, Lalit and Amita. His wife Meghna is an IT engineer and an art enthusiast.
Rajiv's daughter, Anushri, is also a published author and is studying currently. His twin boys, Adi and Veer, are cricket crazy and find time to study as well while playing cricket.
Further, Rajiv Shah shared about his childhood, writing journey, inspirations, and more interesting things about himself. Here are all of his interesting answers.
What were you like at school? Any childhood memory you would like to share?
I was an introvert in school and one could never have guessed that I would become an author and a public speaker. My college life in Jai Hind, Mumbai was a turning point in my life.
What are your educational/professional qualifications?
I am a rank holder Chartered Accountant from India. I get this question asked often, 'What is a CA doing writing about romance?' My answer is a CA also has a heart that knows how to romance. Then writing becomes easier.
What is your biggest achievement till today?
I don't think I have had my biggest achievement as yet. And I do not like to rank my achievements in any order. My getting rank in the CA exams and my two books being published would definitely rank higher among my achievements.
Which writers inspire you?
I do not follow any individual writer, as I like to read good content. But I would like to model my writing career around Stephen Covey and Robin Sharma.
Writing is stressful at times. How do you relax your mind?
For me, writing is a way to break out from stress. I do have my writer-block moments, days, and sometimes months as well. But I love writing and I go into the writing zone when I am stressed.
What is your favorite motivational phrase?
I WILL and I CAN.

NOTHING IS IMPOSSIBLE.
What advice would you give to your younger self?
One piece of advice for sure would be to start writing earlier than I did. Other than that, very happy with the way my life has turned out to be.
What books do you like to read personally? What are you reading currently?
I am starting to read and re-read business books that I have read earlier, in preparation for writing my 4th book. These include Stephen Covey's 'Seven Habits of Highly Effective people'.
If you could have been the original author of any book, what would it have been and why?
Stephen Covey's "Seven Habits of Highly Effective People". This is one of the books that has impressed me a lot and I have been able to bring about positive changes in my life after reading this book.
What made you decide to sit down and actually start writing?
I had been writing small bits and pieces here and there for a long time, a poem or two, but I never really thought I would become an author. It was only around 2016 when I first put my pen down on writing a story. At that time also, I did not think it would be made into a book.
I started to write one page a day and somehow I managed to do that over a period of time which led to my first book FOREVER been written.
It has been a very unique experience for a finance person to write about romance and mystery and I think I found my alter ego in writing books on a subject completely different than my academic pursuits.
Do you have a special time to write or how is your day structured?
Special time for writing is when you feel like writing. I do not have any set timetable. Since I work, the day goes at work, playing squash and other commitments. But I do try to write a page a day.
What is the reason you write for; is it for the readers or your own self or some other thing?
I write for my own self. It gives me great satisfaction and de-stresses me. But getting a positive feedback from readers after reading my book gives me a new high.
About your Book: Forbidden
The story of 'Forbidden' revolves around the protagonist Karan Mehta who falls in love with a girl named Simran. Unknown to the fact that Karan is already involved with two other women – Sanjana his wife from a failing marriage with whom he has a 7-year-old son Biren, and Pooja who was getting divorced and lured Karan.
The story takes a turn when Karan goes missing after he went to a meeting. Two detectives Susan and Rahul unveiled the mystery of Karan's disappearance.
Excited about the book? Stay tuned for a detailed review coming soon on Vowelor.
What genre is your book? What draws you to this genre?
My first two books Forever and Forbidden have been in the Romantic Thriller & Mystery Genre.
My third book in a Self Help and Mythological Book. I do not think I would like to be typecasted in one particular genre. I would like to experiment.
What was the inspiration behind writing this book?
I never thought I would write a romantic fiction murder mystery, but when I wrote FOREVER, I thought it was possible. I am writing a trilogy now and with Forever and Forbidden being the first two books in the chain. The idea is to write these books with a very important social message. Forever was about love v/s lust. Forbidden is about a midlife crisis. And my future books will also contain some sort of a social message while being romantic thrillers.
What makes 'Forbidden' stand out in this genre?
I have learned a lot while writing Forever and getting good critical reviews from the readers. I believe this has enhanced my writing capabilities a lot and thus Forbidden has turned out to be a better book. The mystery is more profound and so is the storyline.
What should a reader expect from 'Forbidden'?
A roller-coaster ride till they realise or read on who killed Karan.
This book is an intriguing murder mystery with a pinch of romance. What was the hardest & the easiest thing to write such a story?
The hardest part was finally deciding who should be the culprit as I had five people with strong motives to kill Karan. A lot of the book is in the voice of the female protagonist. So writing about how a woman would feel was also tough. There is nothing easy in writing a book, as every word has to be so carefully crafted.
Future Plans
What are your ambitions for your writing career?
I would like to take my writing career more seriously going forward. A simple goal would be
"A book a year".
Are you working on your new project? What will be your next book about?
My next book is a self-help and mythological book. The story runs between parallel time zones of 2600 years ago and current-dated. It is about the transformation in the life of a man who has lost everything based on a Monk's principles laid down 2600 years ago.
What does success mean to you as an Author?
I think a dream for any author is that more and more people read their work. Success as an author means increased readership.
What are your views on the publishing process and its nuances?
I wish this process was more author-friendly, especially for amateur, part-time authors.
It also should be faster than it is currently. An amateur author cannot think about releasing a book a year with all the publishing nuances currently in place.
One learning that you'd like to pass on to young debut authors.
One of the biggest problems today is that people have lost their habit of reading books because there are so many other modes of entertainment and passing of time available including social media, smartphones, OTT channels, etc.
I would advise authors not to get discouraged by not finding many buyers to read their book. Rather, take your hobby as a passion and keep writing.
Another piece of advice I would give would be not to make writing a book into an unsurmountable task. Because if you think of writing a book you may think it is impossible, but if you decide to break it up into one page a day, you will find within a year you have a beautiful book in your hands.
Your opinion about Vowelor.
Vowelor is a good platform for authors to promote their work and create necessary collaterals. It is a value-for-money service and I am sure more and more authors will benefit from it.
Want to know more about author Rajiv Shah? Connect with the author on Facebook, Instagram, or visit their official website.
 Are you also an author? Get your book featured on Vowelor now!