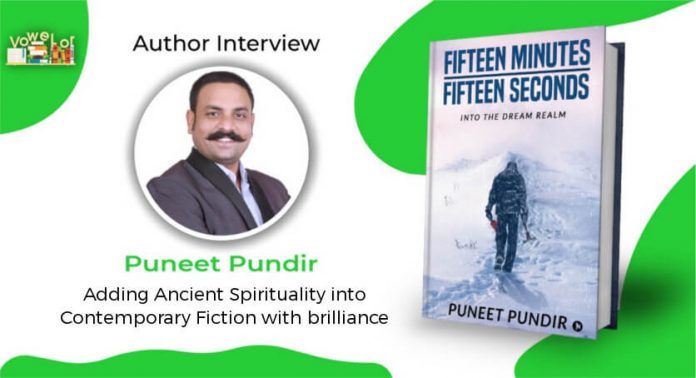 Many authors have written about spiritual journeys but when this subject is fictionalized with an effectual character, we get masterpieces (such as The Prophet). Although not every author can recreate such magic, we are proud to introduce you to an Indian author, Puneet Pundir, who did this best with his book Fifteen Minutes Fifteen Seconds.
We had an exclusive interview with author Puneet Pundir where he discussed his personal life, his love for reading, his inspirations and eventually having a writing debut with Fifteen Minutes Fifteen Seconds.
But first, let know find out a little more about the author himself!
About the Author: Puneet Pundir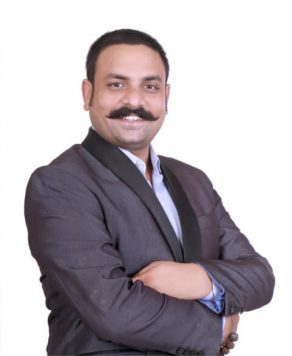 Puneet Pundir is an author and a successful businessman. His first book 'Fifteen Minutes Fifteen Seconds' was published in 2020. More than a writer, he is an avid reader and finds solace in traveling away from the concrete jungles.
He was born in Meerut, a town in Uttar Pradesh, India. His family moved to Faridabad in Haryana when he was 17. Despite coming from a middle-class farmer family, his father became a businessman while his mother is a homemaker.
Puneet is an MBA from Marketing & M. Phill in Industrial Psychology. On the footprints of his father, Puneet also turned into a successful businessman. He is married and has two sons – one is five and the other is 2 years old. Puneet's wife worked as a journalist and news anchor but now has taken the responsibility of home and kids.
Further, we asked some interesting questions to which Puneet answered very candidly sharing more about himself. Read his answers below.
What were you like at school? Any childhood memory you would like to share.
I was a bright student till 8thstandard than I didn't had any interest in studies. So the main goal was just to pass the exams as it was in my mind that I will join my family business anyway.
What is your biggest achievement till today?
Honestly speaking, I have never thought that in life there is anything to achieve or lose. If you do anything then try to do it as good as possible. Life is happening, we all are just witnesses.
Which writers inspire you?
Munshi Premchand was my all-time favorite, but I think Paulo Coelho is my inspiration.
Writing is stressful at times. How do you relax your mind?
I just take a break and give more time to my personal life.
What is your favorite motivational phrase?
Once a student asked his master that I am demotivated what should I do? 'Go, Motivate others' Master replied
What advice would you give to your younger self?
Life is too short to waste it complaining about little things and get angry.
What books do you like to read personally? What are you reading currently?
Mainly spiritual, spiritual motivational, or any book to do with the mental psyche.
Currently, I am reading "Thought Power" by Swami Sivananda Saraswati.
If you could have been the original author of any book, what would it have been and why?
I would never imagine myself to be in anyone's shoes. Every Author is unique, their thought patterns and experiences are different. Even every author has his/her own style of writing. So I would feel comfortable with be my own individuality only.
What made you decide to sit down and actually start writing?
My wife always used to push me to write something. She would several times say that "Many people speak but when you speak people listens". So I started it slowly but started liking it.
Do you have a special time to write or how is your day structured?
During the lockdowns, I would write in late at night or early morning when my sons are sleeping. But since offices have again open I am finding it tough to make a schedule.
Words of Wisdom from the Author
Always have an open and receptive mind. If you have not seen a cheetah with your own eyes that don't mean there is no cheetah in this world. Of course, you can always reason for any particular thought or point of view, and if it reasons with your mind and intuition then keep it otherwise neglect it.
Puneet Pundir
About the Book: Fifteen Minutes Fifteen Seconds
Puneet Pundir's Fifteen Minutes Fifteen Seconds is the story of a spiritual journey on which the alcoholic protagonist, Arya, sets out with his family. A tragic natural calamity leaves Arya stranded in the middle of nowhere all by himself.
The story follows Arya as he keeps moving and meeting people who seem unreal and independent of earthly connections. Arya's spiritual mindset guides him to the utmost heights of divinity and eventually erases the thin lining between reality and the dream realm.
Stay connected to read the full book review of Fifteen Minutes Fifteen Seconds which will be published on Vowelor soon!
What genre is your book? What draws you to this genre?
It is a spiritual fiction book and in way self-help also, Since I myself studied these genres so I chose the same.
How was the story idea originated and where did you get the inspiration for the protagonist Arya's character?
When the avalanche hit Kedarnath, I saw in the news that there were many people who were misplaced and even some returned to their home in months and years. So I had this Idea always in my mind what a lone person would do if he is lost in mountains.
If I talk about character then I would say any author who portrays a character firstly observes his surroundings like himself, family, or neighbor which helps in building the character and the rest is up to the imagination of the Author.
What makes 'Fifteen Minutes Fifteen Seconds' stand out in this genre? What should a reader expect from it?
It is spiritual fiction and there are plenty of books available in this genre but I decided to talk about one of many things which are taboo in society i.e. Alcohol. The protagonist is an alcoholic and the book shows that spirituality doesn't differentiate between any human no matter what his background or habits are. If you are sincere with your spiritual practices you will get fruit for it sooner or later. And it also shows if any type of addiction permanent or temporary.
The story brings 'spirituality' and 'dream realm' together. What was the hardest & the easiest thing about writing such a story?
If you love to write and are a good reader I think there is no hardest or easiest part, Fingers just starts to dance on the keypad.
What is the reason you write for; is it for the readers or your own self or some other thing?
My main reason for writing this book is more of a social cause than any personal benefit. I want to inspire the youth to experience yoga & meditation and with their own understanding, they can decide for themselves what is true in religion and what is not. And by yoga here, I don't mean any physical exercise(Yes pranayama and asanas are good) but I mean more than that.
Any special experience about 'Fifteen Minutes Fifteen Seconds' that you would like to share.
Yes in the book I mentioned a Siddha who had spiritual power and that was my personal experience. And I have been meeting Baba Motidas from my childhood, He died a few years back. So with these two are my own personal experiences. And other than this I think it will not be wise talking on a public platform.
Future Plans
What are your ambitions for your writing career?
I will continue to write but currently with this genre or maybe some pinch of mysticism attached to that particular story.
Are you working on your new project? What will be your next book about?
Yes, currently I am writing a Hindi book. Um… You may call it criminal spiritual fiction?
What does success mean to you as an Author?
For me, if a text is understood by the reader in the same sense and intensity as the author has written it then I would say it is the literary success for that author.
What do you think of India's publishing industry's future?
I personally feel that the publishing industry has a bright future ahead. Well because I feel that nowadays more and more emphasis is given on education as compared to previous generations. Even in rural areas, children are getting a good education. These youngsters will become new readers and authors.
One learning that you'd like to pass on to young debut authors.
If anyone wants to be a good author he/she should be a good reader first.
Your opinion about Vowelor.
I think Vowelor is an excellent platform for both Authors and readers. A reader can interact directly with the author. If any reader has any suggestion for an author it will ultimately be good for the Author and greatly motivational for the reader.
Want to know more about Puneet Pundir? Connect with the author on Facebook and Instagram.
Are you also an author? Get your book featured on Vowelor now!