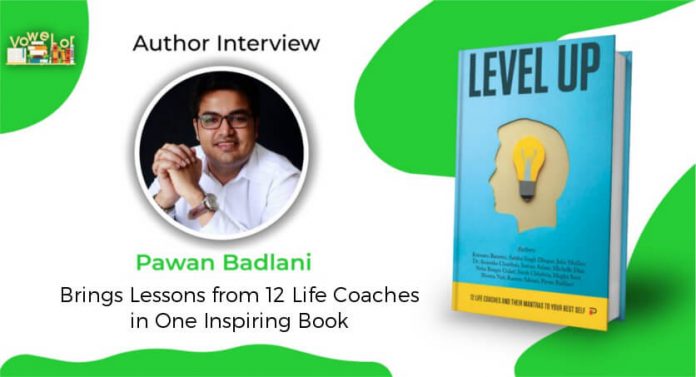 In today's fast-paced life, it's difficult to read a dozen self-help books on different aspects of life. Can you? Obviously not. Meet Pawan Badlani, an author who made it possible by bringing 12 international life coaches to share decades of their experience on different aspects of life in one single book titled 'Level Up'.
At Vowelor, we got an opportunity to interview author Pawan Badlani and discussed his personal life, his inspirations, his journey of writing the book 'Level Up'.
Let us first know about the author a little more before we move his interview answers.
About the Author: Pawan Badlani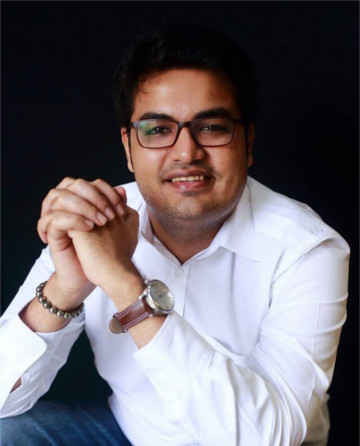 Pawan Badlani is an author, a certified NLP Practitioner, and certified handwriting and signature analyst. His latest book 'Level Up' got published in 2021 which he has co-authored with 11 other life coaches.
He was born in 1992 in Mumbai, India. He studied Bachelor of Mass Media and Post-Graduation Diploma in Advertising from R.D.National College and MET Institute of Mass Media, in Bandra. He has also done corporate training certification from the Institute of Training and Development.
He is also a certified NLP Practitioner from NLP India & certified handwriting and signature analyst from the Institute of Graphological Research, Mumbai.
Pawan's parents are in the business of real estate for the past 25 years. His grandparents had come to India, post the partition from Sind, Pakistan in 1948.
He has an elder sister, who's a professional tarot card reader and an MBA in Human Resources, and she successfully conducts consultation sessions in the field of tarot card reading and occult sciences for the past 5 years now.
Further, Pawan discussed his childhood, his reading habits, and more candid stuff about himself. Read his answers below.
What were you like at school? Any childhood memory you would like to share.
At school, I used to be quite studious. I loved exploring new things from time to time. A childhood memory that I can share, is that when I was about 1 year old, I had crawled my way to the opposite side of the balcony all by myself and I was on the parapet without a grill.
The hilarious part was that I was calling out to the watchman of my building and signaling to him that I want to come down, which if I had, I would come crashing down and that'd be the end of it and you wouldn't be hearing from me today.
But thankfully, my stars were aligned on that day and the watchman rushed and quickly informed my parents. They came running and saved me by pulling me from the window. That was when I had decided, that I wanted to live life "on the edge" if you know what I mean.
What is the biggest achievement till today?
My biggest achievement would be having my very own TV show on Tata Sky, for handwriting and signature analysis back in 2017. I have been in this space for the past 11 years and this was the most significant moment of my life.
I know I had always dreamt about it, but facing the camera, introducing myself, speaking about graphology changed everything for me.
From that moment on, there was no looking back and I released my first book in the same year and since then I have conducted workshop sessions in Dubai, Nigeria, Turkey, Nepal, and the USA. And cut to 2021, I have been able to connect with over 10,000 clients all over the world.
Which writers inspire you?
I love Tony Robbins, Simon Sinek, Rhonda Byrne, Gaur Gopal Das, Robin Sharma, Jack Canfield, Dale Carnegie and Jay Shetty to name a few. They are very inspirational for me and I am a huge fan of personal development and self-help books because I feel that at the end of the day, no matter how lost, lonely or tired one might feel dealing with life's challenges, constantly pushing yourself, motivating yourself to do the hard things which are necessary for you to do, are the things which will change the very trajectory of your life.
Writing is stressful at times. How do you relax your mind?
I love listening to jazz music which is the best stress buster for me and having comfort food like dal rice with pickles which is, by the way, my favorite food for eternity. I know some of you might think that it's boring to have that. But if you carefully observe, you will always feel more satisfied with simple meals.
And if I feel I have overworked myself, I would simply take a nap, and just listen to various clips of F.R.I.E.N.D.S. and sleep through it. I know it's quirky, but I find it quite peaceful and thoroughly entertaining. Comedy relaxes your mind and shifts your focus to joy and happiness.
What is your favorite motivational phrase?
My favorite motivational phrase would be
Push yourself because no one else is going to do it for you.
It's very significant for me because I have realized this, that every single day you are going to encounter various situations, where your mind is going to try and keep you in the same place as yesterday. It's going to make you feel lonely, fearful and it will keep you in your comfort zone if you let it.
But if you decide that, at the end of the day, you have the control of choice whether to do something or not, everything around you will change. You will go for that workout, start that business, build happier relationships with your family and friends, forgive your haters, perform well at your job, take actions towards your goals, believe in yourself, and remind yourself at the end of the day, that you are loved, and it's you who can make things happen.
Nobody else is coming to save you. You are your savior. That's the exact moment, that your life will change forever. And you'll never look at yourself in the same way ever again.
What advice would you give to your younger self?
I would advise my younger self to stop worrying and being anxious all the time. We can't live the future beforehand, so why are you wasting your present moment, by wondering what's going to happen tomorrow, a week, a year, or five years down the line.
Everything that is happening in your life right now, is preparing you exactly for what you have wished for, so trust yourself and trust the process. Your hardships and obstacles aren't here to challenge you but are here to change your life.
A significant lesson that I have learned over the past few years is that if we don't have ups and downs in our life, we'd be dead on the inside and outside too. So long as you see the graph on the monitor of a patient at the hospital, we know that he's alive. Once it's a flat line, we know the result.
So, I would simply tell my younger self, that our life isn't designed to be a straight line to success, because then if anybody asks us, what did we learn along the way, we'd have no answer. So, go through your hardships and struggles with a smiling face and a learning attitude, you are becoming stronger by the day my friend.
You aren't the same person you were 5 years ago, and you won't be the same person 5 years from now. And stop worrying and start living your best life today.
What books do you like to read personally? What are you reading currently?
Currently, I am reading Think Like A Monk by Jay Shetty. I love reading inspirational, self-help, and personal development books that have interesting lessons, tips, and techniques to improve our lives every single day.
If you could have been the original author of any book, what would it have been and why?
If I could have been the original author of any book, I would like to be the author of Chicken Soup for The Soul by Jack Canfield and Mark Victor Hansen. The reason for that is that I love inspirational stories from all walks of life, and I enjoy motivating people to believe in themselves that they can achieve literally any goal that they can imagine.
In the book, Chicken Soup for The Soul, you have people from all over the world, coming ahead and inspiring you with real-life stories which are so beautiful and heart-warming. In fact, we all have an inspirational journey, where we have been through several tough situations and emerged as winners in our lives.
But the tragic part is that, most people don't acknowledge their success because they compare the word "success" to material possessions & professional achievements, and then only would they consider themselves, successful which is far from the truth.
If only acquiring material wealth or professional achievements would be the meaning of success, why are some of the richest people and members of the elite society, broken when it comes to their personal life, have crappy relationships or rely on medicines to maintain their sanity.
I'm not saying all of them are like that, but we need to create a healthy balance between personal and professional success. I think the biggest achievement in our lives beyond material wealth, would be happier close personal relationships with your friends, family and partners. And here's an interesting fun fact for you all.
Chicken Soup for the Soul was initially rejected by 30 publishers, but as of today they have more than 276 books, 5.25 million copies in sales and it is a billion-dollar brand today. This shows that self-motivation, persistence, hard work and a healthy balance of your personal and professional life, always pays off.
What made you decide to sit down and actually start writing?
The reason that I decided to sit down and start writing was a single idea to create an ensemble of influential personalities who have a lot of knowledge, information, and experience but the outlet or platform was missing.
Although we all have social media today but getting a dozen coaches together for a book which not a lot of people take the time to read or consume anymore, made me take this initiative forward.
And social media posts may take some time to become viral, but a book is in fact the mother of virality and helps anybody build instant authority in any respective niche. I am thoroughly inspired by the idea of writing and creating as many books as I can and creating sources of uplifting & encouraging people.
Do you have a special time to write or how is your day structured?
I feel the best time for me to write has always been at night. The reason for that is that after completing your daily chores, you have all of this time, completely dedicated to yourself.
So, at night, post 10 pm, I love playing some jazz music and I start writing. If you would like to get started by writing your own book, and you don't feel quite confident. The best way is to co-author a book and gets yourself out there for the world to read about your work, either through fiction, non-fiction, poems, short stories, or even quotes.
It will boost your confidence levels immensely and you'll be in the top 5 percent of authors in the world who actually have got their book published.
Wise Words by the Author
I would simply like to share with everyone that no matter what stage of writing you may be at right now, if you give yourself an aim or deadline to publish your book in the next 30 days, and you start writing dedicatedly about your subject or even get help from ghost-writers for your book, you will be incredibly successful and powerful in your niche.
I am sure that you will become a superstar author by selling 100's and 1000's of copies of your book over a period of time. It will effectively help you in building a personal brand, business and changing your life when you decide to become an author.
Your success is dependent on how quickly you can launch your book in the market, learn from your mistakes, enjoy the journey and perfect the process of successful book writing.
Pawan Badlani
About the Book: Level Up
Level Up by Pawan Badlani is an anthology of self-help lessons on different aspects of life including mental health, fitness, social media, positivity, eating habits, handwriting analysis, and much more.
There are 12 co-authors to this book. Each chapter is written by an international life coach who is an expert in his/her domains and provide actionable lessons that the reader can imbibe in real life and 'level up' themselves.
Stay connected to read the full book review of Level Up which will be published on Vowelor soon!
What genre is your book? What draws you to this genre?
The genre of my book is self-help and personal development. The biggest reason that I am so drawn to this genre because there was a point in my life when I had completely lost hope. Back in 2014-2016, I was unable to figure out my own career path, after trying 13 different career paths.
And then this innate realization hit me, that I should, in fact, become a motivational speaker in 2017 when I had gone for a trip with my best friends from college because they had suggested that I should start a YouTube channel of my own and create content.
I had started speaking on stage at the age of 16 but it was only about 8 years later that I realized the value and potential of speaking on stage. And I decided I wanted to inspire people to live their best life and that's how I started my motivational channel called Inspire Me.
Within 2 years, I created more than 500 episodes and interviewed more than 30 celebrities and influential personalities through my channel. What's even more awesome that through one of my free webinar sessions of How to Write A Book in 7 Days, one of the participants actually went ahead and launched her own book as a guide to mental health. Her name is Drashti Oza and I am incredibly thankful to her that she took action and created her very own book.
This in fact has given me the inspiration and it validated my thoughts that my words and ideas can create a very strong impact. And since then, I have been deeply connected to this genre and it is my life's motto to help every single person live their best life.
What makes 'Level Up' stand out in this genre? What should a reader expect from it?
Level Up isn't an average self-help book. It is a hallmark of inspiration, mindset, and success in your personal and professional life.
Imagine, you have an online course that teaches you about mental health, self-love, graphology, business, grooming & personal branding, digital marketing, fitness, happiness, power of belief, meditation, nutrition created by authors from India, Los Angeles, Florida and Pakistan, all for Rs. 499 which is less than the price of a tasty pizza.
Level Up is exactly that in the form of a book, which combines decades of experience in 200 pages. You can learn about how you present yourself in your personal/professional life, improve your mindset, position your business powerfully and become a personal brand in your niche with this book.
How was the book's idea originated and how did you get all prominent experts to collaborate from this book?
I was heavily inspired by the idea of inspirational stories like Chicken Soup for The Soul. Especially during these hard times that we are in right now, I thought, what if I am not the only author of my next book, and I can get the opportunity to collaborate with 12 like-minded coaches, trainers, and speakers who can share their share of knowledge of life and business coaching in a single book.
We all have a number of courses, videos, and podcasts for personal growth and development, but what if you had 12 leaders in various fields like mental health, self-love, graphology, business, grooming & personal branding, digital marketing, fitness, happiness, power of belief, meditation, nutrition and so much more combined into a single book, and decades of experience combined in 200 pages which can help you to get to the next level of your life, and that's how the idea of Level Up came along.
There has been no better time than now, in 2021 to establish your authority with book writing. Taking the first step, towards creating an anthology for the very first time, helped me collaborate with authors from India, Los Angeles, Florida and Pakistan.
I would especially like to thank all of my co-authors for being a part of this project: Krissann Barretto, Saman Aslam, Karena Adnani, Neha Bangia Gulati, Dr.Anamika Chawhan, Sahiba Singh Dhupar, Megha Soni, Shweta Nair, Jitesh Chhabria, Michelle Diaz and Julie Mullins who have been super kind and supportive all along while we co-created our book and our publisher, Tarun Singh who has been instrumental in helping me publish this book.
Approaching them was actually the easiest part because I had connected with all of them at some point on Instagram for collaborations or live sessions. It was about the idea of becoming an author, which most of them had always thought about, but it wasn't a reality yet.
So, when I connected with them for this book and I told them that I would like you to be a part of this project, they instantly were on board and were super ecstatic about this. Whenever I speak to them, they are always happy and grateful for this idea to have come along together, because it was life-changing for them.
With Julie, Karena and Michelle I had connected with them on Instagram for a Rotary Youth Leadership Awards session to conduct an informative webinar session for our club, Rotaract Club of Bombay Powai on self-love, nutrition and meditation, and sharing that in a book, was the best way to express their ideas.
Karena Adnani is a leading clinical dietician and celebrity nutritionist to some of the biggest Bollywood celebrities, Julie Mullins has been a self-love coach & speaker based in Los Angeles and Michelle Diaz has been a meditation coach for over 2 decades now in Miami, Florida.
While speaking to Karena, Julie and Michelle, they were radiating with lots of positive energy with the complete book writing process and were overjoyed with this project.
With Sahiba, I had connected with her through Instagram by giving her a call for an inquiry for a personal development session for my clients as she's a personality development coach, and I thought of sharing the book idea with her and she told me that it was her biggest dream to be published as an author.
Jitesh has been one of my dearest and closest friends since 2008, since junior college and since he has been a digital marketing expert, I connected with him to write a chapter for the same. Although he was kind of skeptical at first, as this was the very first time, he was doing something like this, he came on board and authored a beautiful chapter on digital marketing and its effect on our mindset & self-esteem.
With Dr. Anamika Chawhan, I had taken a few business coaching lessons with her, and I thought she was perfect because her ideologies about how to build a business by using premium prices were phenomenal which is a part of this book.
I connected with Krissann, via a college friend of mine, and when I pitched this idea to her, she was super ecstatic about it, as apart from being a leading actress, model and VJ, she also was a happiness coach, so she had this idea about sharing happiness hacks through this book which she was practicing and now had the chance to share these hacks with her fans too.
With Saman, Megha, Shweta, and Neha, I had pitched this idea over a DM, and then within a few hours, I got on a phone call with them and they loved the book collaboration idea.
Saman and Megha are colleagues of mine in the space of graphology.
Shweta was introduced to me by Megha as someone who had a passion for writing and wanted to talk about the power of belief and how to believe in yourself even when you are going through the toughest situations.
Megha was clear about the fact that she wanted to speak about how to take care of your mental health during this pandemic and beyond and she has shared tips on how you can improve your mental health positively.
I was following Neha Bangia Gulati's page for quite some time and I thought connecting with a leading fitness influencer, would take some time, but after I speaking to Neha, I realized that her knowledge about how you can fit, mentally and physically and how you can get started on your journey today.
While sharing this, it may sound easy, but in reality, this has been of the most ambitious projects of my life and the fact that we have such powerful women and men as a part of this book, made it a joy ride.
The book touches on most problems of modern lives from self-doubts to negativity, health, and more. What was the hardest and easiest thing during the writing of such a book?
The hardest part about writing such a book is to frame and express thoughts and ideas about various fields in an appropriate manner because there are so many misconceptions about life and business in general with these selected topics.
And one more thing was the constant coordination and management of getting all the authors together, compiling the manuscript, proofreading, and completing various tasks and responsibilities for getting the book launched smoothly.
The easiest part was the infinite love and support that I have been able to receive from all of the authors who have been so caring and kind who were supportive in helping me create this book right from deciding the title of the book, look and feel and promoting the book on their social media profiles, it was a buttery smooth process.
What is the reason you write for; is it for the readers or your own self or some other thing?
I think, I always would write for my readers, and writing books for me is a special yet therapeutic process. I keep in mind the motive of inspiring, motivating, and busting preconceived myths or notions of the readers which they have formed, and I suggest that whenever you do read my books, read it with an open mind so that you can learn new ideas which can help you enhance your personal and professional life.
Any special experience about 'Level Up' that you would like to share.
There are many but one of the most special experiences I would like to share is when all the authors came together for a video call for the very first time, that was an incredibly magical moment for me, because never had I ever thought that I could get such eminent personalities to join in for writing this book so effortlessly.
I especially enjoyed being the go-to person for all of them to solve their queries and envisioning this project together to make a global impact through this book.
Future Plans
What are your ambitions for your writing career?
For my writing career, I would in fact like to create more than 1,000 books over the next few years about various topics for personal growth, development, psychology, and experiment in the space of fiction as well for sharing stories that create an impact and inspire people all over the world in various languages.
Are you working on your new project? What will be your next book about?
Currently, I am in the process of launching an anthology with 30 inspirational entrepreneurs, working professionals, and freelancers, called "30 Ways to Get Inspired".
It consists of motivational stories about the journey of how to get started as an entrepreneur, working professional, and freelancer. We have authors from India, China, Australia, Thailand, and the Philippines.
What does success mean to you as an Author?
Success to me as an author that out of the hundreds and thousands of people all over the world who would get a chance to read my books, even if one person is inspired to take action towards his dreams and goals through the thoughts, ideas & principles shared in the book, and has been able to turn their life, business, relationships and income around, even in the smallest way possible, that is the real definition of success for me.
What do you think of India's publishing industry's future?
The future of India's publishing industry is very bright as of today. As we have more than 19,000 publishers and more than 90,000 books published so far, we are on our way to global recognition when it comes to becoming a successful author in fiction, non-fiction and many more genre.
I think we shouldn't waste time even for a single day and start writing and publishing our book as quickly as possible. With the rising number of self-publishing houses in India, we can have our book published within 30-40 days, while traditional publishing houses might take a few weeks or months depending on the quality of your manuscript.
I would recommend that you go for both kinds of publishing and get your book out in the market as quickly as possible. There's no better time than now, to get published and recognized as an author in your network with the rising number of publishers in India.
One learning that you'd like to pass on to young debut authors.
My biggest advice to young debut authors would be that start promoting your book and yourself even before you have launched the book in the market. This will help you gain recognition as a personal brand and authority in your niche. Start connecting with large organizations like BNI, Rotary, Rotaract, and many multinational corporations to promote your book in their circle.
Don't think only in terms of making money or sales, but think of this initiative of writing a book, as a way to establish authority for yourself and your brand. And most importantly, don't judge your work on behalf of your audience, because you will not be able to please everyone.
Some people may like your work, and some may not; so don't worry about other people's opinions for your upcoming book. Use this technique called Pomodoro technique to write your book within 7 days. Dedicate 4 hours in the day and 4 hours at night to write your book non-stop for the next 7 days.
Aim at writing a minimum of 20 pages every day, 10 pages in the morning and 10 pages at night.
By the end of 7 days, you would have created 140 pages of your book, and now is the moment, when you can start with the editing and proofreading of your book.
You might laugh at this now, but when you focus all of your energy with this kind of dedication towards your project, there isn't any task, that you can't achieve, and book writing is the simplest of them all.
If you still need any help, you can always connect with me via my social media channels and I will be more than happy to guide you with this entire process.
Your opinion about Vowelor.
Vowelor has been of the best and the most professional book promotion agencies that I have come across. I would especially like to extend my gratitude to Guneet for being so kind in helping me be a part of this platform with over 1,00,000 dedicated readers who actively engage in reading and promoting books of various genres.
It's an honor to be on this platform and I would encourage all the budding authors to reach out to them for promoting their next book.
Want to know more about Pawan Badlani? Connect with the author on Facebook, Instagram, Twitter, and visit his official website.
Are you also an author? Get your book featured on Vowelor now!