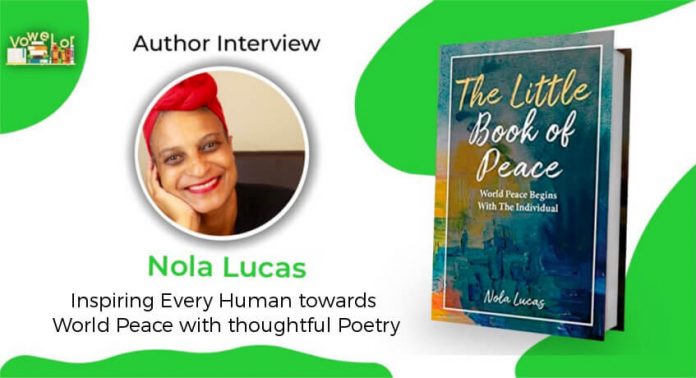 Literature and authors have played important role in shaping mankind throughout history. In recent times, such authors are becoming a little hard to find. Thankfully, we discovered author Nola Lucas who has committed herself to inspiring humans for world peace.
Nola Lucas published her book titled 'The Little Book of Peace' in 2021 with an aim to make every reader realize that 'world peace' is a collective task and it begins by initiating small positive changes within every individual.
At Vowelor, Nola Lucas had an exclusive conversation with our team. But, before we continue with her interview, let us know a little more about the author.
About the Author: Nola Lucas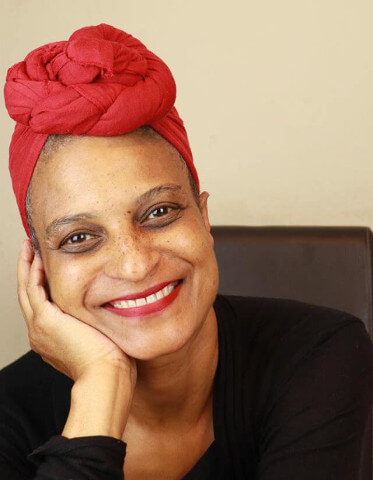 Nola Lucas is a writer, speaker, and volunteer for over 30 years now. She published her debut book 'The Little Book of Peace' in December 2021. Nola believes in making heart-to-heart connections and encourages respectful dialogue to have a deeper understanding of each other and the world in which we all live.
She was born in 1966 in Oklahoma City in the US and was raised in California until she was about 12. She didn't have conventional "parents" and grew up with a Single Mom in a matriarch surrounded by lots of independent women.
Her family moved back to Oklahoma City where she lived until she was 20, before moving to New York and eventually abroad via Florida, the last place she lived in America.
Apart from being an author, Nola has an associate-level qualification in Dramatic Arts. She was only 7 credits away from her bachelor's degree in literature and rhetoric when she left university to commit to some volunteer work over 30 years ago.
Nola is a mother of four children and very much centered in her family life.
Further, Nola Lucas shared about her childhood, her writing journey, her inspirations, and more interesting things about herself. Here are all of her interesting answers.
What were you like at school? Any childhood memory you would like to share.
I was always a bit of an odd one out really. In one way or the other, I always tended to be left of center in proximity to the other kids around me. My biggest memory from my childhood, honestly, is just being in my head a lot. In general, I remember feelings more than I do actual things and events.
What is your biggest achievement till today?
Mothering by far. Having children definitely was the best thing I ever did. And having children actually made me more productive in my personal and professional life as well as it really forced me into time management!
Which writers inspire you?
Toni Morrison James Baldwin Walt Whitman and Daisaku Ikeda
Writing is stressful at times. How do you relax your mind?
I actually don't find writing particularly stressful, however, I often feel a bit stuck and when I do I tend to make a cup of coffee and listen to music.
What is your favorite motivational phrase?
It's not about perfection, it's about transformation.
What advice would you give to your younger self?
The mind that now tortures you, will one day be your superpower, embrace your thoughts and trust your instincts.
What books do you like to read personally? What are you reading currently?
I read a lot of the teachings of Nichiren Daishonin and Daisaku Ikeda. I am currently reading The Wisdom Of The Lotus Sutra Vol. 1 – by Daisaku Ikeda
If you could have been the original author of any book, what would it have been and why?
That is a very interesting question. I will go with one of the most influential books that I have read, which is Beloved by Toni Morrison. It was the first time that I really saw myself and my culture in a piece of literature on the University level. And she had such a strong and powerful voice.
So, to have the opportunity to reach, empower, and inspire others to see themselves as whole beings and see their highest potential is what I think holds the highest value for a writer and in fact for any artist or creative.
What made you decide to sit down and actually start writing?
Exactly that. I remember very clearly saying to myself. "If you really want to write, then sit down and write"
Do you have a special time to write or how is your day structured?
My day is structured around no structure! And I have to confess that I am the poster child for organized chaos! Everything really orbits around my family life and sometimes I just make it up as I go along.
What is the reason you write for; is it for the readers or your own self or some other thing?
All of the above.
About your Book: The Little Book of Peace
Nola Lucas's debut book – The Little Book of Peace – is a collection of inspiring thoughts for every human to bring back peace and values in their lives, especially in today's world. The book focuses on the idea of 'World peace begins with You'.
She believes that every human being must contribute their part in order to make world peace a reality. The book has something for every reader irrespective of age, gender, or nationality.
Read Full Review of The Little Book of Peace
Special Note from the Author
Remember world peace starts with you!
What genre is your book? What draws you to this genre?
Self Help, Spirituality
The Little Book of Peace becomes even more essential as humanity faces the worst pandemic. What was the inspiration behind writing this book?
Well, I actually wrote The Little Book Of Peace, long before the current pandemic and it was with the hope to inspire the individual person in day-to-day life to recognize their own ability to influence the bigger collective. I believe that self-exploration and peace-seeking is a lifetime journey and I like to think that the book is always timely and timeless in terms of its subject matter.
What makes 'The Little Book of Peace' stand out in this genre? What should a reader expect from it?
I think the stand out is in the fact that it is focused on self 'and others' and not just the self. I think the reader should expect to hopefully be prompted to go inward and actually be challenged to live the words of the book and not just read the words of the book.
As though the book has what I hope are little nuggets of wisdom, as with a lot of narratives in life, some things are easier said than done. I think one of the important things to remember in life, it's not just what we say in life that matters, it's what we do and how we behave as human beings is what matters the most.
The book puts deep thoughts into the easiest words. What was the hardest & the easiest thing to write in such a way?
I think the easiest thing was to just write from my heart, without editing my thoughts and intention. And I suppose the hardest thing which is always a personal challenge for me is to really trust myself, my voice, and my intention.
Any special experience about 'The Little Book of Peace' that you would like to share.
The most special thing so far is all the love and support I am getting around the book and the belief that other people have in the book.
Future Plans
What are your ambitions for your writing career?
I would like to reach as many readers as possible, with the hope to have a positive impact on individual and social transformation. I also hope I can in some way, however small, inspire people to believe that they can do anything, irrespective of the challenges they may face.
Are you working on your new project? What will be your next book about?
I am actually near the completion of a book on anti-racism, that not only seeks to identify and address problematic narratives and behavior but offers ways of moving forward in a direction of transformation.
What does success mean to you as an Author?
Creating as much value as possible that contributes to a unified society.
Do you prefer self-publishing or traditional publishing and Why?
I think both equally have their advantages. I think each writer has to find the best way for their own needs to access a platform for their work. I don't think there is ever only one way to do anything.
One learning that you'd like to pass on to young debut authors.
Write from your heart, trust your instincts, try to write with purpose and intention that is true to your integrity and never ever give up! Oops, that was way more than one!
Your opinion about Vowelor.
Committed, sincere, efficient, and works with integrity and care.
 Are you also an author? Get your book featured on Vowelor now!