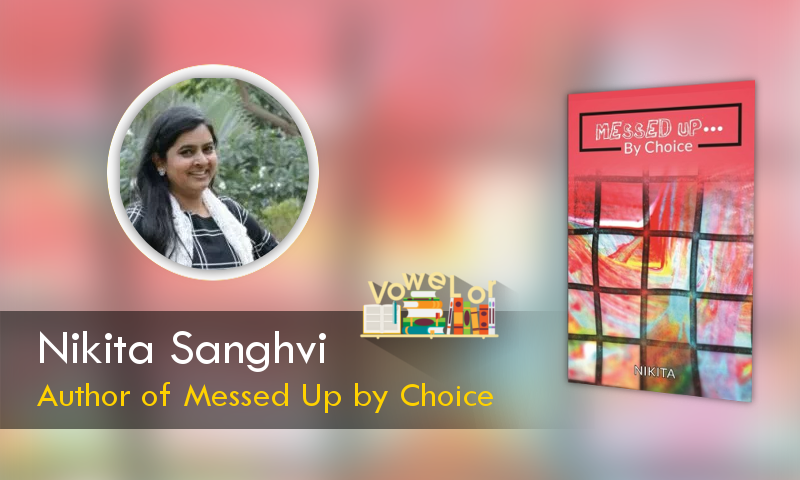 Here we are again, introducing another budding author in our series of Vowelor Author Showcase. The author we are showcasing this time is an absolutely out of ordinary. She is someone who actually digs her stories from deep inside the lives of people around. With the continuous observation of the surroundings and the usual events happening in life, she creates stories that everyone can relate to.
Meet Nikita Sanghvi, the author of Messed Up by Choice
Born in 1987 in Rajasthan, Nikita has done MBA in Management and Bachelors of Science in Fashion Design. She had also cleared UGC NET JRF – Management (June 2013). Currently, Nikita Sanghvi is pursuing PhD in Management and the area of research is school branding.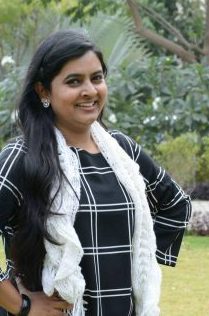 Nikita's father, Mr Dinesh Sanghvi is a timber merchant (businessman) and mother, Mrs Lata Sanghvi, is a homemaker. Herr younger brother, Ankur Sanghvi is in the business of furniture production. He is married to Nikki Sanghvi and both of them have given a birth to a beautiful princess, Peher Sanghvi.
Nikita wrote her debut novel, Messed Up by Choice, when she has to leave her job and knee ligament ruptured. She adopted to publish the book in a way to make her voice heard and to influence people's thoughts, outlook, and response towards the mirage like the harshness of life.
We had a great conversation with Nikita Sanghvi and she opened her heart out for the readers. Here are all the interesting things we discussed with Nikita.
What were you like at school? Any childhood memory you would like to share.
I was a sincere, disciplined, and dedicated child during my schooling. I was quite good in academics and was a Sports Captain in my 12th grade. I like to play Table Tennis and Basketball a lot. I had a fantastic childhood surrounded by limited people that include my parents, brother, school teachers, and 3-4 friends. The best thing about my childhood is that I have never attended any tuition. Even during my 10th grade, my parents and the school allowed as well as encouraged me to participate in National/State Level Table Tennis competitions.
What is the biggest achievement till today?
I believe becoming a JRF is an achievement in terms of superiority of the degree as well as the efforts put in. I had achieved it on a completely individual basis, i.e. without taking any external guidance or tuitions.
Which writers inspire you?
I believe writing is a tool that can alter a mind and a heart, its thought process, and widens one's perspective. Hence, any writer who hits these chords inspires me.
Writing is stressful at times. How do you relax your mind?
I write only when I am not stressed. The moment I am blocked, I stop it. I leave writing and do other stuff like going out with friends, watching TV, do household chores, etc. I read books, observe surroundings, close my eyes, reflect on everything that is happening around me and then get back to writing.
What is your favorite motivational phrase?
"Do whatever you want to do in life, just make sure it makes you smile, feel confident and gives self-satisfaction."

~ Nikita Sanghvi
What advice would you give to your younger self?
Writing is a tool of revolution. Use it wisely. Your words would influence the readers in one or the other way. Just think of the purpose of writing and message you want to deliver. At the end: Just write it down anyway!
What books do you personally like to read? What are you reading currently?
I am an avid reader of fiction, biographies, self-help books and books related to education such as GRIT, Learning Landscape. Paulo Coelho has helped me to believe in spirituality, omens, and Howard Gardner taught me how to identify children's multiple bit of intelligence and nurture them. Along with this, Indian writers such as Chetan Bhagat, Twinkle Khanna, and Rashmi Bansal have influenced my writing pattern, i.e. to write in a simple language so that everybody can understand, visualize and reflect on the message to be conveyed.
I am looking forward to read the autobiography of Karan Johar, "An Unsuitable Boy".
If you could have been the original author of any book, what would it have been and why?
Undoubtedly, it would be Twinkle Khanna's Mrs. Funnybones. The style of writing and content, both are my personal favorites.
Messed Up by Choice by Nikita Sanghvi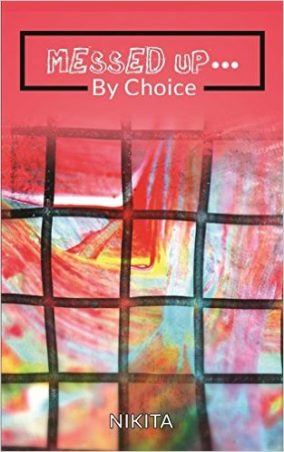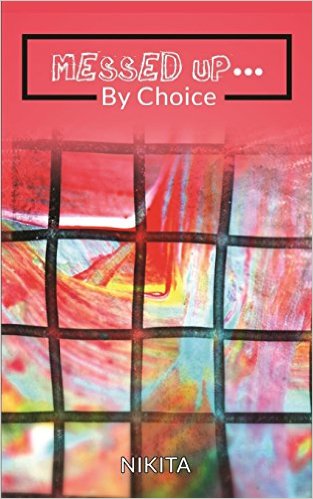 Messed Up By Choice is Nikita Sanghvi's debut novel which was published in November 2016. Messed Up by Choice is about the life of an independent girl, fighting the life's dilemmas to whom every average modern girl could relate.
Read the complete review of Messed Up Choice here and head on to buy the book & enjoy reading.
What made you decide to sit down and actually start something?
I used to teach Written Communication to Masters level students and parallel, I was also working on my PhD literature review. For both the purposes, I have to do a lot of academic reading and to take a break, I read the books which had no connection with my professional choices. After reading Twinkle Khanna's Mrs Funnybones, I attempted to write true incidents. It seems that being a girl from small town to a city girl, living in several paying guests, always taking chances in life and fearlessness to explore new has made my perspective towards life quite holistic in nature.
Later on, I had to leave my job as I was summoned to bed rest due to ligament rupture of the knee. Eventually, I was left with nothing to do physically. Then the stories started revolving in my mind and hence this book, Messed Up… By Choice. I have adopted to publish the book in a way to make my voice heard and to influence people's thoughts, outlook, and response towards the mirage like the harshness of life.
Do you have a special time to write or how is your day structured?
To be very frank, I have not allotted any special time to write. I keep a journal with me all time. This journal is a file on the cloud, which is accessible from all my gadgets. I write down the chapter titles, any incident (not the full story, but the gist) that I remember or anything else, which clicks in the mind at any moment.
Then, whenever I sit down to write the book, I articulate the incident in a proper format. Generally, I prefer to write at late night hours so that there is no external disturbance while I concentrate on writing about the messed up life of my protagonist.
What are the hardest & the easiest thing about writing?
The easiest thing about writing is to create the story – Observe surroundings, reflect upon it, bring out the positive and inspiring elements, talk about it with other people to get the differed perspectives, shape it in a story form and write it down.
The hardest part of writing comes to editing the story followed by marketing it.
What is the reason you write for; is it for the readers or your own self or some else?
It is both ways. I write for myself so that whatever mess up is happening in my mind can be sorted out, as well as for the readers so they realize that they are not the only ones whose lives are messed up.
What makes 'Messed Up… By Choice' to stand out? What should a reader expect from it?
Messed Up… By Choice – The title itself sums up most of our lives. This book includes multiple and diverse themes of life, such as family, friendship, school, education, career, relationships, relatives, marriage, accidents, college life, love, night life, etc. This story is in a way, 'slice of life'.
The book is written in simple English language using plain tone, yet demonstrating strong viewpoint. The one who loves Bollywood movie type stories or the one who wants to begin a habit of reading books should definitely put this on their bookshelf.
Any special experience about this book that you would like to share.
The imagination, the story that I wanted to convey came easily. This was because I was living the complete story in my mind. I could actually visualize my protagonist doing things, making friends, traveling, fighting the world as if I was watching a Bollywood movie.
Future Plans
What are your ambitions for your writing career?
I want to write upon the lives of common people and their journeys, experiences, setbacks, achievements. Every person has a story to live and I want to assure that all the stories are blockbuster super hits.
Are you working on your new project? What will be your next book about?
Currently, I am working upon the theme for my next book. I am planning to write a non-fiction, which may include the girls I am surrounded by. Every girl I know closely lives, such an out of the ordinary life and their journeys are something which I can write upon. The other theme is I may write upon my experiences during the fieldwork of my doctoral studies.
What does success mean to you as a Writer?
A successful writer is the one who can touch the lives of other people and hit the right chords of emotions whenever readers read his/her books.
Where can you see yourself in 5 years' time?
5 years down the line, I see myself doing innovations in the field of elementary education. And of course, I would write down my experiences as interesting stories to inspire people.
Your opinion about Vowelor.
I am thankful to Vowelor for giving me their platform to showcase my book, and share my journey and future plans.