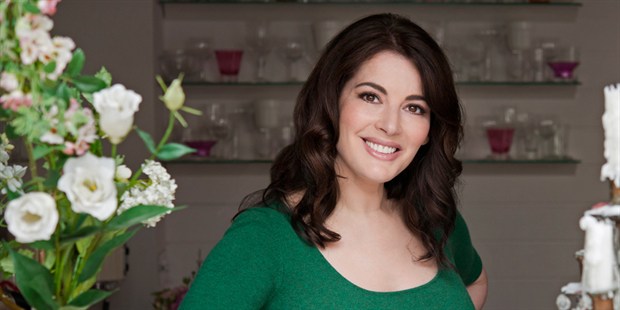 Good news for all the Food lovers! After a long break, finally 57-year-old chef, Nigella lawson set to release her tenth cookbook, At My Table. The book will hit the shelves early this September.
On 04 April 2017, Nigella officially released the cover of the upcoming novel, At My Table, via Twitter. She shared the astonishing cover with his fans and also describes At My Table as a book of recipes that tell her ongoing life with food.
Cover: At My Table by Nigella Lawson
In case you don't follow the Queen of best-selling cookbooks, Here's what Nigella Lawson shared on Twitter.
Announcing At My Table, my new book out this Sept. Read all about it! https://t.co/9bSmGI9Yof #atmytable #nigella pic.twitter.com/oVPSBk6DXo

— Nigella Lawson (@Nigella_Lawson) April 4, 2017
Explaining the logic behind her new cookbook, she wrote: 'It's no secret that I've been writing a new book, but I have kept pretty quiet about it. But now the recipes are done, the book written, and I've just started the book shoot – which means my house is pleasurably frantic, every surface covered and there are four recipes on the go right now.'
Nigella, who is also known as the "queen of food porn", went on to explain about how she loves the making of a book, watching the food come to life in the photographs: it is a glorious time, she quotes.
Insight: At My Table by Nigella Lawson
Here's the exclusive insight of At My Table by Nigella Lawson as revealed on the official website.
'Food is not just fuel, it's about memory and the stories of our lives and for me that means the food I ate growing up, the food I've cooked for friends and family sitting around my table and the recipes in this book reflect that,' she explains.

I'll give you a quick taster of some of the recipes that are in the book: Chicken and Pea Traybake (you know that I am very proud of the accolade 'Queen of the Frozen Pea' bestowed upon me by the great Nigel Slater), Apple Pork Chops with Sauerkraut Slaw, Flash-Fried Squid with Tomato and Tequila Salsa, Fennel and Carrots with Harissa, Moroccan Vegetable Pot, Meatballs with Orzo, Chicken Fricassee (a radical reworking of a recipe from my grandmother's chicken) with Marsala and Chestnuts, Victoria Sponge with Cardamom and Crème Fraîche, White Chocolate Cheesecake, and Emergency Brownies! They're recipes that are favourites around my table, and I hope soon will be at yours.
This book, At My Table, like all her cookbooks she has written, is not just a manual, but a collection of stories and a container of memories. But of course, like all cookery book – this cookery book – also answers a very important everyday question 'What are we going to eat?'.'
She also concluded: 'It's a big moment when a book stops being something that's just in my head, my heart and my computer and steps into the real world, and I'm excited (if a little tremulously so) to share it with you.'
The domestic goddess, Nigella Lawson has penned At My Table, which is set to release in September 2017. The concept of the book is mouth watering for the food lovers. The book tells the personal choice of recipes from the author itself.
What do you think about At My Table Cover and Excerpt? Let us know in comments.