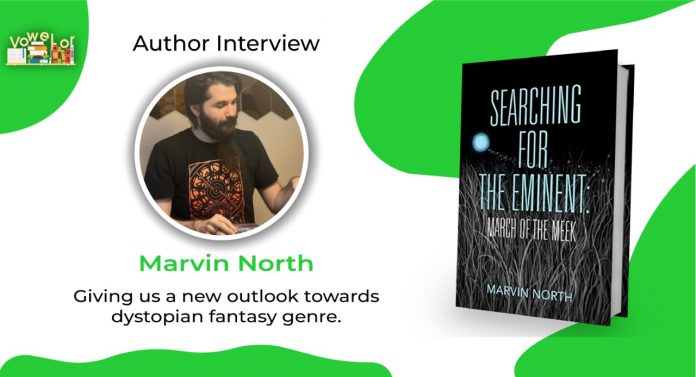 Searching for the Eminent: March of the Meek is the first installment of a dystopian fantasy trilogy by the author Marvin North. It was published in the year 2019 and follows a thirteen years old mercenary-in-training, Rekco Curse, and his adventures and misadventures in an apocalyptic world.
After the release of the book, we, at Vowelor, had an interesting conversation with Marvin about his writing. But, before we continue with his interview, here's a little something about him:
About the Author: Marvin North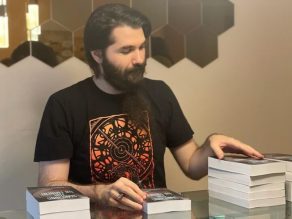 Based in Tuscon, Arizona, Marvin North is an author and a full-time massage therapist. He has recently published the first installment of his fantasy series, Searching for the Eminent: March of the Meek. The rest two books of the trilogy have also been worked on and he's been working on two more. Along with his knack for writing, Marvin also enjoys gaming, so much so that he used to play in competitions.
Further, Marvin shared about his life, his writing journey, his inspirations, and more interesting things about himself. Here are all of his interesting answers:
Tell us about yourself, your family, your occupation, passions, etc.
My name is Marvin, I have a wife and a cat. I love to write and consume all kinds of storytelling media.
When and where were you born and bought up?
I was born in 1990 in Tucson, Arizona.
What were you like in your childhood? Any good memory you would like to share?
I always enjoyed playing make-believe and creating characters and acting out their stories as a child.
What do you think has been your biggest achievement till today?
My biggest achievement, I think, is writing the Eminent Trilogy.
What made you decide to sit down and actually start writing?
I began writing in school as a child. It was my favorite part of the school. My teachers praised me for my stories—I even won an award once for one of them. I think that positive affirmation is what always made me want to come back to writing.
Which writers inspire you?
I was originally heavily inspired by the story-telling done in video games, games like Final Fantasy X, which was one of my favorites growing up. Otherwise, I was inspired a lot by Tolkien's Lord of the Rings and Orson Scott Card's Ender's Game.
Writing is stressful at times. How do you relax your mind?
I do not find writing stressful, perhaps because I don't rely on it to live, haha. Writing for me is a relaxing experience, where I can escape the real world and enter one of my creations.
What is your favorite motivational phrase?
I actually have one from the new book I am writing. "You don't need to be wanted to be remembered."
What advice would you give to your younger self?
I think I turned out pretty well, haha. Maybe eat healthier?
What kind of books do you like to read personally? What are you reading currently?
I mostly read the sort of genres that I would write; high fantasy, sci-fi, etc. I am currently reading The Way of Kings by Brandon Sanderson.
How is your day structured; do you have a special time to write or is it pretty much random?
On my off days, I write when I wake up. Otherwise, I write during my lunch break at work. I think it's good to develop consistent writing habits, that way it never feels hard to write.
What is the reason you write for; is it for the readers or yourself or something else entirely?
I think the most important thing is to write for yourself. Reaching an audience is an uncertain thing, so being happy and proud of your own work is a must.
About the book: Searching for the Eminent: March of the Meek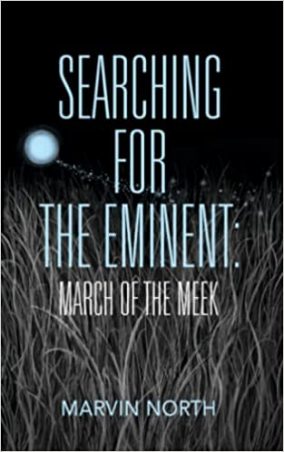 Searching for the Eminent: March of the Meek is dystopian fantasy fiction and the debut novel of the author, Marvin North. Set in a world where the human population has reduced drastically and there's only one inhabited city on the planet, the story follows Recko and his search for the whereabouts of his father. But things take a turn when a wizard and his apprentice move next door. But will this turn be for good or for bad? Read the book to find out.
What genre is your book? What draws you to this genre?
March of the Meek is a coming-of-age fantasy. I think fantasy tends to draw me because I like magic systems. The magic of the Eminent Trilogy is mysterious and rather unknown to the characters, which is a neat way to present a magic system, I think.
Was there something that made you write this book?
Rekco is a character I created when I was a kid. He was sort of how I saw myself, and what I wanted to be—going on adventures and exploring the world. This is a story I have always wanted to write.
What makes 'Searching for the Eminent: March of the Meek'stand out in this genre?
One of my Amazon reviews put this well by saying that March of the Meek is "a truly original idea," and "felt different from any other book I've read, and I've read a lot." It was my goal to create something unique, and I am glad to hear some people think I have.
Why do you think a reader should pick this book over anything else?
There are millions of books out there nowadays. I think if you are looking for a new take on the fantasy genre, and like dark, apocalyptic tones, this would be a good book for you!
The book is a mixture of multiple genres like magical realism, dystopian fiction,
coming-of-age and more. What were the hardest and the easiest things or ideas to incorporate?
The hardest part for me was knowing what to show the reader when it came to the magic in the story, and what to keep secret for them to discover later on as the trilogy progresses. I want to make sure all the reveals feel good and hit their mark.
Is there any special experience throughout the writing process of 'Searching for the Eminent: March of the Meek' that you'd like to share?
This was the first book I finished and published—something I thought I might never do. That alone is a special experience for me. I am surprised every time I see the book, just knowing that it's actually real.
Future Plans
What are your ambitions for your writing career?
I would love to be successful and be allowed to focus on writing, of course, haha. But the real thing I would want from that success would be to have people read and enjoy the stories I created
Are you working on your new project? What will be your next book about?
I am currently working on a new project—an in-universe, sequel to the Eminent Trilogy. My next book will focus on a new universal threat that seeks to claim Overflow's power and use it to wipe out all things and create a new universe of its own.
What does success mean to you as an Author?
Success to me is the mere thought that there are people out there who enjoy my stories. Every time a review comes in and expresses how much they enjoyed my book really means a lot to me.
Do you prefer self-publishing or traditional publishing and Why?
I have only ever done self-publishing, so I don't have much to say about traditional
publishing, only that I would rather publish my work than wait for permission from somebody else to do so.
One lesson that you'd like to pass on to young debut authors.
Don't be afraid to start writing. Even if something is bad when you first write it, you can always come back to it and improve it.
Your opinion about Vowelor.
Vowelor is cool.
Want to know more about Marvin North? Connect with the author on Facebook.
Are you also an author? Get your book featured on Vowelor now!