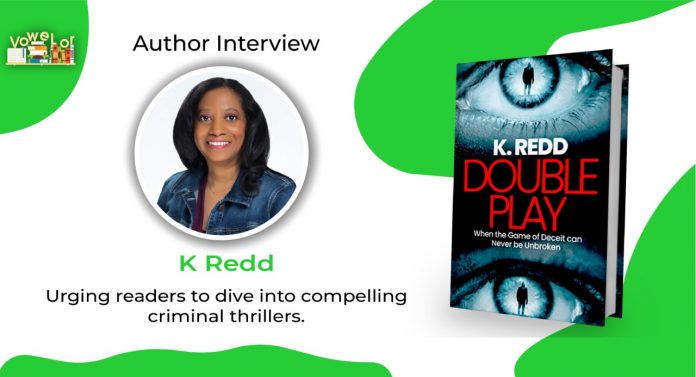 Double Play is a crime thriller novel by author K. Redd, which was published in August 2022. The book follows a set of identical twins, Ryan and Brian Wright. The brothers have been inseparable in the most literal sense and have taken their identical looks to their advantage since the beginning of time. But who said it would never backfire? Pick your copy of Double Play today to figure out how it did.
After the release of the book, we, at Vowelor, had an exciting conversation with K. about her writing. But, before we continue with her interview, here's a little something about her:
About the Author: K. Redd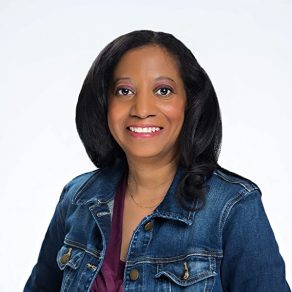 K. Redd is an author and a full-time attorney, based in Michigan, US. She has recently published her novel, Double Play which follows a set of identical twins, Ryan and Brian Wright in a twins mix-up trope. It is her debut in the world of writing which she does in order to keep the creative side of her mind engaged. She is also interested in multiple dance forms like belly dancing, pole dancing, etc.
Further, K. shared her life, writing journey, inspirations, and more interesting things about herself. Here are all of his interesting answers:
Tell us about yourself, your family, your occupation, passions, etc.
I am an attorney. My passions include dancing and researching my family tree using historical information and DNA match lists.
When and where were you born and bought up?
I was born and grew up in Detroit, Michigan.
What were you like in your childhood? Any good memory you would like to share?
During my childhood, people labeled me as quiet. I was very shy and I focused on my studies. I got good grades in all of my classes, but my favorite subject was English.
What do you think has been your biggest achievement till today?
I think my biggest achievement has been passing the Michigan bar exam on the first try. It was great to not have to take the exam more than once.
What made you decide to sit down and actually start writing?
I was looking for a creative outlet and writing seemed like a good idea. I enjoy writing and originally started writing a screenplay.
Which writers inspire you?
Freida McFadden, Dean Koontz, V.C. Andrews
Writing is stressful at times. How do you relax your mind?
I take breaks as needed. I also like to dance and do stretches. I have a lot of dance workout DVDs in different styles of dance.
What is your favorite motivational phrase?
The greatest glory in living lies not in never falling, but in rising every time we fall. – Nelson Mandela.
What advice would you give to your younger self?
In college, I had a difficult time coming up with ideas in my creative writing class. I would advise my younger self to look for inspiration in everything you see and do. You never know what will lead to a good story.
What kind of books do you like to read personally? What are you reading currently?
I normally read mystery/thriller books, but I recently started reading a story on Kindle Vella in the romance genre called 'The Marriage Auction' by Audrey Carlan. It's interesting because it also contains some mystery and suspense elements.
If you could have been the original author of any book, which one would it be and why?
I really can't think of a specific book, but I would have loved to have written the screenplay of 'Avatar'. There were so many surprising real-life issues in the story that were unexpected.
How is your day structured; do you have a special time to write or is it pretty much random?
I spend most of my day working as an attorney, so I try to write during the early
morning hours before I begin work. I also try to get a lot of writing done on the
weekends.
What or for whom do you write; is it for the readers or yourself or something else entirely?
I write mostly for myself. I work on creating a story I really like with the hope
that readers will feel the same way. I also write with the goal that my story will
look good on screen as a movie so I'm always thinking about what will make a
good movie.
About the book: Double Play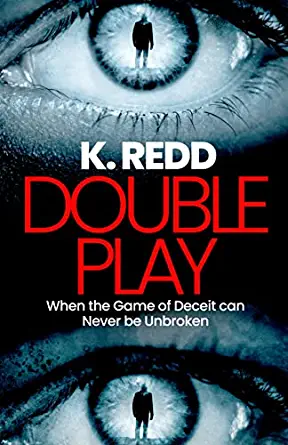 The book follows Ryan and Brian Wright, identical twins that have been sharing their lives in the most literal manner by switching places since their childhood and continue to do so even when they are grown-ups with families of their own. But none of them ever thought that one incident of identity mix-up will lead to one of them getting shot and kidnapped. How will the other deal with it? Will he be able to uncover the mystery while pretending to be his twin or will succumb to whatever big is at play? Read to find out.
What genre is your book? What draws you to this genre?
The genre is mystery/thriller. I think I'm drawn to this genre because it's interesting to try to figure things out while reading as if you're playing a game.
Was there something that made you write this book?
I was inspired when I met someone who seemed to have two completely different personalities at times. I thought it would be interesting to have a story where there were two different people who switched places.
What makes 'Double Play' stand out in this genre?
I designed it to be a quick read that's fast-paced with twists and turns. The identical twin trope is different because unlike others from the genre, it involves twins who are not really living life as themselves.
Why do you think a reader should pick this book over anything else?
There are many surprises in the book. My goal was to add suspense with plot twists and turns.
The book has themes like identical twins mix-up, crime, psychological thrill, and a lot more. What were the hardest and the easiest things or ideas to incorporate?
The most difficult things to incorporate involved the twins switching places. They
communicated with others as if they were their twin so I had to make sure
readers knew which twin was actually communicating. This added a very complex
layer to the story. I had to work very hard to write the scenes in a way that did
not confuse the reader. For me, the easiest ideas involved dialogue. I think my strength is in moving the story through dialogue.
Is there any memorable experience you'd like to share throughout the writing process of 'Double Play'?
No, I can't think of a special experience I would like to share.
Future Plans
What are your ambitions for your writing career?
My ultimate goal is to write a book that is developed into a movie. I also want to write multiple serial novels.
Are you working on your new project? What will be your next book about?
I am working on two new projects. I'm creating two series. One series will be a paranormal thriller about a smart house and the other one will be a young adult science fiction story about a young woman who discovers she has alien DNA.
What does success mean to you as an Author?
For me, success as an author means creating books readers enjoy.
Do you prefer self-publishing or traditional publishing and Why?
I prefer self-publishing because I like to have control over things like cover design. I also prefer it because you earn higher royalties by self-publishing.
One lesson that you'd like to pass on to young debut authors.
Every reader is different with different likes and dislikes. Focus on creating a great story and finding readers who like what you write because you can't please everyone.
Your opinion about Vowelor.
Vowelor seems like a great way for readers to discover a wide range of books and learn things about authors that are not in other apps and websites.
Want to know more about K. Redd? Connect with the author on Facebook.
Are you also an author? Get your book featured on Vowelor now!