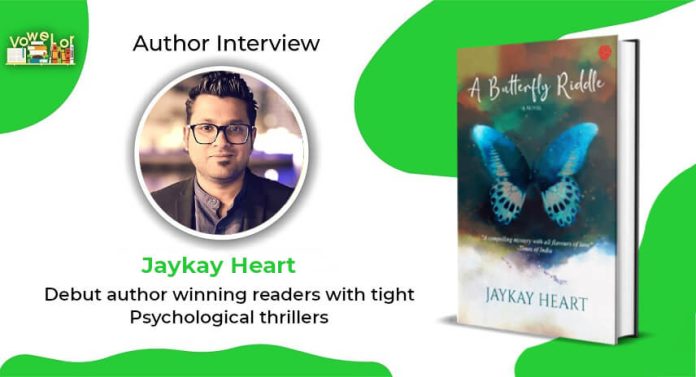 Readers as well as critics usually do not get interested in debut authors easily. And, if a debut author is able to impress readers and critics alike, they are definitely talented. Author Jaykay Heart has done exactly the same with his debut book 'A Butterfly Riddle' which received rave reviews.
After reading his book, we had a fortunate chance to engage in a candid conversation with author Jaykay Heart about his debut book, his writing journey, his future plans, and much more. Before we dive into his interesting answers, let us first know a little more about the author.
About the Author: Jaykay Heart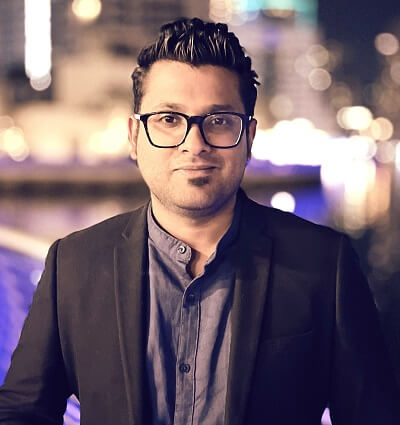 Born and raised in Dubai, Jaykay Heart is an author, banking professional, and a trained psychotherapist & hypnotherapist. His real name is Jayakrishnan Mohan but he writes under the pen name Jaykay Heart. Jaykay's debut book 'The Butterfly Riddle' is a contemporary psychological thriller that was published in 2022. The author received positive reviews from book critics and readers alike.
He holds a BBM (Bachelor of Business Management) degree from Garden City University, Bangalore, and a dual Master's degree in Business Finance (University of Bolton). He also completed MSc in Psychology (Singhania University).
Jaykay Heart is also a certified and licensed practitioner of Hypnotherapy, CBT, and NLP (Associate Level), accredited by the International Guild of iGHyp, iGCBT and iGNLP.
He also holds a Mindfulness Practitioner title (Level 1, 2, 3, and MASTER) from The Academy of Modern Applied Psychology. He is also a trained psychotherapy professional, under Dr. Karen E Wells of The Kew Training Academy (Accredited by CTAA – Complimentary Therapists Accreditation Association) and certified in Positive Psychiatry by the University of Sydney, and Medical Neuroscience by Duke University.
Further, author Jaykay Heart shared about his childhood, writing journey, inspirations, and more interesting things about himself. Let's get into all of his interesting answers.
What were you like at school? Any childhood memory you would like to share.
I was a hardworking student at school, with a strong interest in both academics and extracurricular activities. One of my fondest childhood memories is of participating in a school fiction writing competition and winning first place.
What is your biggest achievement till today?
My biggest achievement till today would be completing my dual Master's degrees while working full-time and being able to balance both my professional and academic commitments successfully.
Which writers inspire you?
Some of the writers who inspire me are R K Narayan, Robert Kiyosaki, and Agatha Christie.
Writing is stressful at times. How do you relax your mind?
I don't have personal experience with stress, but if I would have it, I would probably relax my mind by taking a walk, meditating, or engaging in a hobby such as reading or playing a musical instrument.
What is your favourite motivational phrase?
My favorite motivational phrase is
Believe in yourself and all that you are. Know that there is something inside you that is greater than any obstacle.
What advice would you give to your younger self?
My advice to my younger self would be to always stay true to oneself, never give up on one's dreams, and to make the most of every opportunity that comes one's way.
What books do you like to read personally? What are you reading currently?
Personally, I like to read books on finance, psychology, self-improvement, and literature. I don't have the ability to read books or have a current reading.
If you could have been the original author of any book, what would it have been
and why?
If I could have been the original author of any book, it would probably be "Think and Grow Rich" by Napoleon Hill. The book has had a profound impact on my life and has helped me to understand the power of the mind and the importance of visualization and positive thinking.
What made you decide to sit down and actually start writing?
What made me decide to sit down and start writing is my passion for literature and psychology, and my desire to share my knowledge and experience with others through writing.
Do you have a special time to write or how is your day structured?
I don't have a specific time to write but I prefer to write early morning or late at night when my mind is fresh and focused.
What is the reason you write for; is it for the readers or your own self or some
other thing?
The reason I write is to share my knowledge, experience, and thoughts with others and to inspire people to pursue their own passions and dreams.
About Your Book: A Butterfly Riddle
A Butterfly Riddle is a contemporary psychological thriller novel authored by Jaykay Heart. The book is full of mystery and some interesting, unforeseen plot twists, which will keep you hooked throughout.
The story revolves around a mysterious dead butterfly received by Siddharth Ramaswamy in the form of an unnamed parcel. He sets off to solve the riddle by finding the answers surrounding that mysterious dead butterfly parcel. Join Siddharth Ramaswamy in this life-changing, adventurous journey down his memory lane.
Read Full Review of A Butterfly Riddle
What genre is your book? What draws you to this genre?
My book, A Butterfly Riddle, falls under the genre of thriller. I am drawn to this genre because it allows me to explore the darker aspects of human nature and creates an exciting and suspenseful narrative.
How the idea for this story came to you? What was the inspiration behind this
book?
The idea for this story came to me while pondering over the concept of how one's actions can have a butterfly effect on those around them. I was inspired by the idea of exploring the consequences of one's choices and how they can spiral out of control.
What makes 'A Butterfly Riddle' stand out in this genre?
A Butterfly Riddle stands out in this genre because of its unique blend of psychological elements and plot twists that keeps the readers on the edge of their seats. The story also delves into the themes of friendship, loyalty, and the blurred lines between good and evil.
What should a reader expect from 'A Butterfly Riddle'?
A reader can expect a fast-paced and suspenseful story with unexpected twists and turns, as well as a deeper exploration of the characters' motivations and desires.
The story blends so many different themes including mystery, friendship and plot
twists. What was the hardest & the easiest thing to write such a story?
The hardest thing about writing this story was weaving together the various themes and making sure they all came together seamlessly in the end. The easiest thing was getting lost in the world of the characters and allowing the story to unfold naturally.
Any special experience about 'A Butterfly Riddle' that you would like to share.
A special experience I had while writing A Butterfly Riddle was how much it resonated with the readers, and the positive feedback I received from them. It was truly rewarding to know that my story had the power to affect people in such a profound way.
Future Plans
What are your ambitions for your writing career?
My ambition for my writing career is to continue writing stories that are thought-provoking, engaging, and that resonate with readers. I hope to build a loyal readership and be recognized as a respected author in the industry. I want to continue to improve my craft and write stories that will be remembered for years to come.
Are you working on your new project? What will be your next book about?
Yes, I am currently working on my new project. I'm still in the early stages of development, but I can tell you that it will be a psychological thriller, much like my debut novel, A Butterfly Riddle. I am excited to delve deeper into the mind of the characters and explore the darker aspects of human nature.
What does success mean to you as an Author?
Success to me as an author means that my stories have the power to affect people in a meaningful way and to be recognized by the industry and readers as a respected author. It also means being able to make a living from my writing and to be able to continue to write stories for a long time.
What is your take on traditional publishing and self-publishing?
Both traditional publishing and self-publishing have their pros and cons. Traditional publishing can offer more resources and support for authors, but it also comes with more restrictions and control over the final product. Self-publishing allows for more creative freedom, but it also comes with more responsibilities and expenses. Ultimately, it depends on the author's goals and preferences.
One learning that you'd like to pass on to young debut authors.
One learning that I would like to pass on to young debut authors is to not rush the process. Writing a book takes time and patience, and it's important to give yourself the time and space to create a story that you're proud of. Also, don't be afraid to seek feedback and make revisions to your work.
Your opinion about Vowelor.
Lately, I have learned that Vowelor is an excellent and top-notch platform for all readers around the globe and authors to connect with each other. They are up to date on what is happening in the book world and I wish this community all the very best and keep doing the brilliant work!
 Are you also an author? Get your book featured on Vowelor now!