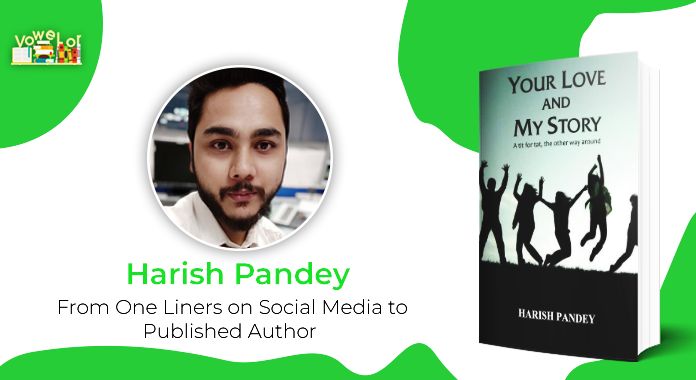 For authors, social media is a great platform for reaching their audience these days. And, there are many such authors like Rupi Kaur who made it big after starting out just on social media.
We are happy to introduce you to a young Indian writer, Harish Pandey, whose writing journey started with one liners on social and eventually turned into a published author.
Harish released his first book 'Your Love and My Story' in Feb 2020 which is published by WorditCDE.
Without waiting anymore, let us know more about Harish, his life, his writing journey and more.
About the Author: Harish Pandey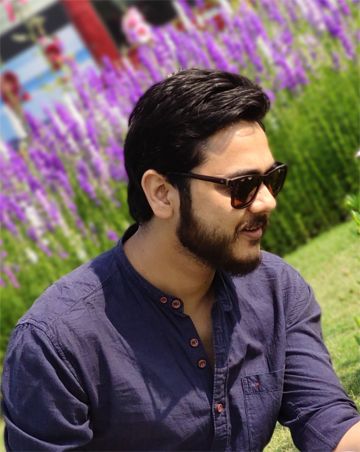 Born in October 1990, Harish Pandey belongs to the land of gods – Uttarakhand and currently lives Delhi. He comes from a family of defense personnel, his father served and retired from the Border Security Forces while his elder brother is serving in Indian Navy.
His brother is married and his sister-in-law is working in a software company. Their son and the most blue-eyed member 'Toshi' is the newest addition to the family.
According to him, the most important member of the family and their life, the house maker and the house manager is his mother. As his father kept getting posted to different locations. So obviously his mother played a major role during our growing up days.
She has been the most inspirational person for all his life though he has learnt a lot of different sets of life skills from every person of the family.
Harish's parents still reside in Uttarakhand while the author moved to Delhi in 2007 for his technical education. He pursued Diploma in Electronics and Telecommunication engineering. Since then he has stayed in Delhi and has been employed in Delhi Metro Rail Corporation. Meanwhile he also pursued Bachelors in the same course from distance education alongside the job.
Harish candidly answered more about his life and journey into writing. Read further to have sneak peek into the author's life.
What were you like at school? Any childhood memory you would like to share.
I was 3-4 years old when we moved to Kashipur, Uttarakhand and then I completed my senior secondary education from Kashipur only.
Well, not only at school but all my life I've always been perceived as an all rounder sort of person. I was good at studies but at the same time I was good at sports also. Few things come to me naturally, and friendship is one of them. I have been friends with every kind of people. Obviously it's one's choice who to keep close and who not but I guess I am fortunate as people have always been more generous towards me.
I have done a few mischievous things too but for teachers I have always been this reliable and decent sort of pupil.
One incident from my college I would like to share is from the first year and second semester of my college. Yet we had progressed to 2nd sem but the result of 1st sem was still pending.
I used to stay in a rented house with my roomie Amardeep, next to college. Somehow we got a typewriter in our room. So for fun purpose, I typed the consolidated result of whole of my class and pasted it on the notice board. And our college has this unique thing that the result used to come on the printed sheet only. No online concept.
So I and my roomie and one more hosteller friend executed the plan very neatly and informed one or two classmates that result has come and is pasted on the notice board. After that the rumour spread out so quickly and the hostel seniors got to know about the same. And the fun thing was we have shown most of the students as failed.
Initially it was fun but after that the situation got tensed. The seniors lined up all the 1st year hostel juniors in one room. But somehow we managed to convince the seniors that it was all forged and prank. But on a serious note, it had almost gone other way and I was lucky that I didn't face any repercussions afterward.
What is your biggest achievement till today?
I guess for interview like this, there should be one at least. But I actually don't rate any because I feel being in a journey, one would never like to state that the biggest or most beautiful moment of my professional or personal life has been achieved. Now I have attained NIRVANA and it doesn't matter to me where I am going in this journey.
And if you try to remind yourself everything that has given you a new experience was an achievement in itself.
When I learnt riding bicycle was also a biggest achievement for me; when I emerged topper for the first time in my academic life; the first love, the first break up, the first salary, my first book… everything is special and to a level is an achievement.
But the important thing is I always want to make my family and close ones happy and proud and keep them together because as you grow up, you get to understand that clapping hands and helping hands for real are very few. And when you actually get to know it you want to keep them by your side for eon.
Which writers inspire you?
Again there is no specific one. For me, it's all about those few lines which connect with you and you actually relate them. And the way the author has narrated them, the ease to say it along with the context of the situation going on in the story makes me go wonder. So I have read Paulo Coelho. I like him for that.
When I read Chetan Bhagat's Five point someone, it was again something fresh and relatable to me. The content and the narration were spellbound.
Amish's way of blending fiction with the history makes you believe that may be that is the original story. He implies everything so logically.
And I have read most of the creations of Munshi Premchand and I always go gaga with his simplicity. He was too ahead of his times and his writings are still relatable and apt in the current scenario.
Also I am fond of a lot of urdu-hindi shayars like Gulzar saab, Jon Eliya saab, Wasim Barelvi ji and many others. The fact is that they will say only four lines and that is enough to reckon an entire story behind the scenes. They are just magical.
Writing is stressful at times. How do you relax your mind?
YES, writing could be stressful at times but as I've mentioned in my book that how this book got created. So it was not that much stressful for me. I write but I am into other profession too. I wouldn't say I keep balance between them because till now I am not completely into writing. So you can say I relax my mind by writing.
I love writing short stories more. I write in Hindi too. There is an app called 'PRATILIPI'. I write there and I am quite famous over there. Short stories are not time consuming affairs for writer as well as for readers. And if they get to read something logical, social, emotional, motivational as well as entertaining against their 4-5 minutes of time, they'll give it a read.
What is your favourite motivational phrase?
Depends what kind of motivation do I need at that particular moment? And most of my original lines even in my book and in my life, I have created like being stuck in some dicey situations and later analyzing them and automatically some set of words of your own hit you and you create them in your way.
What advice would you give to your younger self?
'Don't grow up' 🙂
Seriously, my nephew, Toshi, is one and half years old. I see him and feel like," what a beauty you are, mate". Infants are like this. Everything they do, even seeing them breathing while sleeping is like they are performing an art with perfection nonchalantly.
What books do you like to read personally? What are you reading currently?
I love reading comics and light-hearted stories. I actually don't like too much of drama and tragedy and all.
Comings to novels and novella, the stuff should have entertainment value plus the realistic approach towards the content. If I can't relate with the topic plus it has everything depressing, I can't be able to continue with it. But in the end it's all depend on the author's way of presenting it and the reader's taste.
For me, If am enjoying it, I will derive the relatable message of the book according to me. A good author is like a good chef who makes you fall in love with what he cooks the best along with satisfying your appetite and taste-buds.
Currently I am reading Amish's "RAAVAN" of Ram Chandra series.
If you could have been the original author of any book, what would it have been and why?
I have never thought of it like this way. I think if someone inspires me with his/her creations or somehow acts as a pioneer in some particular way then it's quite obvious with me to automatically develop a sense of respect for that person.
I believe if that awesome idea didn't struck me, then how come I can claim the credit for it. May be I can come up with few better lines replacing those in the books, but not the name engraved on the cover of the book for sure.
And I guess that's where copyright act comes to the scenario. 😀
What made you decide to sit down and actually start writing?
If you check my FB profile, you would find that I have this habit of updating my status be it one liners or preaching in three four lines. So I always have this way of sharing my views independently of what I am going through and all. I have always been a keen observer and Thinker of the circumstances. The good thing is I am a Doer too. So those preaching are not just like that, they have a meaning and moreover I have experienced them at some point of time.
Fortunately I started shaping them in a story form and finally accomplished it. I think you can tell me better how did I do the job?
Do you have a special time to write or how is your day structured?
No special time and not like I have to give a regular visit to it. It's just like if I have some beautiful idea come up or I get the crux of the story, then it's pretty much easy for me to weave a sensible story around it.
All I need is a bit of 'me time' where I can concentrate and when I am done with tying the knots of story in my head, it doesn't take more than half an hour for me to write down short stories in Hindi. I have done this quite a time when I write for 'PRATILIP' Hindi short stories. I would like you to read them and give your honest feedback if I am going through the right process to write a story.
What is the reason you write for; is it for the readers or your own self or some other thing?
Well, it's for me initially but as I've told you, I write short stories and poems too and when people started recognizing and appreciating me (especially in and through PRATILIPI) then they started requesting that we are keen to read much of your creations.
And this thing gives you ultimate joy and it automatically boosts your morale. A sense of recognition and appreciation is there, so at few times I just tried to write for my readers too.
But for me it's a balanced act and I guess every person know this that how much he is okay with to know people about his hush-hush.
About the Book: Your Love & My Story
Your Love and My Story is Harish Pandey's debut book that was published in Feb 2020. It is a story that beautifully portrays so many emotions including friendship, love and betrayal.
It revolves around three characters – Radhika, Kabeer, and Vishesh – and their journey of four years during their college which is full of high and lows.
Although the book is set in a rather common background of an Indian engineering college, still while reading you are bound to feel nostalgic and deeply related with the characters.
Author Harish Pandey shared more about his book Your Love and My Story as well as his future plans. Read his interesting answers further.
What genre is your book? What draws you to this genre?
It's in fiction category – a blend of love, romance along with a heavy dose of friendship that evolves among protagonists.
It's my first novel and basically I wanted to present it in an entertaining way. The content is more from what I've personally experienced as a school/college-goer during my growing up days and what I analyzed in my surroundings. To me it was quite relatable and presentable topic as almost everyone as a reader has gone to school/college and created memories over there. So that was my logic behind drawn to this genre.
What makes 'Your Love and My Story' to stand out in this genre? What should a reader expect from it?
You ask a parent that what makes your 'first baby' special and they will tell you it's my first creation. It has to be special for me for every damn reason in the world.
But on a serious note, when some of the publishers who I send my manuscript to, got ready for taking it to next level in partnership, they all have appreciated me for my approach to the narration. The content is good but you know college life romance is cliché nowadays.
And therefore many of the publications houses denied it too without going for a complete manuscript. Those who found the sample chapters interesting automatically gave the nod of approval to final script after reading it and for them the 'stand out' thing was the narration and the fresh way of approach to it. The twist factor is the different dimension I got appreciated for.
And I would like to mention it here that don't just consider this novel for youths only, it has love of every sort of relationships, it has friendship, family, struggles, survivors and conquerors. If you have loved someone and lost them and still somehow find in your notions this story is capable of taking you to lane down those memories of yours.
I have tried every ingredients of my creative world to make this story a likeable and relatable platter of dishes of different emotions that can satisfy every reader's taste-buds.
What is the hardest & the easiest thing about writing?
Hardest thing I found particularly about writing a novel is building different characters and then introduce them to each others because every character in a story has different dimensions, difference appearance and different mindset.
You just can't go without defining them properly. If you can't make a reader visualize about how a character looks, what s/he is all about then it's pretty much impossible to the readers to relate with them.
And then there are the sequences where one protagonist meets with other or confronts antagonist for the first time. These are the points where story needs a strong and structured approach.
Once you are convinced that character 'A' has great camaraderie with character 'B' then it's not difficult for a reader to assume that 'B' can do anything stupid or otherwordly when he is in 'A's ' company. And after this point as a writer, I found these are the easiest parts for me to write when story picks up pace. The story goes like knife across warm butter.
Being a debut author, how was the journey from the first draft to the published novel? Any special experience that you would like to share.
Completing this book is a story in itself. When I started off, I didn't think it like a novel or something. I was trying myself to see how far can I go? And it was all for just like that. As I stay alone in Delhi, so nobody was going to know about I started something like this if otherwise, I didn't able to continue it but somehow I continued. Not regularly but I made sure that I would write often and keep the pace of the story going. And when I reached 70% of it in around 3-4 months, I got stuck at a point where I had to write about the main lead 'Kabeer' is going to leave his friends.
It was the anticlimax part so it had to be strong and reasonable but how to make it convincing was the toughest question. Toughest also in the terms that at the same time a lot of likewise scenes from different books and movies come to your mind. And you don't want to put it in a cliché kind of category for readers. And I was not coming up with any great idea and therefore I let it be for few days.
Things were left as it is at their places and then one fine day I thought of sending the sample chapters to publishers. I googled the details and sent them as per their guidelines. The least expected time for their reply was 1 month. Till then I got ready with the climax part in my head and I wrote it during this time.
Surprisingly one day, I got an email with letter of intent attached with it from one publishing house and they wanted my complete manuscript for further scrutiny in one week time period. This unexpected appreciation broke all the barriers of my blocked storyline and I completed the rest portion in 3 days only. And to be honest, that was the moment I realized that YES! I have done something good in writing as that was the first time somebody else knew about my writing secret and actually patted my back.
Finally I got published.
Future Plans
What are your ambitions for your writing career?
Right now I am focusing on this one only. I want it to reach maximum people who love reading and give it a shot. I'll definitely go ahead with some more stories. But as I also write poems and shorts stories, so I am thinking of publishing a book of 10-12 short stories.
Are you working on your new project? What will be your next book about?
Books – as such no. Currently waiting for the response of this book.
What does success mean to you as an Author?
As I have written in my book, Success doesn't mean winning always. Losing on purpose is also a kind of one.
So as an author, if you are capable enough of making people go on a journey that is not taking them anywhere physically but they witness by feeling every bit of it and in response inform you that it felt like everything was happening in front of me. I think that's hell of a compliment.
And as an author if one gets this habit of keep surprising and keep engaging to his readers every time in a new way with every creation of his, I think that makes an author successful apart from the commercial success.
Where can you see yourself in 5 years' time?
Even an overnight success comes after thousands of sleepless nights. So I guess predicting for 5 years down the line is quite a big thing. But obviously I will try to have some more titles to my credit.
Your opinion about Vowelor.
It's my first project with them. And they seem quite professional and their way of working is quite structured. They know how and what to provide best for their clients. I hope we both see success and create a name for us in the market with every passing day. Hopefully we keep doing other projects together in near future.