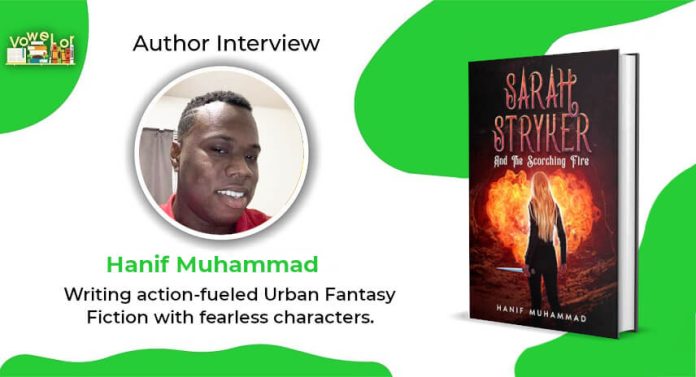 The popularity of Urban fantasy stories has been rising in recent times. Thanks to the talented authors who put their creativity and efforts to write brilliant urban fantasy fiction. Author Hanif Muhammad does exactly that with his Sarah Stryker book series.
During the promotion of his latest release, we had an in-depth conversation with author Hanif Muhammad where he shared a lot about his books, his writing journey, his life, and much more. Before we begin with his interesting answers, let us first know a little more about the author.
About the Author: Hanif Muhammad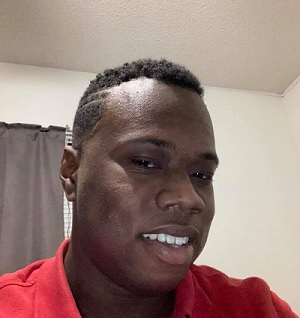 Hanif Muhammad is an urban fantasy author from Texas known for his Sarah Stryker series. His ability to create immersive worlds and deliver captivating storytelling fetched him a lot of praise from readers for his books.
Hanif's debut book, Sarah Stryker: The Outcast, was published in Dec 2022 followed by two more books in the same series in early 2023. He firmly believes that a great story can transcend cultural and societal barriers and remind all of us of the fact that humanity is of one soul and one core basic nature.
Living with his beloved family, Hanif's father is a retired probation officer and his mother works as a teacher. He also has two younger sisters.
Further, author Hanif Muhammad shared about his childhood, his writing journey, inspirations, and more interesting things about himself. Let's get straight to his interesting answers.
When and where were you born and bought up?
I was born in Fort Worth Texas on December 5th, 1992. I've lived here my entire life. My father's side of the family was raised in Kansas and lives in Mississippi while my mom's side lives in Pittsburgh Pennsylvania.
What were you like at school? Any childhood memory you would like to share?
Very shy and awkward. I grew out of it somewhat and am able to be pretty open and friendly toward people but I'm still cautious.
What are your educational/professional qualifications?
I don't have any, to be honest. I write from the heart. To me that matters more than what any educational or professional qualifications can give you.
What is your biggest achievement till today?
Honestly, writing my first two novels has been an enormous undertaking and easily the thing that I'm proud of the most. Nothing else in my life really inspires me to this degree.
Which writers inspire you?
Joss Whedon. JK Rowling. Anthony Horowitz. Alan Moore. Christopher and Jonathan Nolan.
Writing is stressful at times. How do you relax your mind?
Music. Music. Music. Reading helps a lot too. Gaining inspiration from the multitude of movies, novels, video games, and shows that I've consumed.
What is your favourite motivational phrase?
So many motivational phrases. I couldn't list just one.
"All you have to decide is what to do with the time that is given to you"

~ Gandalf
"What we do in life echoes in Eternity."

~ Gladiator
"Every man dies. Not every man really lives."

~ Braveheart
"Never compromise not even in the face of Armageddon."

~ Watchmen
What advice would you give to your younger self?
The advice would be to believe in yourself. Stay motivated. Be smart. Take risks but don't give in to peer pressure. Choose your friends more wisely.
What books do you like to read personally? What are you reading currently?
I love Action/Adventure and Fantasy as well as drama. I'm willing to give almost anything a chance though I'm not super keen on romance. I'm rereading the Alex Rider series, a childhood favorite of mine. I'm on Scorpia, the 5th and my favorite book in the series. I'm also reading Throne of Glass for the first time. I'm rereading Harry Potter and a few other books from other indie authors. Got quite a bit of reading to do at the moment.
If you could have been the original author of any book, what would it have been and why?
I don't know. I really love the book series that I'm writing now. I feel like the potential it has is almost endless.
What made you decide to sit down and actually start writing?
A vision that I had. I've dreamed of creating my own story since I was a kid though it constantly changed and it took a while for me to come up with a solid story arc and a relatable MC.
Do you have a special time to write or how is your day structured?
I generally try to write whenever I have free time. I sometimes do other things like read or surf the web as well.
What is the reason you write for; is it for the readers or your own self or some other thing?
I write because I have a story to tell. A truth that I wish to impart, deep within myself and I want to touch the hearts of readers and story lovers everywhere. And because it's fun.
About the Book: Sarah Stryker And The Scorching Fire
Sarah Stryker and The Scorching Fire is a gripping novel about Sarah Stryker, a brave and determined protagonist on an adrenaline-fueled journey through a chaotic world threatened by an ancient evil.
Hanif's storytelling prowess shines with vivid descriptions, immersive world-building, and a fast-paced plot that keeps readers on the edge of their seats. Explore themes of resilience, friendship, and the unwavering fight for what's right.
With a captivating narrative and compelling characters, this book is a must-read for fans of action-packed adventures and thrilling fantasy tales.
What genre is your book? What draws you to this genre?
The genre of my story can be best defined as Urban Fantasy/ Action/ Adventure. I love this genre because of its creative freedom and the ability to use metaphors to convey meaning and atmosphere. I also love the intensity and heart-pounding excitement of the action scenes and above all else I love the theme of someone seemingly ordinary becoming extraordinary.
What was the inspiration behind the character of 18-year-old Sarah?
The story of seemingly the most fragile and meek among us ascending into heroism and legendary status. That's what the character arc for 18-year-old Sarah represents.
In many stories, there is that damsel in distress; a woman. Usually, a blonde woman is sent screaming for her life as she is kidnapped and subjugated by the male predator so that the male hero can save her. It's a standard trope and one that makes sense as the hero has to save someone, but I thought it would be a great idea to turn that trope on its head and have the damsel become the hero.
But not just any damsel but the most tortured yet determined soul that one could fathom. I feel that in doing so I hope to not only inspire women by giving them a positive role model but provide an uplifting tale for humanity as a whole; that represents the pinnacle of what an individual can achieve once they tap into the right mindset and stand courageously in defiance of evil.
What makes 'Sarah Stryker and the Scorching Fire' stand out in this genre?
Well, for one it's a mixture of multiple genres. I mention that it's Urban Fantasy. That is what the series is primarily focused on but it takes the story a while to get there in this first novel.
When we first meet Sarah Stryker, she is a normal girl and seemingly average in terms of physicality. She has a bit of intelligence and insight into her young sister and her mother. But she is quite vulnerable in a way that most women can relate to.
It is not until after her fateful encounter with The Serpents that Sarah's supernatural powers are awakened.
From there on the story becomes a hero's journey in a way that you might expect, with Sarah traveling the world and training with her mentor to attain strength and control of her abilities and her life. But we also get inside Sarah's head as she experiences PTSD.
At one point I utilize the sort of frightening imagery that you might see in a horror film. I combine multiple genres into this first installment in the main series. While the selling point for these types of stories is often the action, I make sure to never forget the heart and soul of the characters.
What should a reader expect from 'Sarah Stryker' books?
Readers should expect tons of intense action. Epic fighting but also increasingly involving and complex human drama. Obviously, Sarah herself is at the core of the entire plot but readers should expect plenty of world-building and complex arcs for the supporting cast as well. This is not only a super-powered world but a war-torn one.
Readers can expect The Pride, The Serpents, and also The Shadow Angels to be armies most intertwined with what is happening in the plot. Sarah Stryker will be consistent in her overall persona but she will evolve as I attempt to peel back the layers and continue prodding until we find what makes her tick.
This is a story about Good vs evil, Life, and death. Purpose and fulfillment as well as turmoil and sacrifice.
Readers should expect to uncover the backstory of most of their favorite members of the Sarah Stryker Saga. Amy Stryker is often the Co protagonist of most novels as she is the younger sibling and one whom Sarah cares for above all others but there are several other key players. They are the Ruthless Fire bender, Alex Shepherd. The smartass telepath Kyle Harper. Professional boxer, Maryam Bahira. Street Queen Carmen Rivera and a Psychologist with a mysterious past named, Drake Hawkins. And even more.
Each character will offer something special and will serve the plot as well as relate to Sarah Stryker herself in some way. There are also the main villains to consider.
I introduce Alex in The Scorching Fire as a solid starting point but there will be plenty more deliciously evil Villains in this world. The Sexual predator Anthony, AKA The Royal Python, and Queen Anastasia The torturer are the vilest and conniving, as well as the most morally contemptible.
Some will be pure evil villains that are simply out for themselves while others are more conflicted or nuanced and have a special goal or agenda they are out to achieve.
The story follows Sarah's early life and her past from events of 'Sarah Stryker: The Outcast' book. What was the hardest & the easiest thing to write this prequel?
So this is a little tricky. I actually wrote Sarah Stryker and The Scorching Fire first but due to its length I was hesitant to release it right away, so I wrote The Outcast in an attempt to write a more easily digestible look into the life and trials of Sarah.
Ultimately The Scorching Fire is just the beginning, showcasing the first mission that Sarah took upon herself when she joined The Pride but we still have ways to go but we are caught up to the events that take place in The Outcast. But I can promise that it'll all make sense when we get there.
Any special experience about 'Sarah Stryker' that you would like to share?
I had a really nice Beta reader go out of her way to write a full in-depth analysis on 'Sarah Stryker: The Outcast' and even made a custom cover for it. Although I ended up using something else, that cover served as a solid blueprint for the cover of 'Sarah Stryker and The Scorching Fire'. I created an Audiobook for 'Sarah Stryker: The Outcast' and my narrator had some very pleasant things to say about the story as well.
Future Plans
What are your ambitions for your writing career?
My main ambition is to enjoy what I'm doing while gaining more fans and readers, eventually, I'd love to do this for a living and make Sarah Stryker a household name. If not at least a character that many know and love.
Are you working on your new project? What will be your next book about?
My next novel is a direct sequel to The Scorching Fire. It's titled 'Sarah Stryker and The Royal Python'.
What does success mean to you as an Author?
Earning a living as a writer or at the very least have dozens if not hundreds of readers fall in love with your story.
What are your views on self-publishing versus the traditional publishing route?
I believe that both have their perks as well as their drawbacks. I think it just depends on what works for you as a writer.
One learning that you'd like to pass on to young debut authors.
Don't take any shortcuts, especially when it comes to editing. Make sure to hire a professional. It'll help you out. Trust your own judgment and intent. If something doesn't feel right don't do it.
Your opinion about Vowelor.
Quite helpful. This interview has been rather interesting. I'd love to do another. I very much appreciate the opportunity.
 Are you also an author? Get your book featured on Vowelor now!