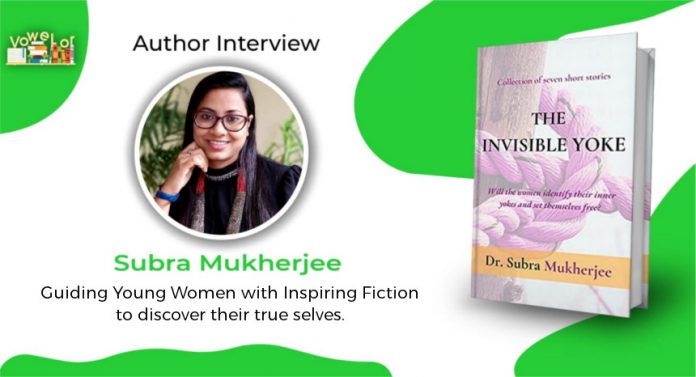 No matter how good a writer a man is, only a female author can mirror the true stories of women and their lives. And, thankfully, now we see many talented female authors who bring out women's issues to everyone's eye with the power of fiction.
Vowelor is also proud to introduce you to one such author, Dr. Subra Mukherjee, who published her debut book 'The Invisible Yoke'. It is a collection of 7 short stories about women who discover their 'yokes' and free themselves from them.
Before we get into the exclusive interview, let us first get to know a little more about the author.
About the Author: Dr. Subra Mukherjee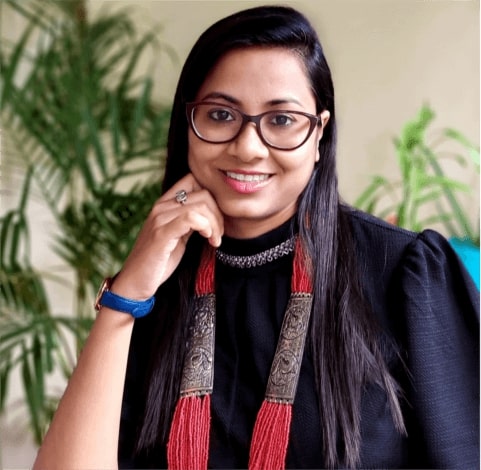 Dr Subra Mukherjee is an author, educator and an internationally certified Mind Mapping coach. Her debut book 'The Invisible Yoke' was published in May 2021.
Academically, Subra has completed her B.Tech and M.Tech in Electronics and Communication Engineering. She also holds a Ph.D. in Electrical and Electronics Engineering.
Having 15+ research papers published in International journals, she is a researcher and learner; in short a true student of life.
She was born in 1987 to a very humble lower-middle-class family in Nagaland, a beautiful state in the Northeastern part of India. Her mother is a school teacher, dad is a simple employee in a private firm. Apart from her parents, she has two younger sisters and she is the eldest of three children.
Her love for books started from the age of 8 that led to her becoming an avid reader and ultimately a writer herself!
Further, Subra discussed her childhood, her reading habits, and more interesting things about herself. Read her answers below.
What were you like at school? Any childhood memory you would like to share.
Well, I was pretty good at academics…Mostly I would be the topper of my class. I loved participating in literary competitions. However, I was not very active in sports.
The 10th board exam result was the first major milestone of my life that boosted my confidence and paved the path for the journey ahead. I secured 2nd Rank in the entire state board, and that indeed is a memory worth remembering for me.
What is your biggest achievement till today?
Well, that's a very subjective question. Achievement according to me is not a one-time thing, it's a journey, a process.
I have been fortunate to cross several milestones in my life, from being a topper in 10th and 12th board exams to achieving Double Gold Medals in my Master's degree, from working as a faculty of engineering for more than a decade at an international university to becoming an entrepreneur, from completing my doctoral studies to writing this book, and many more… Each of these milestones is very dear to me and I have always enjoyed the roller coaster journey.
Which writers inspire you?
Rabindra Nath Tagore, Ruskin Bond, Jhumpa Lahiri, Aravind Adiga, Arundhati Roy, Anna Burns, Rhonda Byrne, Nicholas Sparks, Robin Sharma.
Writing is stressful at times. How do you relax your mind?
I love writing and there have been very rare occasions when writing stressed my mind and soul, but yes at times my fingers get stressed from writing or typing.
Soft music and greenery are two things that relax both my mind and soul. Also, I make a lot of colorful mind maps whenever I feel stressed out.
What is your favorite motivational phrase?
Everything comes to us that belongs to us if we create the capacity to receive it.

~ Rabindranath tagore
What advice would you give to your younger self?
Here I would like to mention two quotes that I wrote:
"Live in the Present, take small but consistent actions each day towards your goal and never trade your core values for anything"
"Showing up on the start-line, every single day is the non-negotiable ritual that can transform lives"
What books do you like to read personally? What are you reading currently?
I am an avid reader. When I am not writing, I am mostly reading or mind mapping.
Currently, I am reading the "Lone Fox dancing- Autobiography of Ruskin Bond"
If you could have been the original author of any book, what would it have been and why?
There are so many, but if I have to name one, that would be one of my favorites, "The White Tiger- by Aravind Adiga". I was moved by the way it was written, such a brilliant piece of work. Probably, I would run out of vocabulary if I start talking about the book.
What made you decide to sit down and actually start writing?
Well, writing is something I have always enjoyed. I started penning down my thoughts from as early as nine or ten years old.
Whether it was writing my daily journal or writing articles for magazines and publications.
But the journey from being a writer to becoming a published author of a book wasn't easy.
However, since childhood books always fascinated me, I considered writing as one of the best forms of expression and always wanted to become an author someday.
Do you have a special time to write or how is your day structured?
Well, until lately, I didn't have a particular structure, but for the past decade, there never has been a day when I didn't scribble something on paper.
However, now that I am on a writing spree and wish to dedicate more time to my author journey, even on my busiest days, I spend at least the first 90 minutes of my day on writing, and on days when I am in the state of FLOW, I write effortlessly for hours and hours losing track of time and everything around.
About the Book: The Invisible Yoke
Read Preview on Amazon
The Invisible Yoke written by Subra Mukherjee is a collection of 7 enlightening stories of ordinary women who are on a quest to discover their inner yokes and unleash themselves to achieve more.
Every story will resonate with your personal life especially if you are a girl/woman. But, it is equally inspiring for everyone regardless of gender. If you'll read closely, you will definitely find your 'invisible yoke' and take steps to set yourself free from them.
Stay connected to read the full book review of The Invisible Yoke which will be published on Vowelor soon!
What genre is your book? What draws you to this genre?
The book is essentially a "Realistic Fiction". What I love about this genre is it gives me the flexibility to be creative in weaving my characters and the plot, while also allowing me to add elements of emotions, struggles, and settings that are true to life, and the readers can find themselves in the stories and the characters.
How was the idea for the book originated?
The Idea of writing this particular book originated in 2018, while I was reading the short story called, "Home and the World" by the legendary Rabindranath Tagore.
It struck me so hard, that I kept thinking why we humans allow an invisible yoke to control our lives and desire, and hence the title "The Invisible Yoke" was born.
Where did you get the inspiration for these short stories? Are these inspired by real-life incidents?
I am a very keen observer, and I was always driven by stories and conversations.
The stories in this book, 'The Invisible Yoke', are inspired by the day-to-day emotions, hardships, challenges, fears, desires, self-doubts, and turmoil faced by any ordinary person like you and me.
What makes 'The Invisible Yoke' stand out in this genre? What should a reader expect from it?
Well, every story is unique and so are the stories of "The Invisible Yoke."
Besides, the love and emotions with which I have crafted each of the stories, what makes it stand out is its simple and lucid narrative.
Though it is fiction where there is a plot, exposition, character build-up, surprise element in the climax, and a subtle resolution, yet it also has several elements of realism to an extent, where the readers not just read, but they will find themselves walking the journey with the characters, and possibly might reflect upon their own inner yokes.
The book highlights a crucial subject of women and the 'yokes' that limit them. What was the hardest & the easiest thing about writing such a book?
The hardest thing as a first-time author was to deal with my own invisible yoke, i.e., the fear of being judged for touching upon a crucial aspect while being a debut author, but then the same fact that the stories are about women on a quest to discover their yokes, made the journey from writing to publishing easier for me.
What is the reason you write for; is it for the readers or your own self or some other thing?
Well, that's again a very objective question on a subjective topic. The answer to this question is both Yes and No.
Writing to me is what the Sun is to a Sunflower.
Yes, the stories are for the readers, but the underlying message and emotions are the jewels of the stories, without which they are incomplete…
Of course, as an author, I wish my stories to be read, I genuinely wish that millions of readers out there connect with the stories and find themselves in the stories…
But do I strictly write for the readers? Well in that case the stories would lose their originality…
I strongly believe the stories are beyond the author and the readers; Each of these stories has an identity of their own, they are independent expressions of realism wrapped in fiction.
Any special experience about 'The Invisible Yoke' that you would like to share.
The journey of writing this book will always remain very special to me. The book expresses itself not just through the stories, but each and every part of the book has an underlying meaning.
The cover design, the metaphorical title, the name of the author on the cover page, the names of the characters, the subtle emotions, literary nuances… each of these elements have a message to tell.
And recently when a reader scheduled an hour-long call with me to communicate not just how much he loved the stories, but also to let me know how he deciphered each of those expressions.
I was in tears, while he was beautifully explaining each and every element. What more can a writer ask for.
Future Plans
What are your ambitions for your writing career?
Well, I am definitely looking forward to becoming a full-time author sometime in the future.
Are you working on your new project? What will be your next book about?
I have another book that was written long back, and it is releasing soon. However, it's non-fiction with a lot of real stories, personal experiences, and mind mapping.
Also, the book, "The Invisible Yoke" originally had 19 stories but only 7 of them have been released in this book. So, I have the drafts written, am now working upon crafting them into final finished products. And yes, maybe sometime during the end of this year or next year early, I would love to give it shape and present it to the world.
What does success mean to you as an Author?
Well, once again another subjective question…
As an author who has just embarked on this journey, Success would mean the books reaching into the hands of millions of readers who connect with my writings and find themselves in my stories.
But at the same time, Success to me also means that I justify this beautiful art of expression, i.e., "Writing" and for that I am devoted, to spend my time in honing my skills and bring out the best in me, for this art form, for my beloved readers, and also create a unique identity for the characters in the stories.
One learning that you'd like to pass on to young debut authors.
I wouldn't call it a learning, but I would rather like to share a quote by Rabindranath Tagore, "You can't cross the sea merely by standing and staring at the water"
Your opinion about Vowelor
Well, this is my first experience with Vowelor and so far, it has been a good journey, and I am looking forward to Vowelor playing a vital role in bridging the gap between me and my readers.
Want to know more about Subra Mukherjee? Connect with the author on Facebook, Instagram, Twitter, and Linkedin.
Are you also an author? Get your book featured on Vowelor now!