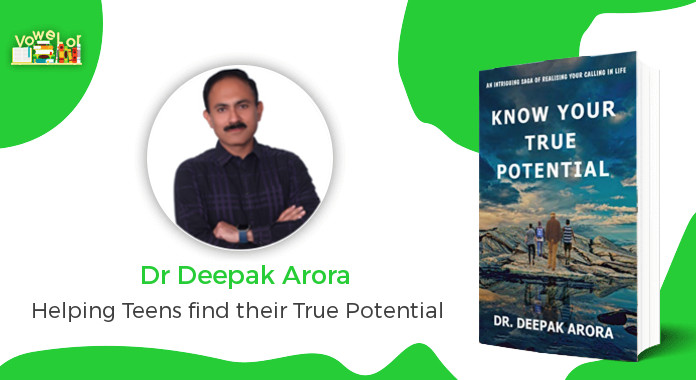 Self Help books have been a buzz for long but they might get too preachy at times. That's why authors are now experimenting to make these books more relatable with the smart blend of fiction and self-help.
Today, we are introducing you to an author – Dr. Deepak Arora – who has almost mastered this particular way of motivational writing. His first book 'Know Your True Potential' got released recently, and we got a chance to interact with him about his journey and the debut book.
About the Author: Dr. Deepak Arora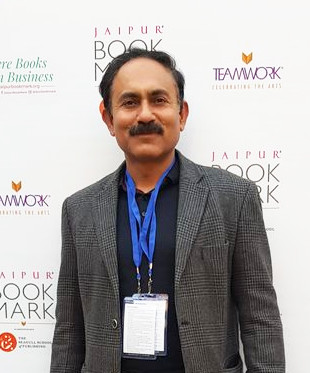 Dr Deepak Arora is an author, motivational speaker and a full-time prosthodontist by profession. He has delivered several motivational lectures to young students on topics like leadership and unleashing true potential. Not only students, Mr. Deepak also does workshops on parenting and managing stress.
He is married to an Orthodontist who creates smiles for people with her dental craftsmanship. Dr. Arora's son is also pursuing MBBS from Govt Medical College, Rohtak while his daughter studies in 11th standard.
His parents are also from educational background. Dr. Arora's father is a retired Professor in Chemistry from DAV College, Ambala City and mother, an MA in History. She gave up teaching in 1992 and took up serving the underprivileged, providing them with free education. She has been running a charitable organisation—Manav Kalyan avum Shiksha Kendra—for the past 29 years.
Born in 1970 in Delhi, young Deepak Arora spent a part of his childhood in the city before his family shifted to Ambala.
We had a conversation with the motivation speaker and author about his early life and how the prosthodontist found his passion for writing. Read our conversation with him below.
What were you like at school? Any childhood memory you would like to share.
I did my schooling from Army School, Ambala Cantt, till my 10th grade. I was always a shy child who never dared to speak up in the class.
I used to be average at academics; however, I was good at sports and very keen to take on the stage for debates and discussions. I remember an incident, when I forgot my lines in the middle of a speech, and said, "Aage Kya Thaa" right into the mike, much to the laughter of the audience.
But rather than deflating my confidence, this incident made me fearless. Having experienced the worst, it helped me conquer my fear of public speaking for a lifetime.
What are your Qualifications?
I am a Dental surgeon with a Post-graduation in Prosthodontics.
What is biggest achievement till today?
A first rank in Punjab State MDS Entrance exam in 1995 & then writing this inspirational book in 2020.
Which writers inspire you?
Robin S Sharma, Stephen R Covey, Wayne Dyer, Dr Deepak Chopra, Chetan Bhagat, Dale Carnegie, Eckhart Tolle, Peter Drucker.
Writing is stressful at times. How do you relax your mind?
Engaging in Sports, meditating and listening to motivational, spiritual and uplifting talks, is how I relax my mind.
What is your favourite motivational phrase?
'Life is not worth living until you have found something worth dying for'

– Martin Luther King Jr.
What advice would you give to your younger self?
Try to look for your life's calling before gunning for money and fame. Money will give you fleeting happiness; your purpose alone will provide meaning and fulfilment to your life.
What books do you like to read personally? What are you reading currently?
Self-help, motivational, health and fitness books, and biographies, is what I am passionate about reading. Currently, I'm reading a book on public speaking, How to talk to anyone by Liel Lowndes.
If you could have been the original author of any book, what would it have been and why?
I wish I could have authored, The Monk Who Sold His Ferrari primarily because the book delivers such a profound message of maintaining our work-life balance in an elegant and compelling style.
I believe, inspiration feels more plausible when conveyed in the form of a fable and comes through characters one can relate to. That way, the idea is more receptive and stays longer with the reader.
And the second reason for authoring this book is its title—the title itself is very catchy and says it all. It makes the reader interested right from the word go.
What made you decide to sit down and actually start writing?
A sea of thoughts had been waging inside me in the mid-2019. A story had been shaping up in mind for some time, looking for an outlet. And peace of mind and respite could come only by penning it down. That's how my writing journey began.
Though, with no previous experience of writing, it was a painstaking affair all through and involved a lot of learning experiences.
Do you have a special time to write or how is your day structured?
Mornings are the preferred hour for me as the mind is more receptive, sharp and full of ideas at that time. Being an early riser, I have reserved 5 to 8 am for my writing.
To keep up with that, I shifted my morning exercise timings from 6 am to 8 am. Moreover, patient appointments through the rest of the day would not allow for any creative writing; hence mornings are the favoured lot.
About the Book: Know Your True Potential
Know Your True Potential is the debut book written by Dr Deepak Arora. The author has beautifully used a fictional character, Dr Col Kaushik, who helps and guides young characters Sajal, Anshika and Lakshay.
The characters are relatable enough for teens to believe in them and the life lessons imparted by Col Kaushik are both practical and apt for students finding their way to succeed in life.
✅ Get your copy of Know Your True Potential by Dr Deepak Arora on
Amazon now
!
Stay tuned for the complete review of Know of Your True Potential that will be published soon on Vowelor.
Life is too short folks to waste on what others want us to do. Let's do what we really want to do, so as not to have any regrets with our life. Eventually, we would be happy over what we did than what we missed out doing.

Dr Deepak Arora
We had some more questions about the book and author Deepak Arora disclosed really interesting things about it.
What genre is your book? What draws you to this genre?
Self-help or Personal development is the genre of the book. My attraction to this stream comes from an insatiable desire to improve myself and the people around me, holistically—physically, mentally and spiritually.
What makes 'Know Your True Potential' to stand out in this genre? What should a reader expect from it?
'Know Your True Potential,' aims at identifying our real self, before embarking on the tortuous journey of life. Its essence is to decipher our greatest gift first and then weave a life around it. It could help the reader establish his/her passion and purpose, and then turn it into a mission for sharing and serving it to the rest of the world.
What is the hardest & the easiest thing about writing a motivational book?
The hardest thing about motivation is that if delivered raw or as such, it sounds dry, bland and routine. It has to be made exciting and entertaining to hold the reader's interest.
If one could make the reader yearn for 'what next,' as in a fictional story, then that holds the key to his attention. The easiest thing about motivation is the availability of a lot of viewpoints, ideas, books and videos on a particular topic.
What is the reason you write for; is it for the readers or your own self or some other thing?
I started with writing for my own self as there were so many thoughts brewing inside, yearning for a release. But midway through the narrative, as the mind became blank and bereft of ideas, there was a sincere appeal to the heavens to send in the enlightenment.
That made me switch over from myself to the reader's perspective. The changed attitude brought in fresher insights and completion to the project.
Any special experience about 'Know Your True Potential' that you would like to share.
Yes, I started my book with three male characters in need of coaching and guidance. As I was taking suggestions from friends and family members all along my writing journey, one of my friends suggested that the story was sounding dull and dry without a female lead.
Taking cues from his astute observation, I replaced one of the male characters with a female; lo and behold, its introduction made the storyline far more engaging and catchier.
Ultimately, today I feel, the punch in the book comes from this female character.
Future Plans
What are your ambitions for your writing career?
I want to come out with at least two books a year, starting 2020. Also, I wish to tie-up with a newspaper for a regular weekly column on inspiration.
Are you working on your new project? What will be your next book about?
As of now, I'm working on the next part of this book, titled Live Your True Potential. It's a sequel to the present book. It is about the practical application of the principles learnt in Know Your True Potential—having found your passion and purpose in life, how to deliver and accomplish them.
What does success mean to you as an Author?
To me, success means my book reaching out to every school bag, college student and youngster. I firmly believe that childhood and youth are the impressionable periods of our lives, and values learnt during this time tend to stay and stick around with us for a lifetime.
As an author, I would consider myself fortunate if each parent and child could read the book, and have insights about themselves before deciding on their profession in life. I'm sure the narrative would give drive and direction to their lives.
Where can you see yourself in 5 years' time?
As an author, I plan to have ten books in my kitty by the end of this period. Besides, I wish to turn into a full-time motivational speaker, inspiring the youth and people around the globe to their passion and purpose. I sincerely want to spread the message of my book, i.e., to determine your hidden potential, and then go full-on to achieve it.
Your opinion about Vowelor.
Vowelor, to me, is a place for both the authors and readers. For the authors, it's a platform to get noticed by your potential readers; it helps them locate you fast. It could prove to be a game-changer for the budding authors.
Simultaneously, it's a fantastic place for the reader or the book lover to find out works related to their areas of interest, and be abreast with what's new in the world of literature.
Want to know more about Dr. Deepak Arora? Connect with the author on Instagram, Facebook, Twitter or visit his official website.
Are you also an author? Get your book featured on Vowelor now!