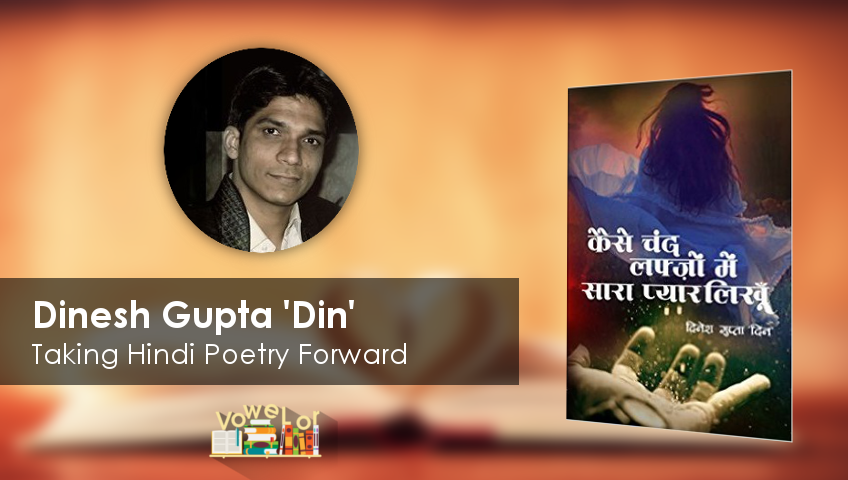 Poetry has always been considered one of the most profound forms of literature. Only an illustrious poet can create a wizardry of words to spellbound the reader into a surreal and serene world. Such is the power of a poet. Hindi, being a very poetic language in itself, have seen a number of brilliant poets in past as well as in today's age.
Among the crowd of English authors nowadays, a Hindi poet is making his mark and shining through his words, whose name is Dinesh Gupta 'Din'. He is the forerunner in the rather underestimated landscape of Hindi poetry. A Computer Science Engineer turned poet, Dinesh, has an inspiring story to share with the world.
Dinesh Gupta Din : Author of Kaise Chand Lafzo me Sara Pyar Likhun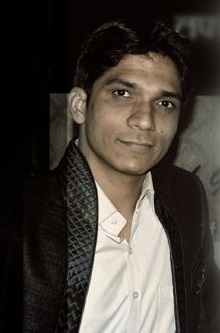 In this week's Author Showcase, We had a candid conversation with Dinesh Gupta 'Din' as he describes his passion, journey and his recent Romantic Poetry collection – Kaise Chand Lafzo me Sara Pyar Likhun.
Tell us about your parents and family.
I belong to town Piplia Mandi in Mandsaur Distt, currently staying in Pune and working as Software Engineer. My father is Govt. Teacher and my mother is a housewife. My elder brother is also Software Engineer staying in Pune.
When and where were you born and brought up?
I was born in a village Limbavas of Mandsaur district on 28-Feb-1984 and completed my primary education there only. Afterward, I was shifted to Piplia Mandi and completed my engineering there. Later on, I moved to Pune to work as Software Engineer for and IT firm and since then I am staying in Pune only.
What were you like at school? Any childhood memory you would like to share.
Nothing specific I can recall but I enjoyed Village life a lot during my schooling which I will never get a chance to live back.
What is your biggest achievement till today?
There are few I would like to talk about:
I got "Young Achiever Award" 2016 in Top IT Company Infosys for my Poetic contribution to society.
One of the popular website EBooks-India selected me among top 21 Poets to follow on social media.
Articles about my latest Hindi Poetry book "Kaise Chand Lafzon Men Saara Pyar Likhun" has been featured in 200+ national Newspapers of country including all leading Hindi/English/Marathi newspapers ( Dainik Jagran, Dainik Bhaskar, Nav Bharat, Zee News,  The Telegraph, IBN7, Webdunia, Raj express, Amar Ujala etc )
My Poetry, Book Reviews, Articles and Author Interviews has been featured in 1000+ National/International Hindi/English Print and online magazines, Portals, Blogs.
Leading media of the country Quoted about my Book  as "Perfect Valentine Gift For Your Beloved one"
My profile has been selected in top 10 Creative Personalities by one of the leading magazine ieUmag.
My Interview has been broadcasted on radio as well.
I am awarded for my Poetry in various national level poetry contests.
My profile has been selected as Lyrics writer for few of the Bollywood project which is under discussion.
Which writers inspire you?
I am highly inspired by celebrity poet Dr. Kumar Vishvas and my poetry is greatly influenced by him.  After that, I started following poets like Dushyant Kumar, Prof Wasim Barelvi, Munnavar Rana, Harivans Roy Bachhan, Rahat Indori and Pandit Atal Bihari Vajpayee. I am also inspired by writing style of Chetan Bhagat.
Writing is stressful at times. How do you relax your mind?
For me, writing is never stressful and it's always worked as a tonic of relaxation whenever I am tensed due to other issue or work load in personal or professional life.
What is your favorite motivational phrase?
Whenever I feel low or disappointed I always try to regain my confidence with motivational stories and quotes like "Never Give up",
असफलता केवल इस बात का प्रमाण है कि आप इस तरह से इस काम को नहीं कर सकते !
After lots of disappointments and rejections I came back to track in my poetic journey with more energy so I wrote two lines which always highly motivate me:
जब भी बेहद टूटकर बिखरता हूँ मैं

दुगना होकर निखरता हूँ मैं !
What advice would you give to your younger self?
One thing I always say to my readers and new writers that
"दिल की सुनो, शब्द चुनो और बस बुनो, कविता खुद-ब-खुद बन जाएगी| परंतु एक बात हमेशा याद रखें कि साहित्य में बड़ी ताकत है जो किसी भी राष्ट्र का नक्शा बना और बिगाड़ सकती है,  इसलिए जो भी लिखें पूरी जिम्मेदारी से लिखें क्यूँकि:
कलम की ताकत है ये अलख भी जगाती है, आग भी लगाती है
चुप रहे तब तलक ठीक है वरना, जन्नत इस जमीं को बनाती है   !
What books do you like to read personally? What are you reading currently?
I like to read Poetry and story books. Mostly Romantic and patriotic genre attracts me a lot. I have read many poetry books and now I am reading few story books.
If you could have been the original author of any book, what would it have been and why?
I think everyone has his own individuality so I believe you should feel proud of whatever you are. I love to be original Author of my own book "Kaise Chand Lafzon men Saara Pyar Likhun".
Kaise Chand Lafzon Me Saara Pyar Likhun by Dinesh Gupta Din
What made you decide to sit down and actually start something?
I never planned to be a poet and Author of books. Initially I used to write for essay, debate, extempore competitions in my school life where I got lots of prizes so that I was aware of creativity inside me but it was lost somewhere during my college life.
After few years I got chance to listen Poet Dr. Kumar Vishvas and since then I started following him. Due to his influence, I started writing poetry again and I got tremendous response from readers on social media which makes me feel to print poetry in form of books and become published Author.
Do you have a special time to write or how is your day structured?
I don't need a specific time to write as I hardly write by taking pen and paper in hand. I believe "Poetry is an instant overflow of deep thoughts".
               जो भी जेहन में उभर आता है, वो सब कुछ कागज़ पर उतर आता है !
मैं अपने आस-पास होने वाली चीजों को काफी संजीदगी से महसूस करता हूँ चाहे वो ख़ुशी हो या गम, देशप्रेम हो, गुस्सा हो, गरीबी हो, कुछ भी ऐसा हो जो दिल छू जाए|  दिल में अक्सर अनगिनत भावनाओं का ज्वर उठता है और  जब उन्हें व्यक्त करने के लिए शब्द मिल जाते हैं तो कविता बह निकलती है  !
What genre is your book? What draws you to this genre?
My first two books are on mix genre of Romantic and Patriotism However my third and latest book "Kaise Chand Lafzon Men Saara Pyar Likhun" is purely on Romance. Being a youth Romance genre attracts me a lot and Patriotism comes out of blood as I have that strong feel for my country.
Why did you choose Hindi? Any special reason or belief about it.
I believe language cannot be a barrier to express your feelings. I choose Hindi as this is close to my heart and I feel more comfortable in Hindi.
What is the hardest & the easiest thing about writing especially poetry?
Poetry is matter of expressing your feelings in words so easiest I believe is to write poetry if you have deep feelings on any topic otherwise it's very hard to write on any things. The hardest thing with poetry these days is to reach to target audience and create a market for it.
What is the reason you write for; is it for the readers or your own self or some other thing?
Basic purpose of my writing is to express my feelings with words. If it can be utilized for entertainment its great. I feel very proud whenever I came across comments from readers that they get motivation and relaxation from my writing.
What makes 'Kaise Chand Lafzon Men Saara Pyar Likhun' to stand out? What should a reader expect from it?
Title itself came out from first 4 lines of one of mine and reader's favourite poem:
शब्द नए चुनकर गीत वही हर बार लिखूँ मैं

उन दो आँखों में अपना सारा संसार लिखूँ मैं

विरह की वेदना लिखूँ या मिलन की झंकार लिखूँ मैं

कैसे चंद लफ़्ज़ों में सारा प्यार लिखूँ मैं…
Basically, the book is about expressing the different aspects of love like joy and sadness so I believe readers can connect themselves with poetry and also it can be "Perfect valentine Gift for Your Beloved One". Since this book contains a different flavor of poetry like Poem, Shayari, Geet, Gazal its perfect entertainment package for Hindi poetry lovers.
Any special experience about this book that you would like to share.
Best experience about this book is one of the famous newspaper quoted this book as "Perfect valentine Gift for Your Beloved One". Journey to become published Author was quite tough and full of rejections but I received lots of love and tremendous response from readers once book came out. This book has been featured in all leading media of the country.
What are your ambitions for your writing career?
I want to touch millions of hearts with my poetry and want to become recognized Author in Hindi literature. I also want to write for Bollywood and for society welfare wherever my poetry can be utilized.
Are you working on your new project? What will be your next book about?
I did not plan for next book yet but it might be a collection of poetry on patriotism. I also have plans to write a beautiful romantic story.
What does success mean to you as a Writer/ Poet?
I believe success for me is reader's response and reaction which I already received as I got tremendous response and compliments from my initial few readers. In other way, I am still looking for commercial success to convert my passion to profession.
Where do you see yourself in 5 years' time?
I am looking forward towards writing for Bollywood and would like to write lyrics on romance and patriotism for some good movies and also I would like to be part of projects for social welfare.
Your opinion about Vowelor.
I recently came to know about Vowelor and I found it very interesting and useful for Author and book readers. There are lots of opportunity for Authors, Bloggers, Sellers, Readers on the site. Please continue doing great work.