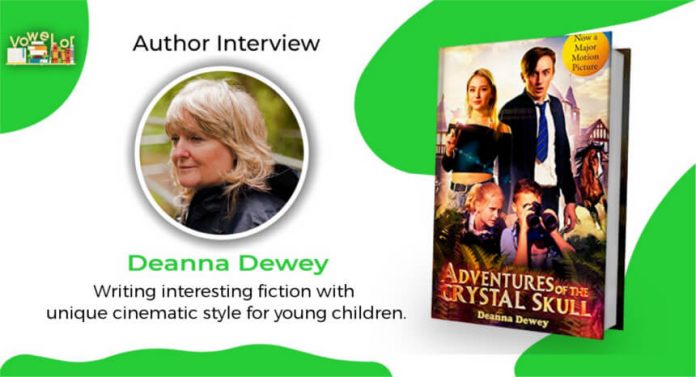 In the crowd of self-published works, there are some really talented indie authors who deserve the limelight. We are happy to introduce our readers to Author Deanna Dewey who certainly fits the description with two self-published books and three feature films under her credit.
At Vowelor, we had an exclusive interview with Deanna Dewey, the author of Adventures of the Crystal Skull which is her latest book published in 2021. The book is a mystery thriller written for young adults featuring magic, curses, and much more.
Before we get to our conversation with Deanna, let us first know a little more about the author.
About the Author: Deanna Dewey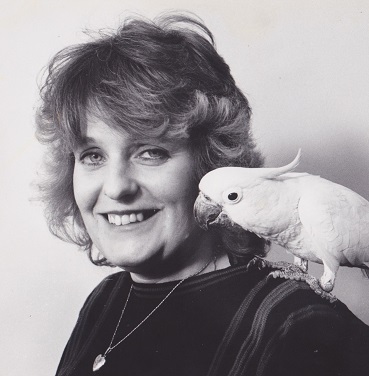 Deanna Dewey is an author, a scriptwriter, and a successful film director from Hampshire, UK. Deanna has written two books and directed three feature films. Her first book 'Whispers in the Wind' was published in 2020, which is 10 years after her first film called 'Katie's Dad'.
Deanna's latest book 'Adventures of Crystal Skull' came out in 2021 and it is also being made into a film with the same title.
Deanna was born in Southampton, UK but her parents moved, when she was just a few months old, to a village in Hampshire where she was brought up. She went to the local schools where she made lots of friends some of which she is still in contact with today.
Her childhood was filled with nature and exploring woods and fields and she developed a love of horses and had a young pony when she was 13. Her parents were not rich and she had to work to afford to keep her Welsh Mountain pony named Taffy.
Deanna's father was a plumber and her mother a secretary. Her father was very active in local politics and was often a thorn in the side of bureaucracy. So was she brought up to question everything and this has had a great effect on her life.
Deanna has just one sister and two nephews. Plus she has one daughter and two grandchildren.
Other than secretarial qualifications and usual exams, Deanna waited until later in life to attend University and she now has a Masters Degree in writing for film and TV
Further, Deanna talked about her childhood, her hobbies, her writing journey, and more interesting things about herself. Read her answers below.
What were you like at school? Any childhood memory you would like to share.
I was very good at English but I was not interested in other subjects. Funnily enough, I found an old school report just the other day and it said "Deanna only concentrates on subjects which interest her and can usually be found with her head engrossed in a book.." They were right – I still read a lot.
What is your biggest achievement till today?
Finishing my books and directing three feature films.
Which writers inspire you?
Lots of writers but certainly Roald Dahl, Thomas Hardy, F Scott Fitzgerald.
Writing is stressful at times. How do you relax your mind?
By reading, watching a film, or going for a walk.
What is your favorite motivational phrase?
Never give up
What advice would you give to your younger self?
Have more confidence and start writing sooner. Plus always listen to advice but stay true to what you believe in.
What books do you read personally?
I am an avid reader and read anything.
If you could have been the original author of any book, what would it have been
and why?
I would have loved to have written The Great Gatsby.
What made you decide to sit down and actually start writing?
I have always written scribbles from an early age and have had several articles published -but I really only concentrated on getting my books into print and online during the last year or so. In a way, I was motivated by the pandemic lockdown and really needed something to focus my efforts on and it certainly kept me sane.
Do you have a special time to write or how is your day structured?
I usually write first thing in the morning as I find my imagination is much better early and I can get far more work down. It is the earlier the better for me – sometimes I will get up by 5.00 am to start writing. But some writer's I know work better in the afternoon or evening. Every writer is different.
What is the reason you write for; is it for the readers or your own self or some other thing?
I write hoping people will be interested in my stories. I class myself as a storyteller rather than a writer. I love telling stories and hope some tales will carry a message which will inspire people, but it is more about the story and the characters which is important to me. I want readers to enjoy the story.
About your Book: Adventures of the Crystal Skull
Adventures of the Crystal Skull by Deanna Dewey is a fast-paced mystery adventure for young readers. The story is about a 14-year-old kid, Scott. He accidentally activates a cursed crystal skull in the museum. After that, strange visuals start to come, and indifferent incidents happen with the boy.
All these lead Scott and his friends to set out on an adventure to break the curse of the crystal skull.
With magical spells, fortune tellers, curses, and much more, this book is an absolute adventure for young kids. It is written in such a style that brings cinematic visuals in the head.
Read Full Review of Adeventures of the Crystal Skull
What genre is your book? What draws you to this genre?
My book is a fantasy adventure story – I really enjoy stories where the imagination is stretched and the reader has to suspend disbelief.
How was the idea for the book originated? What was the inspiration behind it?
I heard tales of crystal skulls and what magic they may contain and even perhaps they could change the world – that was enough for my imagination to get into gear. The world is full of great tales and legends which can be adapted for the modern reader.
What makes 'Adventures of the Crystal Skull' stand out in this genre? What should a reader expect from it?
'Adventures of the Crystal Skull' is a very different tale in the genre and the film script came first and then I adapted into the book which is probably why it feels so visual when anyone reads it, There were some changes from the film but I wanted to make it visually without using lots of lengthy descriptions – as I do believe this is what younger readers want these days.
The book is written in such a way that brings cinematic visuals in the head. What was the hardest & the easiest thing about writing such a book?
The process of adapting it from the script was no-way as easy as I thought it would be and was certainly a learning curve. I am thrilled that the book is receiving such positive feedback – even adult readers seem to enjoy it.
Future Plans
What are your ambitions for your writing career?
My ambition is to carry on writing books and film scripts.
Are you working on your new project? What will be your next book about?
I am working on a new book – another adventure but based on a true story set during World War II. I am also working on the next book in my series for younger children about two children who live on the edge of a forest and can talk to the animals.
What does success mean to you as an Author?
Success to me would be that readers enjoy my books.
What are your thoughts on the self-publishing industry?
It is so much easier to get books published today but I do think it is important to make them as professionally produced as possible – making sure they are properly edited and have a good cover is so important. I learned this the hard way.
Your opinion about Vowelor.
Vowelor has opened up my book to a new audience and I am looking forward to working with them on Adventures of the Crystal Skull plus my other books.
Want to know more about Deanna Dewey? Connect with the author on Facebook, Instagram, Twitter, and her official website.
Are you also an author? Get your book featured on Vowelor now!