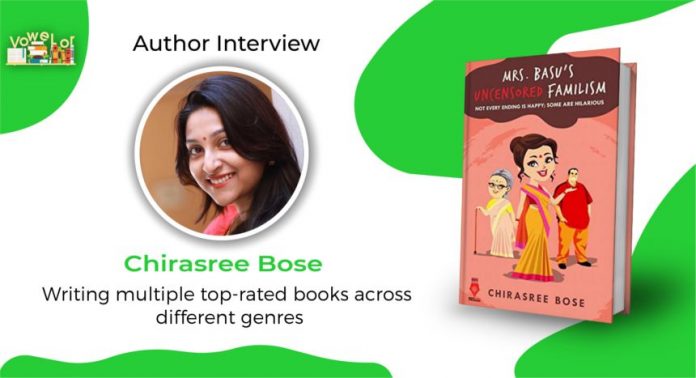 Most fiction authors normally stick to one genre like Stephen King (horror) and Agatha Christie (mystery). The reason is its hard for one author to write stories in different genres.
But, today on Vowelor, we are proud to introduce you to Chirasree Bose – an Indian author whose books vary from suspense to comedy drama to thriller genre. Her debut book 'Done with Her' (2019) was a dark suspense story while her latest release 'Mrs. Basu's Uncensored Familism' is a comical family drama.
We had a chance to do a candid interview with author Chirasree and she shared interesting things about her life, writing journey and more. But, let us first know a little more about this talented author.
About the Author: Chirasree Bose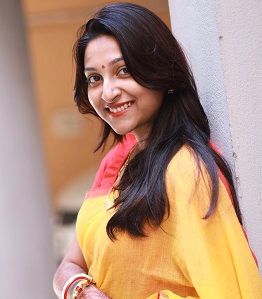 Born in a small town near Kolkata, Chirasree Bose is the author of two amazing books. Her first book 'Done with Her' was published in 2019 which received positive reviews. Chirasree's latest book is Mrs. Basu's Uncensored Familism that got published in Feb 2020.
She spent about 16 years of her life in the small town before moving to Kolkata where she completed her last couple of years of schooling and graduation.
Being a 90's born kid, she is just so proud of that, more so because she feels that it is the last generation that saw the era before the digital boom.
His father is now retired and her mother has been a homemaker always. They're very supportive and zealous when it comes to her passion for writing. Whether they read her book or not (:P) they're always there to cheer her up and push her to sit down and write. Especially her father.
Although Chirasree studied Engineering, now she is following her passion i.e. writing. Apart from her books, she has worked as an editor and writer with various online platforms as well.
We asked her about her childhood days, her passion for reading and how she set out on the writing journey. Read her interesting answers below.
What were you like at school? Any childhood memory you would like to share.
I was a quiet person, to be honest. That I still am, but I have also had a streak of naughtiness in me. Maybe due to that reason, despite being a quiet kid, I was quite a few times punished in school.
Speaking of naughtiness, I remember an incident wherein a teacher called upon my parents. I was apparently not taking notes in her class. I never did anyway, but that day she caught me in the act. More so because I was talking and laughing nonstop with my friends. So I got up and being the naughty kid that I was, told on my friends as well. So all of us ended up getting a guardian call notice. It got really serious, I remember; the girls wouldn't talk to me at all but somehow I manipulated them later on. 😀 I just hope they're not reading this.
What is your biggest achievement till today?
I think the fact that I have followed my passion with endless zeal, and have had the courage and determination to stand firm against all odds to do the same. It's an achievement, indeed!
Which writers inspire you?
I follow Preeti Shenoy and like the way she inspires younger writers like us. It's amazing. Being a fellow woman, I respect her thoughts and passion for life and writing.
Writing is stressful at times. How do you relax your mind?
I don't really find it stressful. In fact, I look forward to my writing time. But yes if we're talking about physical strain here, then yes, I believe writers should get up often and relax rather than write, write, and write for hours and then be hit with a writing block of sorts.
What is your favorite motivational phrase?
"The key to being happy is knowing you have the power to choose what to accept and what to let go"

Dodinsky
What advice would you give to your younger self?
Love yourself. Respect the way you are. Nothing else matters.
What books do you like to read personally? What are you reading currently?
I like reading thrillers and comedy. But recently, I picked up a self-help book I had heard a lot of good stuff about. It's called 'The Power of Your Subconscious Mind'. All I can say is it's a life-changing experience.
If you could have been the original author of any book, what would it have been and why?
Oh, God. I would never want that. I mean every author has given their best to every book. I cannot do better justice to them, according to me. Nope!
What made you decide to sit down and actually start writing?
Nothing, to be honest. Writing happened to me like the most beautiful miracle. So to answer your question, maybe, writing itself dragged me over to sit down and start writing. Like you know, 'it was high time I did that'.
Do you have a special time to write or how is your day structured?
No, actually, it doesn't work for me like that. I write whenever I have time. It could be the first thing in the morning or the last thing at night.
What is the reason you write for; is it for the readers or your own self or some other thing?
I write for myself. Readers are important. But I know the story that I am choosing to write down will find its readers eventually. But at first, it needs to satisfy me, the reader within me. Otherwise, it just cannot work.
About the Book: Mrs. Basu's Uncensored Familism
Mrs. Basu's Uncensored Familism is the second book by Chirasree Bose. It is a hilarious comedy-cum-family-drama story. It gives you a first person perspective of the married life of Mrs Arpita Basu, a 23-year-old lady who got married into a typical bengali family.
Chirasree has beautifully used humor as a tool to show what goes into the head of a newly-wed bride when she asks the obvious questions to herself. These are those questions that nobody dares to ask.
As the story unfolds, the author unveils hard hitting truth of the society through the characters. The book is published by Write India Publishers and was released in Feb 2020.
Author Chirasree Bose shared more about her book Mrs Basu's Uncensored Familism as well as her future plans. Read further to find out.
What genre is your book? What draws you to this genre?
My book is a drama-cum-comedy. I have always loved this genre. I remember reading Twinkle Khanna's Mrs. Funnybones and loving it no end. So for my second book, I wanted to try my hand at it. Also, the story came to me naturally, so I didn't want to put it off.
What makes 'Mrs. Basu's Uncensored Familism' stands out? What should a reader expect from it?
This book is purely for Indians and Indian families. I mean, who doesn't love the drama that goes on on a daily basis in them? At the same time, the book touches upon some social issues that need our dire attention. So yeah, it's basically a satirical take on Indian families and society. Expect moments of giggles and laughter from it. Isn't that quite important, especially in today's time of stress and depression?
Your book brings humor while highlighting social truths. What is the hardest & the easiest thing while writing such a book?
The hardest thing is that you have to make people laugh. It's not at all simple. Especially when you, as the writer, yourself are not always in a happy state of mind. Which is natural. But still, you have to sit down and come up with lines that can possibly make people laugh. The easiest thing was to come up with the name. I mean, it just occurred to me, just like that. It needed no thinking, brainstorming, nothing. And I knew it was perfect.
This is your 2nd book; how was the experience different from publishing 1st book "Done with Her"?
This time I was more experienced in the field. I knew how to give my manuscript a good shape before sending it out to publishers. Also, I had already decided how I wanted to go about the complete procedure. All these things are not known to a first-time author. So, naturally, with 'Done With Her…', I had faced such issues. Things weren't that systematic. I trusted many wrong people. Not that this time I haven't. But it's getting better with each day.
Any special memory/experience about this book that you would like to share.
One time, I had hit a block and put the manuscript aside. I kind of gave up on it for a month or so. But something told me this story needed to be told and could actually benefit people, especially in India. Either by making them laugh or think. So finally, I picked it up again and finished it with no more second thoughts.
Future Plans
What are your ambitions for your writing career?
I am an ambitious person. But I believe in not talking about my ambitions or goals openly. Instead, I'd work hard, and someday, you would see the results yourself.
Are you working on your new project? What will be your next book about?
Yes, I am. And it's almost done. It will be a thriller based on the bond between a mother and daughter.
What does success mean to you as an Author?
Being acknowledged and loved by people for your books.
What do you think of India's publishing industry's future?
I have good hope for it. Right now, it's still in the growing phase. There are too many options but not enough readers. So I hope that in the future, we'll have more readers and ardent fans of Indian authors.
One learning that you'd like to pass on to young debut authors.
Believe in your writing style. Don't doubt it. Yes, keep improving but do not copy someone else's style just because it has worked or is working. Hone it as much as you can but stick to it nonetheless. You'll have your own audience base.
Your opinion about Vowelor.
I hope it gets better with time and helps more and more authors like me.
Are you also an author? Get your book featured on Vowelor now!