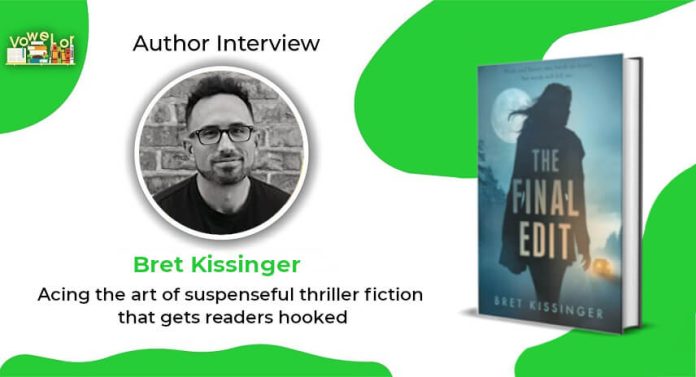 Great passion creates good artists. And, when it comes to writing, authors who are extremely passionate about their stories are the ones who create masterpieces. Bret Kissinger, a self-taught author of three amazing books, fits perfectly into that description.
With the release of his latest book 'The Final Edit', we had to chance to have a detailed conversation with author Bret Kissinger about his books, his writing style, and more about his life & future plans. But, before we get into the conversation, let us know a little more about Bret.
About the Author: Bret Kissinger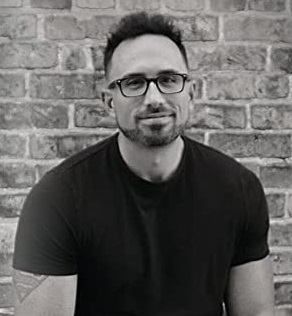 Bret Kissinger is an author born and raised in a small city in Wisconsin. With his love for history and writing, he gave three commendable books which his readers enjoy. His debut book 'Forever Fleeting' was released in 2018 followed by Gone the way of Dodo bird in the year 2020. Bret's latest book is The Final Edit which was released in 2022.
Intertwining his passion for facts and fiction he is giving his readers some brainstorming novels. Apart from writing he also loves watching movies, walking, and going to the gym for his fitness.
Further, author Bret Kissinger shared about his childhood, writing journey, inspirations, and more interesting things about himself. Here are all of his interesting answers.
Tell us about your parents, kids, and family.
My parents are supportive and hardworking. My happiness is their greatest concern.
What were you like at school? Any childhood memory you would like to share?
I viewed myself as the entire "Breakfast Club." I did not fall into one group. I was quick with a joke. I always enjoyed history and writing. I credit my Catholic grade school and my teachers with instilling a strong work ethic. The quickest answer isn't always the best answer.
What are your educational/professional qualifications?
I'm proudly self-taught. To learn, you just need the passion to do so. Everything you need is a Google search away.
What is your biggest achievement till today?
My biggest accomplishment is having written not just a book, but three books. Everybody has dreams. They often stay on the shelf collecting dust. So, I'm proud that I never gave up my dream to be a writer.
Which writers inspire you?
My first love was screenplay writing, so a lot of my influences are screenplay writers/directors like John Hughes, James Cameron, Steven Spielberg, and George Lucas. I grew up with Harry Potter, so J.K. Rowling was a huge influence, not necessarily on the genre I wanted to write, but on how to create a fictional world. Taylor Jenkins Reid is at the top of my list as far as newer writers.
Writing is stressful at times. How do you relax your mind?
When I figure this out, I'll let you know. ? I believe exercise is vital. Sunshine. Fresh air. Writing relaxes me. If I didn't write, I would probably implode. I think people should find something creative to do—writing, painting, drawing, cooking. It doesn't have to be something other people see, but it's liberating.
What is your favorite motivational phrase?
Everything you want is on the other side of hard work.
What advice would you give to your younger self?
Believe in yourself sooner. Believe in yourself more. Cut out the negative people in your life earlier. It is so important to surround yourself with people who inspire you. Notice the difference between people who vent versus people who habitually complain. Negative people affect our moods more than we know!
What books do you like to read personally? What are you reading currently?
I enjoy reading biographies of actors and actresses from the 1940s, 50s, 60s. Biographies can be great motivation for ideas. I enjoy reading non-fiction books about the World Wars and the 1960s. As far as fiction goes, I will read just about anything.
If you could have been the original author of any book, what would it have been and why?
Apart from the bestseller label and the sales, I wouldn't want to "steal" somebody else's idea. Coming up with these ideas is incredibly fun. Watching as an idea becomes a plot, and names on a page become living, breathing characters is an incredible process.
What made you decide to sit down and actually start writing?
I never had an issue sitting down and writing. My computer is full of first drafts and screenplays. My issue was getting the confidence to submit a book for publication. Writing doesn't seem like something I like to do, but I have to do.
Do you have a special time to write or how is your day structured?
I write in the evenings. I create playlists of songs that match the script. I will write a first draft on the computer. After finishing the rough draft, I'll let it sit for a week or two. Then I attack the rewrite chapter by chapter. I find writing by hand more cathartic and easier, so I rewrite chapter by chapter by hand. I find that writing at night is also a great way to clear my head before I go to sleep.
What is the reason you write for; is it for the readers or yourself or some other thing?
Writing is a necessity for me. I couldn't function if I didn't have writing. It brings me my greatest joy and my greatest anxiety. But I also write for the reader. I want them to read the characters and worlds I created and be moved by them.
About your Book: The Final Edit
The Final Edit is a mystery novel by Bret Kissinger, which was published in the year 2022. The book follows a girl named Madison Monroe dealing with her lifelong past trauma. Trauma never really left her, even coming back stronger a decade later.
The book is filled with so much suspense, one can hardly guess who is the real culprit. If you believe who got this, it will betray you in every step. If you are a mystery lover and enjoy suspense this one is for you.
Read Full Review of The Final Edit
What genre are your books?
My first two books are historical fiction. Forever Fleeting is set during the Second World War; Gone the Way of the Dodo Bird is set during the American Prohibition in 1926.
What draws you to this genre?
I knew I wanted to be a writer after I saw the movie Titanic. I was nine years old watching the film in a sold-out theatre. I witnessed a movie theatre full of strangers experiencing something together that moved them to tears. The way film used fact and fiction seamlessly. I can pinpoint wanting to be a writer to that movie theatre in December 1997.
What was the inspiration behind the character of Madison Monroe?
I pride myself on having strong female characters. Strength is a word that can mean many different things. For Madison, her strength is continuing on when she doesn't think she has the ability to. It's overcoming perceived weakness and trauma. It's not ignoring their existence but not letting them permanently hinder her. I "steal" characteristics from women I know for inspiration. I'm fortunate to know many strong women. The last name Monroe is in honor of Marilyn Monroe—a woman often viewed as weak, but she overcame so much to become the icon she is.
What makes 'The Final Edit' stand out in this genre?
I wrote The Final Edit, as I do all my books, as if I the reader were watching this on television. The twists are deserved—no unreliable narrators, no unclear points of view, no withholding of information, no all-knowing characters.
What should a reader expect from 'The Final Edit'?
Readers should expect a unique premise, strong likable characters, and a gripping plot with warranted twists. You'll want to keep reading but be afraid to.
This murder mystery is filled with so many twists and with an ending beyond imagination. What was the hardest & the easiest thing to write such a story?
Researching murder is such a taboo subject. There were many awkward google searches. However, I was able to speak with an FBI agent who was able to answer my questions. The hardest part about writing a murder mystery is planning clues in a way that the revelation is warranted yet isn't easy to decipher.
Future Plans
What are your ambitions for your writing career?
Keep writing and producing books. My goal is to produce a book a year.
Are you working on your new project? What will be your next book about?
I am several drafts deep into my next project. It will be a return to the genre of historical fiction. But I do have a thriller rough draft in the works!
What does success mean to you as an Author?
I don't want readers to forget about my books the moment they close it. I want it to stay in their mind and fester. Permanently move them. I want the characters and plot to stick with them long after. I want to ruin reading for them. I want to make them hesitant to start the next one because they know it won't compare.
What are your views on self-publishing and traditional publishing?
Self-publishing is a "no excuses" way to produce your work. However, everything is on you. It's both freeing and terrifying. With traditional publishing, most of it is luck and who you know.
These companies are programmed to say no. J.K. Rowling was turned down repeatedly for Harry Potter. James Patterson submitted a novel under a pseudonym as an experiment, and every publisher turned him down. James Patterson – the world's best-selling author. You can spend your entire life sending query letters, or you can get out there and do it.
One learning that you'd like to pass on to young debut authors.
Grab your own shovel and start digging. Vet out bad information. Trust your instincts.
 Are you also an author? Get your book featured on Vowelor now!