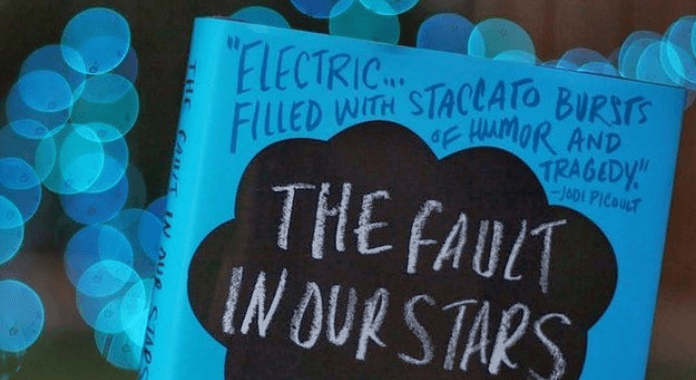 If you are anything like me, then you might have either read or watched The Fault in Our Stars. So, one way or the other we both have experienced the magic of this young adult love story.
But, being a book lover myself, I think there are many more books like The Fault in Our Stars that can give the same feels and pleasure of reading The Fault in Our Star did.
So, read these recommendations for books similar to The Fault in Our Stars and never get over the romantic young adult stories.
Best Books Like The Fault in Our Stars
Here are the top suggestions for the books similar to The Fault in our Stars to quench your romantic and young soul.
1. Every Day by David Levithan
Let's start the list of books related to the Fault in Our Stars with Every Day by David Levithan. 
This riveting and unique story is a love story of a boy named A. A has a rare disease of traveling through the bodies and lives of other people. He never knew in whose body and which place he will be transited to. Although, he has made his own rules of not getting attached to the people.
With this rare disorder, A every time falls in love with the same girl. Since then he has changed all his rules as he has found someone to live permanently with.
You will be consumed in the story which not only serves with love but also offers wisdom and humor to its readers.
2. Midnight Sun by Trish Cook
Like terminally ill characters of the Fault in Our Stars, Midnight Sun by Trish Cook also chronicles the story of Katie Price.
Katie suffers from a rare disease that makes even a little exposure to sunlight fatal for her. To avoid this she roams around in the city at midnight. Every night she plays the guitar at the railway station where she meets her secret crush, Charlie Reed.
I was totally astonished (I know you will also feel the same) when love blooms between Katie and Charlie in such an odd situation.
3.  Eleanor & Park by Rainbow Rowell
When I first read the Fault in Our Stars I knew that I could never get over it. But, then I bumped into Eleanor & Park by Rainbow Rowell. And, to be honest, since then, I am looking for books like Eleanor & Park.
It is a story of two misfit lovers set in the one-year time span. Eleanor and Park met on a bus ride. However, these young lovers are smart enough to understand that first love never lasts long enough. But still, they are determined to give their love a chance to bloom.
While reading this book you will remember your first love and adore this brilliant book.
4. Thirteen Reasons Why by Jay Asher
Thirteen Reasons Why by Jay Asher turned into a Netflix series has every reason for reading it if you liked the Fault in Our Stars.
Clay Jensen's life takes a massive turn when he receives a strange package on his doorstep. It was from his school crush Hannah Baker who had committed suicide two weeks earlier. Hannah had given him cassettes in which she had mentioned thirteen reasons for her suicide.
Seriously, you cannot even think about putting down this page-turner novel.
5. A Walk to Remember by Nicholas Sparks
I remember watching A Walk to Remember and feeling that love has no restrictions. And, now I think this story is the perfect match for books like Fault in Our Stars.
Landon Carter remembers the time when he was a troublemaking teenager of 1950s. When he had never thought of falling in love with a girl who is shy and daughter of a baptist. The girl who taught him the pain and joy of living life and the one who actually shaped his life.
This moving love story will well up your eyes with tears and left your soul drenched in love.
6. All The Bright Places by Jennifer Niven
You are definitely going to love All The Bright Places after reading the Fault in Our Stars. One thing common in both books is the unexpected entry of love in these young teenagers' lives.
Violet Markley was completely shattered after her sister's death. She was finding new reasons to live her life. But ends up on the ledge of the bell tower. There she meets Theodore Finch, a boy who is fascinated by death and everyday tries to go closer to it.
I bet like me you will be so astonished by the story that you will also end up searching for Books Like All The bright Places.
7. Ask The Passengers by A.S King
I have mentioned last in the list but Ask The Passengers by A.S King has moved me with its unconventional story. This book is related to the Fault in Our Stars but in a twisted way.
The only thing Astrid Jones wants in her life is to confide her feelings in someone. She couldn't rely on her parents because of their pushiness and lack of interest. So she finds a way out. She started asking questions about her life to the passenger flying overhead.
Little did she know that even this tiniest connection with the passengers is making a difference in their lives and that's the beauty of this novel.
Your Choice – Pick Books you find more related to The Fault in Our Stars
I have made these recommendations for all the fans of Fault in Our Stars. These books like Fault in Our Stars are one way or the other related to the story of Hazel and Augustus.
I have already read all these books related to Fault in Our Stars but still, it feels like I am not getting over these love novels anytime soon. So, you need to keep a check on this list as I will keep on adding more suggestions for novels like Fault in Our Stars.
You must also check out