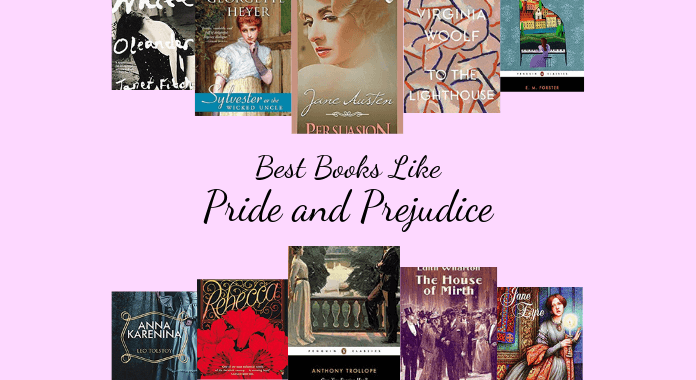 How do you even get over from such an amazing classic book like Pride and Prejudice? I can't, and maybe I don't want to.
I will miss arrogant Mr. Darcy and soft-hearted Elizabeth. I will miss the eloquent writing style which turned such simple story into a best classic novel ever.
So. let's just stop whining about it.
You need to find out more books like Pride And Prejudice and witness the stories which not only tell the immensity of love but also unravels the culture of that century.
Books Like Pride And Prejudice
These are the similar books to Pride and Prejudice and indeed are the classics of all time. I am sure you are going to read all of them because you cannot simply resist these books after reading Pride And Prejudice. 
1. A Room with a View by E.M. Forster
A Room With a View by E.M. Forster is not just a romantic story but also a book with revolutionary thoughts.
Lucy Honeychurch is an Englishwoman who lives in England with her mother and her little brother. Very often, she goes on exciting trips with her older cousin, Charlotte and this time, they went to Italy.
Lucy meets Mr. Emerson, who is always misunderstood as vulgar and his son George, a young and soft-hearted man. After meeting George, it is hard for Lucy not to think about him and to fathom her feelings for him.
In the second part of the book, Lucy's engagement is set up with Mr. Cecil Vyse, an arrogant and evil man. She is torn between the societal terms of right and wrong when George moves in her neighborhood to live.
This is a thought-provoking and fun read. Surely, a perfect novel for the ones who are hunting for books like Pride and Prejudice.
2. Sylvester or The Wicked Uncle by Georgette Heyer
Like Jane Austen books, this one is also a classic romance book with a story plot similar to Pride And Prejudice.
Sylvester is the Duke of Salford and is considered as the most eligible bachelor who is seeking for an elegant girl. He desires the woman to be well-born, elegant and attractive. Most importantly she should be able to maintain the high standards of the society.
Phoebe, an intelligent girl aspires for a literary career with her debut novel. When she met Sylvester for the first time, she assumed him to be arguably arrogant. On the other hand, Sylvester finds her very dull and insipid.
Little did they know that the upcoming life events might change their feelings for each other and their paths will be intertwined.
3. Rebecca by Daphne Du Maurier
Not all love stories are lovely, some are also turn out to be a horror story.
Rebecca is a Gothic fiction written by Daphne Du Maurier in 1938. This bestseller book has never gone out of print and had sold 2.8 million copies between its publication in 1938 and 1965.
The unnamed narrator felt lucky when Mr. Maxim proposed her for marriage in Monte Carlo where she was working as a lady's maid. However, this feeling was swept off soon.
After marriage, Mr. Maxim took her to the grey stone mansion where she was terrified with the shadow of long-dead Rebecca who happens to be the first wife of Mr. Maxim.
Read this book to uncover the darkest secrets and the shattering truth about Mrs. Maxim.
4. Jane Eyre by Charlotte Bronte
In 1847, Jane Eyre was published under the male pseudonym, Curer Bell by Charlotte Bronte.
Jane is an orphaned girl and has felt lonely in her whole life. After her maternal uncle died, she was sent to a boarding school and there she landed a job as a governess to take care of Mr. Edward Rochester's son who is an arrogant man.
Despite the cold nature of Mr. Rochester and some unrevealed secret of a ghostly woman who roams in the hall at night, Jane starts falling in love with him.
Read this classic that never gets old and these novels like Pride and Prejudice never loses its fan base.
5. Persuasion by Jane Austen
No one can quench your thirst for reading books like Pride and Prejudice better than Jane Austen herself.
Jane Austen books are one of their kinds which mark them as the best classics and Persuasion is one of them.
Anne Eliot's story is divided into two parts of the book.
Eight Years earlier, Anne Eliot, the daughter of Sir Walter was persuaded to break off her engagement with Frederick Wentworth who was a young lieutenant in the Royal Navy because he was without fortune.
Eight Years later, Captain Wentworth came back as a rich and successful officer and still unforgiving for Anne's rejection. Little did he know that Anne is still in love with him and has turned down the offer of marriage with Charles Musgrove.
Now the question arises will Anne and Wentworth will be reunited in their love? You need to read this spellbinding story and find out the answer.
6. The House of Mirth by Edith Wharton
House of Mirth is the tragic love story of the 20th century which is beautifully portrayed by Edith Wharton in 1905.
Lily Bart is a highly intelligent and gorgeous woman who is extremely dependent on society. She is a fashionable young woman and lives a luxurious life thinking that she is entitled to live her life in this style. Now, she is desperate to marry a wealthy man so that she can continue with her lavished living.
She has faced her downfall with the romantic indiscretion followed by gambling debts and losing her inheritance.
Edith Wharton's writing style will surely remind you of Jane Austen and Hence, this book is recommended to read if you have liked Pride and Prejudice book.
7. To the Lighthouse by Virginia Woolf
Yet again Virginia Woolf spread her magic with not so conventional storytelling in the book, To The Lighthouse. 
The story is about Ramsay Family who had planned a vacation to Ilse of Skye with their friends and assorted guests. James, one of the children in the family want to go to the lighthouse but to get there they have to take a boat trip.
The book has a lot of different perspectives and thoughts from which you can learn many things about life.
8. White Oleander by Janet Fitch
White Oleander was added in the Oprah's Book Club in May 1999 and was published in the same year.
The book is primarily based on the story of a mother who is a poet and imprisoned in the charge of murder and her relationship with Astrid, her daughter. Ingrid has always taught Astrid about how the world works and especially about the relations.
When Ingrid was in jail, Astrid was sent to many foster homes for care and in that course, she gets to know about some deepest secret her mother has confined from her.
It is a dark and shimmering novel that you would love to read.
9. Can You Forgive Her? by Anthony Trollope
Can You Forgive Her? is written by Anthony Trollope and published in the Year 1864. It is the first book of the famous Palliser series and is also known as the Parliamentary series.
This book chronicles the story of Alice Vavasor who is in a dilemma with her feelings. She is not able to decide whether to marry her ambitious and violent cousin, George or the Kind and gentlemen, Mr. Grey.
The series is mainly about the three women, Alice, her cousin Glencora and her aunt Arabella Greenow and their life decisions regarding courtship, love and marriage.
The book very efficiently deals with the social lives of the characters and the mindset of the people.
10. Anna Karenina by Leo Tolstoy
This list can not end without the greatest novel of all time, Anna Karenina. The book tells us about the contemporary times of Russia.
Anna is a sophisticated woman married to a senior statesman, Alexey Alexandrovitch Karenin who is twenty years older to her. She is doomed in her cold marriage. With her passionate and high-spirited soul, she falls in love with Count Vronsky.
Caught between the righteousness of the society and her desires she finds herself stuck in order to take a major decision of her life.
Final Words
I am going to start my list of books like Pride and Prejudice by picking my first read as Jane Austen's Persuasion. As it has the essence of the vintage classics and the eloquence of Jane's writing.
Though my favorite from the list is Sylvester or The Wicked Uncle by Georgette Heyer because of its brilliant writing style and, the witty and hilarious storytelling.
If you would like to share your recommendation for books similar to Pride And Prejudice, then please share it in the comment section.