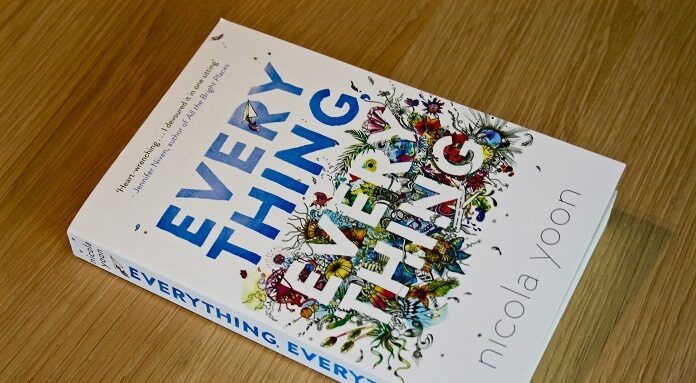 So, what book to read after reading Everything Everything? Let me help you there with the list of books like Everything Everything to relish your reading hours.
I know you admire Nicola Yoon's book and yearn to read more from her. So far, she has written just two books and the world knows this writer has her own ways to hook her readers to the story.
So, you only have the option to look for more books like Everything Everything to feel the magical love all over again.
My Recommendations for Books Similar to Everything Everything
Here are my top recommendations for books like Everything Everything.
Five Feet Apart by Rachael Lippincott
Me Before You by Jojo Moyes
Before I Fall by Lauren Oliver
Mariam's Well by Lois Ruby
Eleanor and Park by Rainbow Rowell
Side Effects May Vary by Julie Murphy
Me And Earl And The Dying Girl by Jesse Andrews
When We Collided by Emery Lord
1. Five Feet Apart by Rachael Lippincott
The best thing about novels like Everything Everything is its blooming love in the fatal moments. That is the time you least expect love to knock on your door.
In Five Feet Apart by Rachael Lippincott, the love story embarks between two teen adults at the most unexpected place – Hospital. Stella and Will both suffer from the same disease, Cystic Fibres which resists them from getting in contact with someone closer to five feet.
Could you love someone even when you know that being close to each other can kill one of you?
Your answer is right there in the novel. So read the book and I am sure this book will bring you the same joy just like Everything Everything.
2. Me Before You by Jojo Moyes
Here's my second recommendation to binge read. – Me Before You by Jojo Moyes.
The book tells a bittersweet romance story of Louisa Clark. Lou is an ordinary girl with a loving boyfriend, close family, and normal life. She takes up the job of a caretaker of Will Trayner.
Will is stubborn, moody, and bossy. Many caretakers have runoff from his attitude. But Lou decides not to give up. She shows him that life is still worth living even when you are stuck in a wheelchair for the rest of your life.
Like Maddy, Will is also trapped and like Everything Everything, Me Before You also makes you believe in the power of love.
3. Before I Fall by Lauren Oliver
Before I Fall by Lauren Oliver is another book that read-alike Everything Everything. It teaches you the true meaning of living in the present.
Samantha Kingston is a 17-year-old girl who relives her day of death over and over again. She is a popular, beautiful, and perfect boyfriend.
Technically February 12 was the last day of her life. But she still wakes up in the next morning and relives her last day for the seventh time.
This story gives you something that you might hold on to the rest of your life.
4. Miriam's Well by Lois Ruby
Next up is Miriam's Well by Lois Ruby. 
Miriam is a strict follower of the church rules which say that women have little power and medicines are strictly banned. One day when she faints during the English assignment, Adam takes her to the last place she wants to go – the hospital. She is diagnosed with bone cancer and believes that God will heal her.
The whole plot is whether Adam supports Miriam in the plan of killing herself or will he choose to change her mindset and save her life.
This book, like Everything Everything, will make you learn the meaning of love and faith.
5. Eleanor and Park by Rainbow Rowell
While reading Everything Everything, I remember feeling like a teenager who would do anything just to be with their lover. Eleanor and Park by Rainbow Rowell brings the exact same emotions.
The book will make you relive the feeling of your first love. That's why it deserves a place in my list of books related to Everything Everything.
Eleanor has just shifted to a new city and had never felt so lonely before. But this city has given her first love – Park.
They both are 16-year-old teenagers who understand that teenage love never lasts long. Though they are strong enough to give it a try.
You are going to fall in love with every bit of this story. And, maybe like Everything Everything, you might also end up looking for books like Eleanor and Park as well.
6. Side Effects May Vary by Julie Murphy
Moving on, the next book I would recommend if you loved Everything Everything is Side Effects May Vary by Julie Murphy (who also wrote the bestseller Dumplin').
Published in the year 2015, the book tells the story of a teenage girl, Alice who is diagnosed with leukemia. In her last days, she decides to live her life to the fullest.
Along with her best friend Harvey, Alice takes a vow (or say revenge) to fulfill her bucket list. But, when her scores settle, she has to face the consequences of her deeds and realizes her true feelings for Harvey.
I was literally pissed off with Alice for making such a stupid bucket list. Though, that's what makes it a good book because you can feel the characters.
7. Me And Earl And The Dying Girl by Jesse Andrews
Fans of Everything Everything will go crazy after reading Me And Earl And The Dying Girl by Jesse Andrews.
Jesse Andrews has written one of the best young adult contemporaries. It is a story about Greg and his high school life. He assumes that he has found out a never-failing solution of surviving high school. However, it lasts for only eight hours.
Greg hates when his mother forces him to be friends with a girl who has cancer. Not when he has made a sort of friend, Earl to exist in high school.
The novel is heartbreaking, honest, and absolutely hilarious even when talking about the most serious part of life – Death.
8. When We Collided by Emery Lord
I read When We Collided by Emery Lord on the recommendation of my book club. Firstly, I thought this book is similar to Everything Everything with a sick girl and a boy falling in love. To my surprise, it has a lot more to offer you with its story.
The book chronicles the story of seventeen-year-old Jonah Daniels. He has been through a lot in his life. Now, he just wants to be as far as possible from all the sufferings of the world.
Things change when he meets Vivi Alexander. She is lively and easy to get along but refuses to take the medicines which make her feel better. Through the time, they both fall in love and she manages to gel up Jonah's family.
But this love story raises a question – whether love is enough for two persons to survive all the ups and downs of life?
Like me, I am sure you will also find this book compelling and a delightful read.
9. All The Bright Places by Jeniffer Niven
If you think there can't be a book similar to Everything Everything one hundred percent, read All The Bright Places by Jennifer Niven.
Frankly, I had tears all through this book and I cannot simply take the story out of my mind. Such was the impact of this book!
Theodore Finch can only think about death. He is so fascinated by death that it seems impossible for him to stay away from it. Whereas, Violet Markley has encountered death in such a way that she is no longer interested in anything.
This love story is heart-rendering but still, I am craving to read more books like All The Bright Places.
Final Thoughts on Books Like Everything Everything
So, these books were my recommendations for novels like Everything Everything. Mark my words, these young adult romantic novels will make you feel the vibes of love all over again.
I am not sure about you but I am still not done reading books similar to Everything Everything. I have added more such books in my TBR list and will surely update it in the article.
So stay tuned and read more.