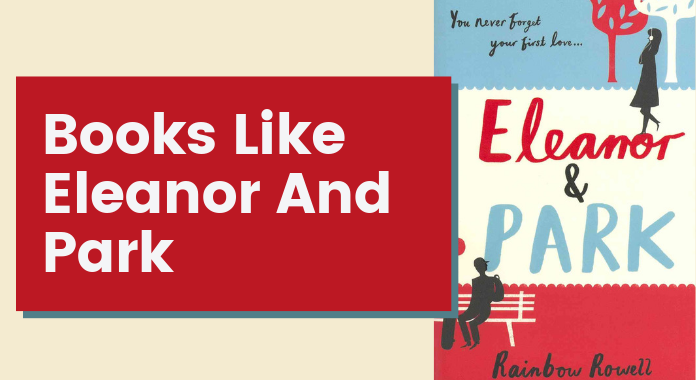 So, like me, you also just ended the killer romance book, Eleanor and Park by Rainbow Rowell. The heart-melting story of the book which not only made you feel young but also made you fell in love with books all over again.
And now, you are already craving for books like Eleanor And Park. (Just like I did!)
I know it is impossible to replace one book with another. Despite, to calm our yearnings we still try to look for the read-alikes. So, here's my little effort for the recommendation of books similar to Eleanor and Park.
What to Read When You Are Searching for Books Like Eleanor And Park
Below are the suggested books related to Eleanor and Park and add these in your TBR list.
The Sun is Also a Star by Nicola Yoon
All The Bright Places by Jeniffer Niven
P.S. I Still Love You by Jenny Han
Anatomy of a Misfit by Andres Portes
Dumplin' by Julie Murphy
The Upside of Unrequited by Becky Albertalli
The Spectacular Now by Tim Tharp
Anna and The French Kiss by Stephanie Perkins
Divergent by Veronica Roth
Before reading The Sun is Also a Star I didn't know that it was going to be like Eleanor and Park. Though after finishing it, I was again transcended to the world where despite the circumstances love finds its way to bloom.
2016 published, Nicola Yoon book is a love story that takes place on an unexpected time and with two unexpected people.
Natasha is a science geek who would be flying to some other country in just twelve hours. She is the one who not at all believes in fate or destiny.
Daniel aspires to be a poet who is overshadowed by his elder brother in every aspect of life. He thinks that meeting a girl like Natasha cannot be a mere coincidence. May be fate has something extraordinary in store for them.
The story is really indulging. You can actually feel the magic that spreads after every page.
2. All The Bright Places by Jeniffer Niven
Next up in the list is All The Bright Places. It has almost all the elements of the love story like Eleanor and Park. But still, you would end up feeling differently after reading both the books.
Theodore Finch finds every way out to end his life. On the contrary, Violet Markley is in the quest of reasons to live after facing her elder sister's death. While weaving the love story, Jeniffer Niven also talked about topics like depression, anxiety, and suicide.
Nothing can be more exciting to read about the love between two young adults who are completely opposite to each other.
3. To All The Boys I've Loved Before by Jenny Han
Carrying on with the magic of romance novels like Eleanor and Park, next in the list is To All The Boys I've Loved Before.
The second book of the Jenny Han is the young adult fiction (or say complicated fiction). Lara Jean the protagonist of the story writes letters to her crushes which she decides not to send them ever.
Anyway, her younger sister sends them to her previous crushes turning Lara Jean's life upside down.
4. Anatomy of a Misfit by Andres Portes

I bet if you liked Eleanor And Park, then there is no way that you are not gonna love Anatomy of a Misfit. As Eleanor and Park, this story also starts in the classroom and unfold in the most romantic way.
Anika is the third most popular girl in the school. But she isn't the most perfect. Little did they know that she is a freak inside. The one who just cannot stop thinking about a guy who she saw on the first day of the tenth grade.
Logan is a loner. He is hot, bold, off-limits and a regular guy. The only thing that is ceasing Anika from being with him is her social status.
It's rare to find a book which is funny, thought-provoking as well as delightful all at the same time.
5. Dumplin' by Julie Murphy
Moving on with the list of books related to Eleanor And Park, Dumplin' by Julie Murphy proves to be a cheerful read.
I was literally devastated by the heart-wrenching story of Eleanor and Park. But reading this second novel of Julie Murphy feels like a cure to the heartache.
Dumplin' is a story of an overweight young girl, Willowdean. She is a funny, fearless, and unforgettable teenager. She feels the pressure of being a daughter of a former beauty queen mom. It feels like dream come true for Will when her crush too like her back.
Will's major step to prove herself by taking part in Miss Clover City beauty pageant really makes the story more interesting.
6. The Upside of Unrequited by Becky Albertalli
If you liked reading Eleanor and Park, then it seems that you are comfortable reading a love story with complicated emotions. So, The Upside of Unrequited is a perfect read for you.
It is a story of Molly Peskin who had only tasted the unrequited love from her crushes. Even after her twin sister's girlfriend, Cassie came in the orbit, Molly was adamant for not hurting herself in love.
Things changed when Cassie's hipster friend, Will came into the scene. If Molly can win him over then she will no more be lonely and can get her twin back. But, what when she falls for a chubby co-worker?
Read this interesting book and enjoy the complicated feeling of love.
7. The Spectacular Now by Tim Tharp
I know you want more and more books like Eleanor and Park. So, Spectacular Now is one of the kind.
The book chronicles the story of two young adults, Sutter and Aimee living in Oklahoma. Sutter is an extrovert boy whom you will always find partying. He has no plans for the future and absolutely no worries.
While Aimee is an academic star. She is shy, introvert, and not at all a party-goer. On one fine day, she found Sutter lying in her lawn. No one knows what this unexpected meeting leads to.
Grab this book and discover the wonderfully written and realistic romantic story.
8. Anna and The French Kiss by Stephanie Perkins
After reading Eleanor and Park, Anna And The French Kiss is the perfect novel to start with another school love story.
Anna Oliphant is the senior year student, forced to leave America where she holds everything dear to her life. It's very hard for Anna to move to Paris without her best friend, high school crush, and job.
In Paris, Anna's life changes when she sees Etienne St Clair. She tries to compete with his girlfriend just to secure her romantic dream.
A perfect blend of friendship and relationship, you are definitely going to love Anna and the French Kiss.
9. Divergent by Veronica Roth
Divergent by Veronica Roth is the last book in the list of books like Eleanor and Park. The reason it is like Eleanor and Park is the complicated romance between teenagers. Though, it comes with the dystopian twist.
The book tells the story of Beatrice Prior who alike other kids of her age have to choose one of the five factions. Beatrice has to make this tough decision and starts her new life battling long with her fellow mates.
Divergent is a trilogy which involves friendship, love, fear, and violence and this story can blow your mind.
Final Words
These are my recommendations for books like Eleanor and Park. But what after reading all these 9 books?
Don't worry! I understand that there are never enough books. So I am going to find you more books of the same category as of Eleanor and Park. I will soon update this article with more additions in it.
Till then you can read these books and tell me which one of these you find the most interesting in the comment section.
You must also read: