Your Love and My Story by Harish Pandey is a story about Friendship, Love, Betrayal and so much more.
Published in Feb 2020, this is Harish Pandey's first book however reading through the pages didn't feel like his debutant work.
The story revolves around the life of our three main protagonists; Radhika, Vishesh and Kabeer. It is narrated by Vishesh, who is an engineer-turned-author. All three of them are engineering students and the story explores the four-year journey of their college life which is full of ups and downs.
Here's a small snippet from the book:
And without shying away from the fact, I accept that I don't possess such a quality like he does & I then, felt like it is high time to let the world know, along with him too, that why there can't be another KABEER BHAAGWAT, who himself doesn't know about his legends. And yes! Penning down this book again took me through the ups & downs of my past but also helped me a lot to recover from the pain of losing my two soul mates.

My voice crumbled while speaking the last few words. I got a tad emotional but in actuality, it was my pride which took over my voice. And, without any further ado. Bhatiya sir took over. sensing the fragility of the occasion. I slipped onto the couch and again picked up the bottle of water to drink while some random visuals of my past started fleshing across my mind.
Book Review: Your Love and My Story by Harish Pandey
The story starts in the backdrop of an engineering college where the freshers are being ragged by the seniors. At this moment, our lead protagonist Vishesh comes across a vibrant young lad who had the guts in him to question his seniors.
However, that earned him a tight slap on his cheek. A few ragging sessions later, Vishesh gets introduced to that same young boy, Kabeer, who was also a fresher but because of his charming attitude and nature was well-liked by the mass.
Then enters Radhika. She comes off as a studios girl with absolutely no time for love and relationships. With not such an impressive first meeting between Kabeer and Radhika, she starts to get put off by Kabeer.
What comes as a shocker is that Kabeer has topped the first semester examinations; with Radhika in the third position. People were shocked to see Kabeer who never studied a wink in the class, top the exams. This led to the foundation of Kabeer and Radhika's love story.
In the meanwhile, Kabeer and Vishesh develop a strong friendship, one where Kabeer gives his notes to Vishesh and helps him pass his examination. At the same time, Kabeer feels drawn towards Radhika and calls her his 'genie'. Vishesh soon starts to feel jealous of Kabeer's fame and the attention he gets from Radhika.
Once when Kabeer joins the semester a week later than the scheduled dates, it raises a lot of eyes but he handles the situation with a lie that everyone buys. As Radhika and Kabeer inch closer, he feels that he needs to draw a line because he has a secret that binds him from stepping forward in this relationship.
Kabeer confides his feelings and secrets in Vishesh and that's where the story takes a big turn.
Read Your Love and My Story to know whether or not Vishesh overcomes his jealousy, what happens to Radhika and Kabeer's love story and what was Kabeer's big secret?
Storyline
⭐⭐⭐
Characters
⭐⭐⭐⭐
Writing Style
⭐⭐⭐⭐
Vowelor Review
A nostalgic, relatable and captivating read.

4.0
✅ Get your copy of Your Love and My Story by Harish Pandey on
Amazon now
!
My Thoughts
The book will surely take you back to your college days and you will feel nostalgic walking down those past days. The first few chapters narrate a story which in general everyone college student or passout can relate to.
I really loved the character of Kabeer. The style of writing was captivating which makes the book a read in one sitting.
At times, I felt that a lot of unnecessary information was given which if removed the book would have been a lot smoother. The books will also remind you of the movie 'Three Idiots' at times.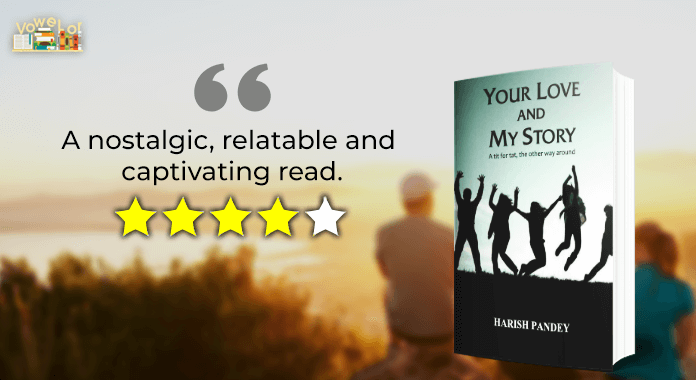 About the Author: Harish Pandey
Harish Pandey is 29 Years old author and belongs to a family of Defense personnel. He is a native of Uttarakhand and thus his books speak of Uttrakhand in a beautiful manner.
He shifted to Delhi in 2007 and did his engineering from there after which he got employed in the Delhi Metro Rail Corporation.
Your Love and My Story is his first book which got published in February 2020 by WorditCDE.