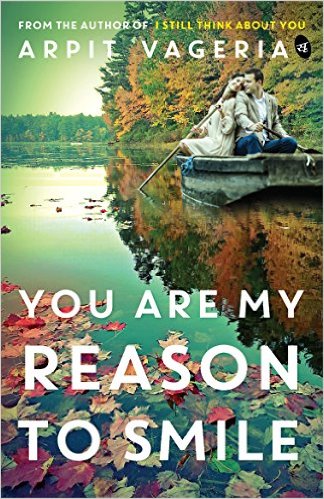 | | |
| --- | --- |
| Book Title | Your Are My Reason to Smile |
| Book Author | Arpit Vageria |
| Publisher | Srishti Publishers |
| ISBN | 9382665889 |
| Language | English |
| Pages | 184 |
| Year Published | 2016 |
Book Review : You Are My Reason to Smile by Arpit Vageria
You Are My Reason to Smile is Arpit Vageria's third novel. His previous books Chocolate Sauce (2012) & I Still Think About You (2016) have received much love and good reviews from the readers. The next novel, You Are My Reason to Smile by Arpit Vageria is a story of a corporate employee turned full-time writer and his journey beyond.
Ranbir, the protagonist of the novel You Are My Reason to Smile, is sort of dreamer who has his aspiration beyond the well-paying job that he has already. Ranbir's love interest, Adah, is the one for whom he can leave behind rest of the world. Besides having a good job and almost the perfect love, Ranbir isn't happy.
His true calling is somewhere past the walls of a  corporate cubicle – Writing. It takes him a lot of deliberation to finally take a leap and leave his job to dedicate all of himself towards writing. While Ranbir struggles to find the balance in everything, Adah somehow drifts away from him. This eventually makes Ranbir ask himself whether its was love?
The story of You are My Reason to Smile by Arpit Vageria takes an unusual turn when Ranbir's very first reader, Pihu, enters his life. It takes not much time for Pihu to fall head over heels for Ranbir.
As this novel by Arpit continues, the relation between Ranbir & Adah gets worse. On the other hand, Pihu leaves behind her luxurious life to shift in with Ranbir. It is Ranbir who has to find out what is true love in a world that kills for money and dies for love.
Storyline

Characters

Writing Style
Vowelor Review
Another interesting love story by Arpit with a different take on relationships.
About the Author: Arpit Vageria
Arpit Vageria is from Indore and has spent a part of his life Pune. After getting into CA and MBA, he found his passion in writing and published his first novel, Chockolate Sauce-Smooth. Dark. Sinful, in 2012. His second novel, I Still Think About You, released in May 2016 became a bestselling romance novel.
Apart from books, Arpit also writes for the Indian TV shows and has written stories and dialogues for many fiction and non-fiction television series and award functions. He currently lives in Mumbai. He enjoys road trips, singing, playing pranks and adventurous sports.