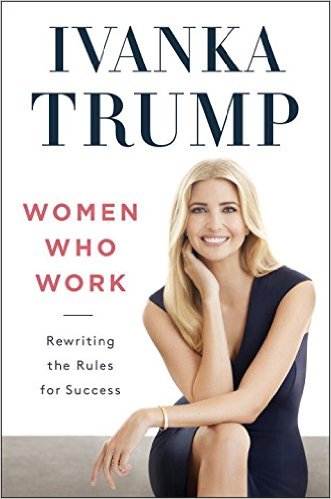 Book Review : Women Who Work by Ivanka Trump
Women Who Work is Ivanka Trump's second book in which she talks about various subjects from finding opportunities to negotiating; from shuffling career to starting companies and much more. The complete name of this inspiring book is Women Who Work: Rewriting Rules for Success by Ivanka Trump, the daughter of American President Donald Trump.
In her book Women Who Work, Ivanka Trump gives insights on managing work and family together which is a major issue in the life of Women who work. Ivanka has pointed out many of the faced by working women today and tells how she won over them herself. The book, Women Who Work by Ivanka Trump, is more of a must-have guide for ladies out there who are competing with men in all walks of life.
Ivanka Trump has written Women Who Work for all those female leaders who want to enjoy their lives with their passion for work along with their affection for the people who are really important for them. And, Women Who Work is a perfect recipe the same.
Inspiration

Writing Style
Vowelor Review
Women Who Work is a perfect recipe of bringing balance to work and life and still win at both!
About the Author : Ivanka Trump
Born in 1981, Ivanka Trump is the daughter of business tycoon and now American President Donald Trump. In 2004, Ivanka completed her Bachelor's degree in Economics from Wharton Bussiness School and joined her father's business in 2005. Now, Ivanka is the executive vice president of the Trump Organization, cofounder of Trump Hotels, and founder of the Ivanka Trump Collection and IvankaTrump.com.
Ivanka has also worked in fashion and modeling including TV reality shows. She published her bestselling debut novel, The Trump Card: Playing to Win in Work and Life, in 2009. Ivanka Trump has been included in Fortune magazine's prestigious "40 Under 40" list.