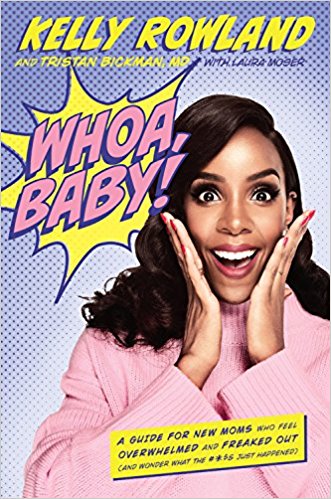 Book Review: Whoa Baby by Kelly Rowland
Whoa Baby by Kelly Rowland is a guide for new Moms who are overwhelmed and freaked out when they have their first baby. The global music sensation, Kelly Rowland, has written Whoa Baby. The book is about her experiences while having her first baby whom she named Titan. Dr. Bickman, the doctor who took care of Kelly Rowland, is another important contributor to this book. Whoa Baby by Kelly Rowland was released on April 11, 2017.
Book Summary: Whoa Baby by Kelly Rowland
Whoa Baby is an essential guide for all the new moms or those who are expecting a baby soon. Kelly Rowland, during the period of her pregnancy, has gone through all the anxiety, nervousness and madness that is accompanied by the magic called 'giving birth'.
Just like all the first-time moms, Kelly was also not ready for the changes happening in her body and mind. With so much overwhelming new emotions, Kelly took it to her doctor Dr. Bickman, who cleared all her doubts and help her through those important nine months. So, after the birth of Kelly's son, She teamed up with her doctor and came up with the book, Whoa Baby.
In this book, Whoa Baby, Kelly Rowland shares reassuring answers to all the questions and doubts that a new mom has in mind. Whoa Baby by Kelly Rowland also teaches the right ways to handle your body during pregnancy as well as the baby just after the birth. Kelly has written this informational yet witty guide, Whoa Baby,  just to answer all mom queries like, Will I Ever Walk Again? Will I Ever Sleep Again? Are My Boobs Always Going to Be Like This? If you're also expecting a baby, then with Kelly Rowland's book Whoa Baby, you can get prepared to face all the surprising challenges coming way before and after you become a mom.
Interesting

Writing Style
Vowelor Review
Hilarious yet informational. Only Kelly can pull this off!
About the Author: Kelly Rowland, Dr. Tristan Bickman
Born in1981, Kelly Rowland is an American singer, songwriter,  and an actress. She has also worked in the Television industry. Kelly Rowland has been an international pop star since the age of 16 and grew up in the spotlight as a member of Destiny's Child, one of the best-selling groups of all time. The songs of Destiny's Child has been chart-toppers in the US all because of her powerful voice which was a key ingredient to the performances of the band.  Kelly's songs have more than 60 million albums sold worldwide.
Dr. Tristan Bickman is a trusted OBGYN in Santa Monica. She has served the local community for over 18 years and specializes in all aspects of obstetrics and gynecological care.