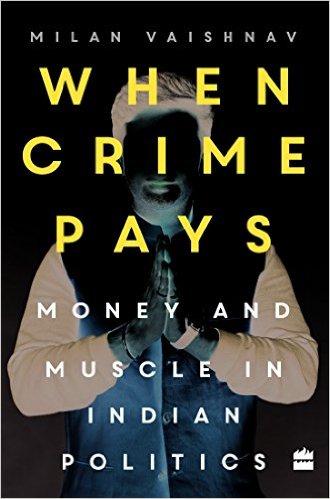 | | |
| --- | --- |
| Book Title | When Crime Pays : Money and Muscle in Indian Politics |
| Book Author | Milan Vaishnav |
| Publisher | Harper Collins India |
| ISBN | 9352643127 |
| Language | English |
| Pages | 434 |
| Year Published | 2017 |
Book Review : When Crime Pays by Milan Vaishnav
When Crime Pays is Milan Vaishnav's debut book which he claims to be the very first in-depth study of politics of India and the influence of crime in the political economy of the country. The full name of the book is When Crime Pays: Money and Muscle in Indian Politics by Milan Vaishnav.
In his book, When Crime Pays, Milan has analysed and deciphered Indian politics and the democratic events like elections and political campaigns. There are many unanswered questions in the minds of the honest public about the bogus manifestos, corrupt politicians, free and fair elections and more. When Crime Pays by Milan Vaishnav answers all these questions in form of an eye-opening study.
To compile such a thorough research, Milan Vaishnav dug deep into a plethora of sources, surveys and the databases of criminal cases against Indian politicians. The result was a shocking revelation in form of the book – When Crime Pays: Money and Muscle in Indian Politics. Vaishnav flawlessly melds individual stories from on the ground in India with hard-core data, giving us an extremely readable explanation for the high numbers of criminal politicians in India.
Truthfulness

Writing Style

Facts
Vowelor Review
With enough numbers and relevant data, the book is an eye-opener for Indian voters. Exceptional.
About the Author: Milan Vaishnav
Milan is a senior fellow in the South Asia Program at the Carnegie Endowment for International Peace in Washington, D.C. His primary research focus is the political economy of India. I received a Ph.D. in Political Science from Columbia University. When Crime Pays is his debut book that sums up his deep study of Indian politics.
Milan Vaishnav has worked at the CSIS, Council on Foreign Relations, and the Center for Global Development. He has also taught at Columbia, Georgetown, and George Washington Universities. As an author, he also contributes to various international dailies.