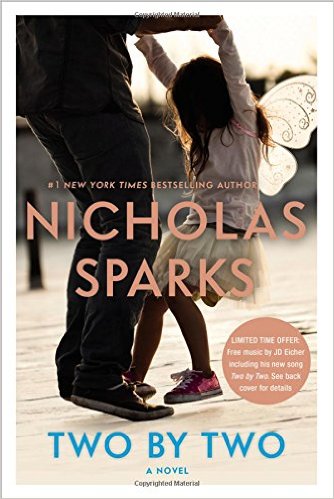 Book Review : Two by Two by Nicholas Sparks
Two by Two is the latest novel by Nicholas Sparks, the New York Times Bestselling author. As expected, the book has an intense and emotional story. Two by Two by Nicholas Sparks is a tale of a married couple and their struggles with life. It has a wonderful message how a kid and the relation with parents can change lives forever.
The main character, Russell,  works in an Advertising firm, owns an expensive house and has a charming wife Vivian Green. The story of Two by Two starts from the moment when Vivian is expecting a baby. Russell couldn't be happier when London was born. After the birth of their daughter, Vivian decides to stay at home leaving her job.
In few years, It becomes difficult for Russell to make ends meet with the single salary. In turn, Russell decides to start his own company. Things get worse when his new company doesn't work well and Vivian, her wife, has to get back to her job.
As a result, Vivian has to take full-time care of London who is now six years old. There are moments where Russell breaks in the absence of his wife. There are moments where he cherishes his upside down life with his sweet and beloved daughter. Somehow, he runs into his old interest, Emily, and couldn't decide if there should be a second chance.
Marge, Russell's sister, is a crucial character in Two by Two by Nicholas Sparks. She is funny, witty, and she loved her brother dearly.
Nicholas Sparks, in his novel Two by Two,  has outlined how single parenting as a father is equally emotional and hard as a mother. Two by Two by is a novel full of heartbreak, at times bittersweet but also with a great amount of love and healing power.
View Book Teaser of  Two by Two by Nicholas Sparks on Youtube
Storyline

Characters

Writing Style
Vowelor Review
A powerful novel about second chances, loss, self-discovery, and love. Two by Two by Nicholas Sparks is a treat for his fans as well as first timers.
About the Author
Nicholas Sparks is one of the world's most favourite novelists. All of his books have been New York Times bestsellers. Nicholas Sparks' books collectively sold over 100 million copies worldwide. His books are translated into more than 50 languages.
Not only Nicholas Sparks is beloved of readers, his books are regularly adapted into movies. Almost a dozen of his novels are made into movies and have a gross collection of around 750 million dollars. His most appreciated works include The Choice, The Longest Ride, The Best of Me, Message in a Bottle, A Walk to Remember, The Notebook, Dear John and The Last Song.
Nicholas was born in Omaha, United States and currently lives in North Carolina. He contributes excessively to the Creative Writing (MFA) Program at Universty of Notre Dam where he had studies himself. He also does a lot of charity and support athletes.