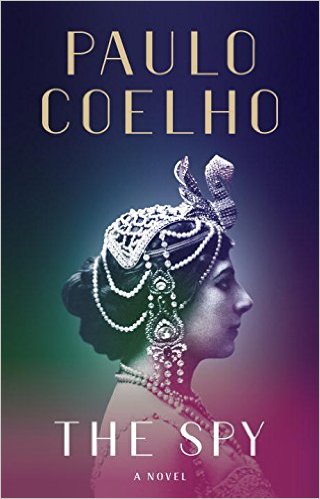 Book Review: The Spy by Paulo Coelho
The Spy by the bestselling author, Paulo Coelho, is about Margaretha Zelle popularly known as Mata Hari – an exotic dancer from the times of World War I who spied for two countries.
The Spy gives an opportunity to look closely into the life of Mata Hari and how she ended up spying. Paulo Coelho has written a romanticised and brief version of Mata Hari's larger than life journey from being a penniless divorced lady to the most fancied dancer of France in the 20th century.
In his book, The Spy, Paulo Coelho uncovers how Margaretha aka Mata Hari lives multiple lives. As a dancer, she shocked and delighted audiences; as a courtesan, she bewitched the era's richest and most powerful men.
The book is named The Spy as Mata Hari was suspected to be an enigmatic double spy for France and Germany. The Spy by Paulo Coelho features letters from Mata Hari to her lawyer who was also her occasional lover. These letters reveal many truths (and lies) about life after being arrested on the suspicion of espionage.
In the end, Mata Hari was executed by the firing squad to whom she blew her last kiss before leaving everything behind.
Unlike other Paulo Coelho novels, The Spy is a fast read but equally engaging. Those who like memoirs are going to enjoy this book to the fullest.
Storyline

Characters

Writing Style
Vowelor Review
Paulo Coelho's novel, The Spy, brings to life one of history's most enigmatic women: Mata Hari. Incredible memoir on the backdrop of WWI.
About the Author: Paulo Coelho
Paulo Coelho is the author of many international bestsellers and is considered to be one of the most influential authors of our time, His literary masterpieces include Adultery, The Alchemist, Aleph, Eleven Minutes and Manuscript Found in Accra.
His Books have been translated into 80 languages and have sold almost 195 million copies around the world. His most celebrated book The Alchemist was on the New York Times Best Sellers list for consecutive 300 weeks.
Paulo Coelho is a member of the Brazilian Academy of Letters and has received the Chevalier de l'Ordre National de la Légion d'Honneur. Among other honours and awards, Paulo was named a United Nations Messenger of Peace in 2007.