The Little Book of Peace by Nola Lucas is a very thoughtful poetry book that focuses on the idea of 'World Peace begins with You'. Nola Lucas published this book in 2021 with Gatekeeper Press.
The book shares inspiring little thoughts for every human to bring back peace and values in their lives especially in today's world.
The poetry is about how to live a better life, how children and parents should involve themselves practically and learn their individual worlds. It's about how to take control of all the problems we face, how money is not the only thing we should be dependent upon.
Here's a snippet from the book
Live knowing that every human life is important and that every person counts.

The taking of any life is never justified, warranted, or just, in the name of any god,
any man, or any cause…

We are human beings. We have the power to destroy and the power to create. We can re-create, replenish, and transform anything that has been done.

Humor is a great tool in serious dialogue.

Listen to a piece of music, read a poem, engage in nature, in some way, every day. Let each and every one of us dance while
making the world peaceful.
Book Review: The Little Book of Peace by Nola Lucas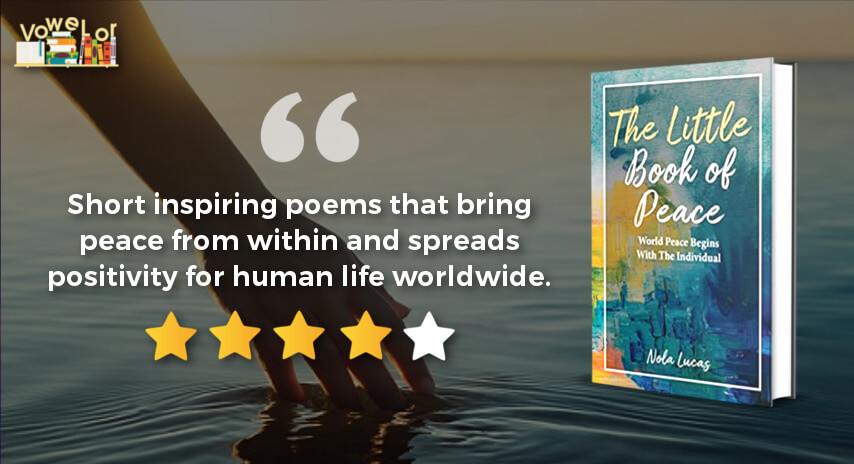 The Little Book of Peace describes its title in little poems divided into little chapters spreading positivity among the individuals and the teachings of values.
The author teaches how to solve problems when a problem arises in front of you. It tells us to embrace the problems we face, try to find solutions, treat them as friends instead of one's enemy. Every problem we face is a path to build opportunities, enjoying them to solve them.
The chapter "Money" explains how to use it by helping others when you have it. It should be used to sustain but not involve our life entirely depending on it. Money should be offered with full spirit, it doesn't matter how much we give.
The author also tells us how children and parenting should be treated with utmost care. She also shares her personal experience with her children.
The book highlights that instead of letting their children be on their wonderful unique selves, parents try to control them in that case a parent misses out on the opportunity to learn how the world for a child grows. Children are like sponges, they soak what they see. If you show kindness, they immerse kindness. If you shout, they learn what they see.
Through this book, the author speaks for a peaceful world, that whenever we find ourselves in a conflict with an individual a commitment can make a lot of difference in the heart of the individual and requires a little physical response. Respect over a human life can bring the creation of peace.
Inspiration
⭐⭐⭐⭐
Relevance
⭐⭐⭐⭐
Writing Style
⭐⭐⭐⭐
Vowelor Review
Short inspiring poems that bring peace from within and spreads positivity for human life worldwide.

4.0
✅ Get your copy of The Little Book of Peace by Nola Lucas on
Amazon now
!
My Thoughts on the Book
Each and every poetry mentioned brings peace within. The perspective that the author shared is widely positive which can be difficult to adapt in personal life but not impossible.
Talking about the author's writing style, she kept the poetry short and easy to read keeping in mind the different age groups, for both men and women.
She meant every word with utmost care and love, sharing her positivity towards the world which could bring a change in the way people think for every individual.
About the Author: Nola Lucas
Nola Lucas is a writer and speaker from New Castle upon Tyne, England. Her debut book 'The Little Book of Peace' was released in December 2021.
She is committed to encouraging respectful dialogue that leads to a deeper understanding of each other and the world in which we all live. She believes that heart-to-heart connections are everything, irrespective of the topic.
Nola also runs the 'Eeeeh…. Magazine' which is aimed to inspire and encourage women especially the local women of New Castle.