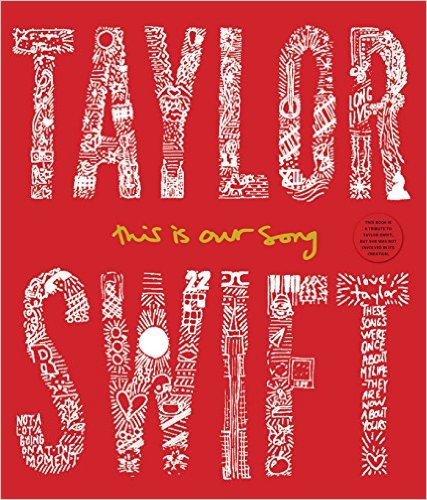 | | |
| --- | --- |
| Book Title | Taylor Swift : This is Our Song |
| Book Author | Tyler Conroy |
| Publisher | Simon & Schuster |
| ISBN | 1501143468 |
| Language | English |
| Pages | 304 |
| Year Published | 2016 |
Book Review : Taylor Swift This is Our Song by Tyler Conroy
This is Our Song is a one-for-all compilation of everything about Taylor Swift . Tyler Conroy, a guitarist, songwriter and a die-hard Swiftie, has made 'Taylor Swift This is Our Song' a reality. This book celebrates a decade of Taylor Swift and her amazing music.
More than just a book, This is Our Song outlines how an unknown sixteen-year-old released a self-titled debut country album and within 10 years reached record-breaking, chart-topping heights. At the age of twenty-six, Taylor has won as much as ten Grammy awards. She has established herself as a musician who can surprise, delight, and inspire, all while connecting with her fans in a way that only she can.
Taylor Swift This is Our Song by Tyler Conroy collects the best writing and images from the past ten years in one gorgeous volume. There is everything from pre-fame interviews to major profiles in The New Yorker & Rolling Stone;  from album reviews by top critics to Q&As at famous talk shows.
To the surprise of readers, this Taylor Swift book features some album themed crossword puzzles and few coloring pages. All of this makes Taylor Swift This is Our Song by Tyler Conroy a must have book for all the Swifties.
Storyline

Appeal

Writing Style
Vowelor Review
Something every Swiftie would die for! Astonishing compilation of everything Taylor Swift.
About the Author : Tyler Conroy
Tyler Conroy could be the biggest Taylor Swift fan ever. Born in Massachusetts, he learned guitar at the age of 15 just to play all the songs of Swift's popular album Fearless. Tyler is now a 20-something-year-old who loves long hikes, DCOMs, red wine, and writing songs about life, love, and Taylor Swift.
His fandom is unimaginable and has met Taylor Swift thrice, been invited to her NYC loft and has 'fearless' tattooed on his left foot in Swift's own handwriting!