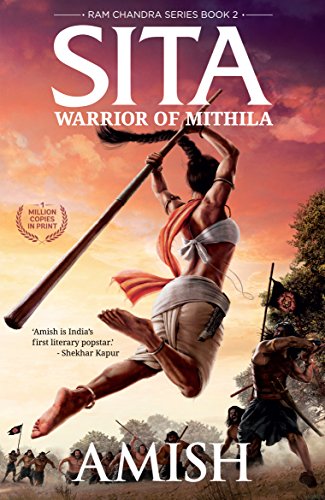 | | |
| --- | --- |
| Book Title | Sita – Warrior of Mithila |
| Book Author | Amish Tripathi |
| Publisher | Westland |
| ISBN | 9386224585 |
| Language | English |
| Pages | 376 |
| Year Published | 2017 |
Book Review: Sita Warrior of Mithila by Amish Tripathi
Amish Tripathi's latest novel, Sita: Warrior of Mithila, is the second book in the Ramachandra series, the much-awaited novel by the readers. The book, Sita Warrior of Mithila, continues the epic started by the first book of the series, Scion of Ikshvaku, and takes the reader on a journey back in time.
The Story : Sita Warrior of Mithila by Amish
The story of Sita Warrior of Mithila begins in 3400 BCE when India was divided into various kingdoms under the rule of countless selfish rulers and corrupt elites. People living poverty face continuous torture by the increasingly powerful demon king, Ravana. Before everything turns into chaos, two powerful tribes decide to protect the land of Gods and begins the search of the savior.
Through the next chapters of Sita Warrior of Mithila by Amish Tripathi, Dashratha, the ruler of a powerless kingdom Mithila, finds a  girl child abandoned in a field. She is mysteriously guarded by a vulture from a pack of wolves. King Dashratha adopts her but he had not wondered that this orphan girl will be the one needed for the protection of the divine land of India from the demonish desires of King Ravana.
Amish Tripathi has brilliantly given the epic story of Ramayana a new flavor with in-depth contemporary writing. Being the second book of the Ramachandra series, Sita Warrior of Mithila is not actually a sequel to the previous book but absolutely an important story to be told in the series. Sita Warrior of Mithila by Amish Tripathi is nothing but an epic journey of an orphan girl becomes a prime minister,  a savior and ultimately a goddess worshiped by one and all.
Watch Now: Sita Warrior of Mithila Official Book Trailer
About the Author : Amish Tripathi
Amish Tripathi is an Indian novelist born in 1974 know for his debut series, The Shiva Trilogy – the fastest selling book series in Indian publishing history. Amish is an alumnus of IIM, Calcutta and has served in financial services for more than 15 years.
He started his writing career with his debut book, The Immortals of Meluha, published in 2010. It was a huge success and Amish wrote two more novels in the series. His most recent book was published in 2015, The Scion of Ikshvaku. The sequel to that book, Sita Warrior of Mithila is released in May 2017.