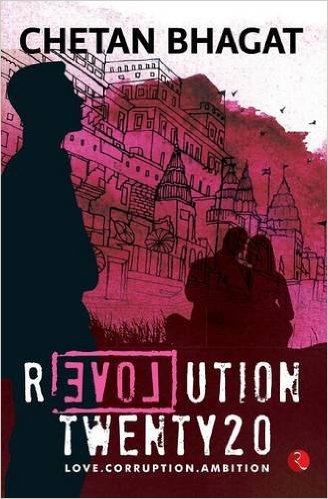 | | |
| --- | --- |
| Book Title | Revolution 2020 |
| Book Author | Chetan Bhagat |
| Publisher | Rupa Publications |
| ISBN | 8129118807 |
| Language | English |
| Pages | 296 |
| Year Published | 2011 |
Book Review : Revolution 2020 by Chetan Bhagat
Revolution 2020 by Chetan Bhagat is a clever combination of dreams, ambitions, and love. Chetan brings all these things to the platter that young Indian reader enjoys. This book, Revolution 2020, is Chetan Bhagat's fifth bestselling novel, It was published in 2011.
The story of Revolution 2020 by Chetan Bhagat revolves around the lives of three friends – Gopal, Raghav and Arti – who live in the holy city of Varanasi. Gopal comes from a middle-class family fighting over land dispute while Raghav's parents are well off. Both the boys are ambitious and intelligent. But, there's a difference between the two. Gopal wants to use his intelligence to bag riches while Raghav aims to revolutionise the political scene of the country. The only female lead character of the novel Revolution 2020 is Arti – the common friend who becomes a common love interest of both the boys. Also, she is the daughter of a District Magistrate and granddaughter of an MLA.
Revolution 2020 by Chetan Bhagat mixes up all these characters in a clever web of corruption and revolution. As the novel proceeds, Gopal gives in to the corrupt politics and becomes the director of a college and Raghav fights against the malicious politicians by exposing them through honest journalism. Arti is torn between her love for defiant Raghav and ambitious Gopal. Towards the end of Revi
Towards the end of Revolution 2020 by Chetan Bhagat, there could have been a dramatic social change in the lives of the characters but it does not come at par. Revolution 2020 is a novel that will not take you long to complete.
Storyline

Characters

Writing Style
Vowelor Review
Revolution 2020 is something any Indian student can relate with. Enjoyable read.
About the Author : Chetan Bhagat
Chetan Bhagat is the most selling English-language novelist in India's history. Time magazine named him amongst the '100 most influential people in the world'. The Fast Company, USA, also listed him as one of the world's '100 most creative people in business'.
Chetan Bhagat married Anusha his classmate from IIM-A and now he lives in Mumbai with his wife and his twin boys, Shyam and Ishaan. He also writes columns on Youth, Career, and Social issues in major English & Hindi newspapers.