Regarding Florians: Flashpoint is a sci-fi novel by Kelly Jo Pardue, which was published in the year 2022. The book follows a daring couple Troy Harlow and his wife Dia from the planet Rygone. They were trying to flee from the planet. But, were they successful or it ended up being a total disaster?
The book cover gave me a very thunderous vibe. It possibly represents the abundant power the female protagonist possesses. Little did I know that it was just a gist and a whole adventurous journey waiting for me.
Book Review: Regarding Florians by Kelly Jo Pardue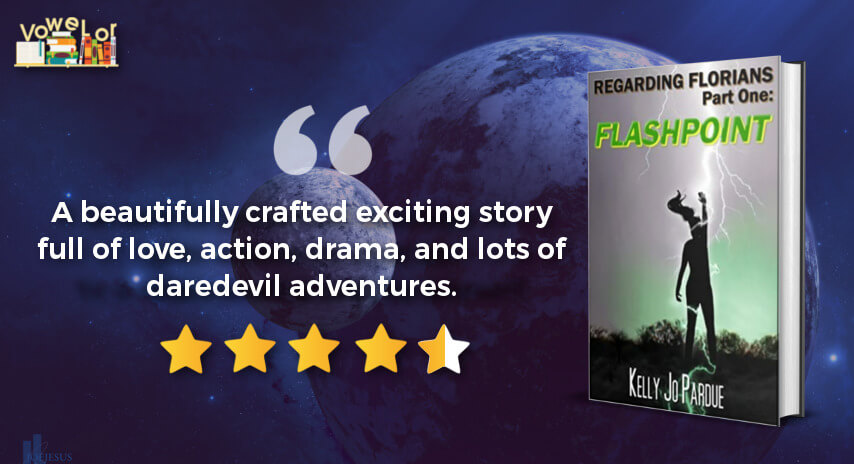 The book talks about two completely different planets. I really liked the way they maintain the suspense and connect two plots together, leaving unresolved for an interesting sequel. I want to discuss each aspect separately in order to make it clear for the readers and would further rate them one out of five.
Setting ⭐⭐⭐⭐⭐
The book is set on two planets i.e. Earth and Rygone. It showcases the people from both planets and creates a fascinating thread between them. Coronians were also shown as the fierce enemy of Rygonians. The story will take an unimaginable twist when Troy will be captured by Coronians and Dia will be thrown into a strange planet called Earth.
The setting was utterly fresh to me as I've never read any such story which makes it so amazing to me. The adventures and torturous journeys of the characters will feel so real to the readers. The suspense that it leaves at the end makes the readers crave the sequel.
Plot ⭐⭐⭐⭐⭐
Dia and Troy are the citizens of the planet Rygone. Troy is a doctor and often performs experiments in his lab. His wife Dia is a beautiful lady and the couple have been living happily for thousands of years.
Until one day one of Troy's experiments went wrong, which accidentally gave Dia mysterious powers. To protect Rygone, Troy and Dia decide to flee from their planet, and from there, their adventurous journey starts.
Residents of Rygone were perplexed and desperately started searching for the missing couple. Their story is full of daring adventures and a beautiful representation of Troy's love for his beloved wife and efforts for their families to bring them back.
Writing ⭐⭐⭐⭐
In terms of readability, as it is sci-fi it includes terms related to experiments, missions, and machines. But, overall it is a fairly easy read and can be easily comprehended by anyone. The whole story is narrated in a very simple manner and it was so much fun to read those characters.
Themes ⭐⭐⭐⭐⭐
The story revolves around Dia and Troy and their daredevil experiences. The story is full of drama, love, action, traitors, and lots and lots of adventures. Such a great story with an amazing imagination and wonderful characters. The eye-catching plot will keep you engaged throughout the entire journey.
Writing Style
⭐⭐⭐⭐
Plot
⭐⭐⭐⭐⭐
Themes
⭐⭐⭐⭐⭐
Vowelor Review: A beautifully crafted exciting story
full of love, action, drama, and lots of daredevil adventures.
4.5
✅ Get your copy of Regarding Florians: Flashpoint by Kelly Jo Pardue on
Amazon now
!
Reasons to add this book to Your TBR
We all love imagination, right? and why not! Regarding Florians is a perfect blend of creative storylines with incredible imaginations and such an engaging plot. It was an absolute pleasure reading this book. A powerpack dose of sci-fi, young adult, stuffed with action, love, drama, and tons of brave adventures.
The book, Regarding Florians, is worth your time. If you're into science fiction then this book is a perfect pick for you. Even if you have not read such genres, and want to try something new you can give it a try. I can assure you, you are going to love it.
About the Author: Kelly Jo Pardue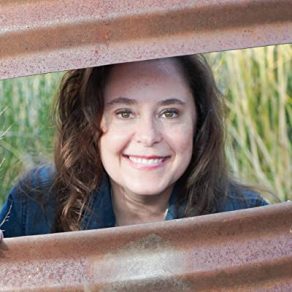 Kelly Jo Pardue is an author, who has worked in the military for years. She lives in Mesa, Arizona. Regarding Florians: Flashpoint is her debut novel published in the year 2022. Kelly is a mother of two and also has cats and Harlow, her service puppy in training.
After trying her hands on mystery and crime genres, she finally knew that sci-fi is her true passion. According to her, she started writing because she needed to do something during her recovery from surgery but that's not going to be her last novel and she didn't any further surgeries for writing.