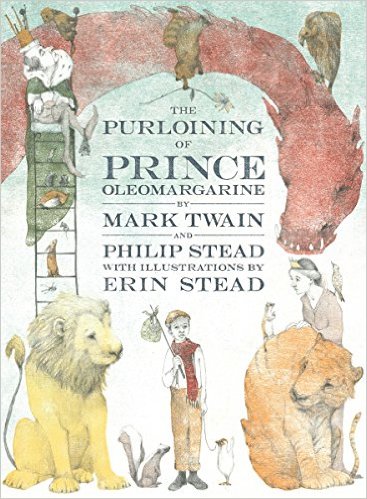 | | |
| --- | --- |
| Book Title | The Purloining of Prince Oleomargarine |
| Book Author | Mark Twain, Philip Stead |
| Publisher | DoubleDay Books |
| ISBN | 0553523228 |
| Language | English |
| Pages | 152 |
| Year Published | 2017 |
Book Review : The Purloining of Prince Oleomargarine by Mark Twain
The Purloining of Prince Oleomargarine by Mark Twain is a lost bedtime story that he used to tell his daughters about Johnny, a poor boy in possession of some magical seeds. Mark jotted the notes about the story of Oleomargarine but could not complete it. This unfinished story has been completed by Philip Stead and released under the title 'The Purloining of Prince Oleomargarine by Mark Twain'.
Mark Twain began this tale of Johnny who is an abandoned kid having a pet chicken. As the story of The Purloining of Prince Oleomargarine unfolds, Johnny meets a kind woman who gives him a handful of magical seeds. These seeds magically make him understand and talk to animals. The woman sends Johnny on a quest to find the stolen prince against the dictator King.
The lost and unfinished manuscript of this book was discovered by John Bird which featured story featuring talking animals, giants, dragons, a kidnapped prince and a wicked king. Eventually, the story reached DoubleDay books and they decided to publish it for young readers. The Purloining of Prince Oleomargarine by Mark Twain might not see an end unless Philip Stead would have reimagined the whole story with a modern twist.
The Purloining of Prince Oleomargarine by Mark Twain also contains the graceful and humorous illustrations by Erin Stead. This posthumous book of Mark Twain, The Purloining of Prince Oleomargarine, gives the precious lesson of generosity, empathy, and quiet courage to the children.
This is a pre-release review of the book, The Purloining of Prince Margarine. The book is set to release on 26 Sep 2017. 
About the Author : Mark Twain, Philip Stead
Mark Twain is one of the greatest novelists of America. His real name was Samuel Langhorne Clemens. Mark Twain wrote several novels, short stories, essays and plays throughout his life. His most popular work, The Adventure of Huckleberry Finn, is known The Great American Novel. Mark Twain died in 1910 leaving behind a legacy that no one can ever match.
Philip Stead is a NY Times bestselling author of the children's book, A Sick Day for Amos McGee. His book also received the Caldecott Medal. He is also an artist and has illustrated a number of his own books. Philip Stead has more than a dozen children's books to his credit.