Padhi Likhi Gawar, written by Hanisha Varma, is a riveting novel that throws light upon the real-life experiences of women in Indian society, discussing the topics that would pinch the ones who are religiously involved in following the 'Pratha' (tradition).
It drops a hammer and breaks the stereotypes upon the women and acts as an eye-opener for the women who are forced to adopt these 'Prathas' and have been following just under peer pressure.
Padhi Likhi Gawar is Hanisha's debut novel which got published in February 2021 by Notionpress.
Here is a snippet from the book:
It is also said that Purdah was a status symbol of higher class women in middle ages. After that practice of keeping women and covering their faces in the presence of outsiders became wide-spread among the upper class women. Gradually, Arabs and Turks brought the rules in India and consequently it became widespread in north India.

The growth of purdah has been attributed to the fear of the hindu woman being captured by the invaders. In the age of violence, women were liable to be treated as prizes of war. Also my dadi said that to beautify their hairstyle ghoonghat was used.

It also mentioned that earlier they made it applicable to women to show respect to elders of the home however I am still unable to understand if any female doesn't keep Ghoonghat does that mean that she is not respecting elders??

How by keeping ghoonghat it is decided that respect is given?

Elders take in their ego if the new bride or daughter in law doesn't take "Ghoonghat"
Book Review: Padhi Likhi Gawar by Hanisha Varma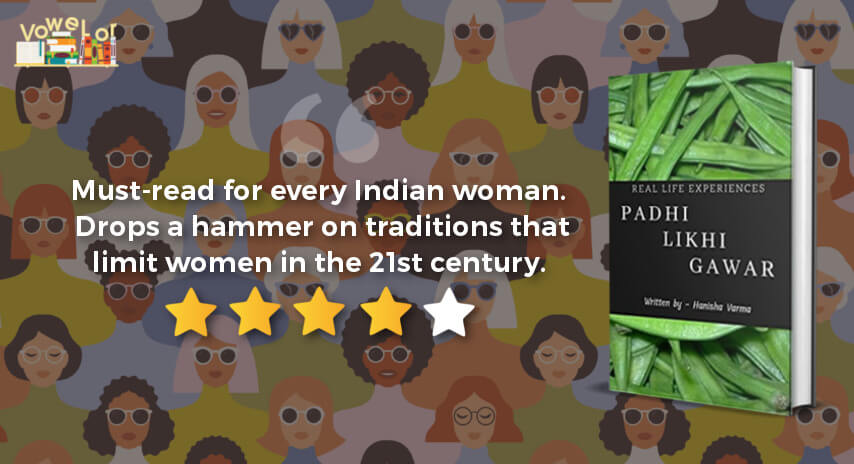 Padhi Likhi Gawar is a collection of ten topics, hence ten individual short stories that pinpoint the issues faced by working women in their daily lives.
Hanisha shares these 10 stories in this book after getting inspired by real-life experiences of herself and people she knows. Padhi Likhi Gawar proves to be a mirror to the society that judges all woman (working and otherwise) and tag them with disrespectful names just because they may not be well-versed in household chores.
The first chapter, Ghoonghat, talks about the story of a young educated married woman who visits her in-law's village and is advised "Beti tu humare gaon me aayi hai, pallu sir se niche na utare and dhyan rakhe baal na dikhe". The author discusses how the pratha of ghoonghat is enforced on the females of the house and how it is deemed to be bad by others in the family.
The second chapter, Ghar Sambhalo, takes on another societal pressure through a story of a newly married woman who wants to work hard and desires to build a beautiful career. It discusses the notion "Ab kaha jaogi, ab tum bas ghar sambhalna seekho" enforced by the mother-in-law against the desire of her daughter-in-law.
The novel further throws light upon a very controversial topic prevalent within the Indian society which is "Good News" with some emotional atyachar. This is a story of a woman who is always focused and super active in her work, a top performer, and also a great housekeeper at the same time.
The author depicts what a working mother with multiple responsibilities has to bear and walk through, balancing both personal and professional lives in order to attain the best for her family.
Towards the end of this novel, the author summarizes eight mistakes done by any female which increase their problems and reduces her presence. Also how small incidents and repetition of such incidents actually play a big role in relationship building or damage.
With this collection of stories, the author tries to describe the situation of educated and working females and the difference in approach of most families within the Indian society.
In the words of the author, "My padhi likhi ladkiya has fear of losing something, fear of being alone, so she manages, she adjusts, she tolerates, even after knowing some facts she just ignores".
Storyline
⭐⭐⭐⭐
Characters
⭐⭐⭐⭐
Writing Style
⭐⭐⭐⭐
Vowelor Review
Must-read for every Indian woman. Drops a hammer on traditions that limit women in the 21st century.

4.0
✅ Get your copy of Padhi Likhi Gawar by Hanisha Varma on
Amazon now
!
My Thoughts on the Book
Padhi Likhi Gawar by Hanisha Varma is a well-plotted novel from fictional reality. The illustrations in the book are fascinating. The concept of connecting all stories with different thoughts and prathas (old customs) is very interesting and nicely conveyed.
As it is a collection of stories of real-life experiences, the detailing of the characters in each of the stories has been done with proper care.
From giving a background to the protagonist within each story to sharing their issues with utmost seriousness, it is told in such a way that the reader could visualize and empathize with the scenarios and the protagonists within each story.
The stories are fast-paced and quite intriguing to read. Beginning from the titles of each story itself, it binds the reader to itself, and then from setting up the plot, the background to addressing the issues and sharing the thoughts, the author has nicely and quite directly has thrown a light on each of the issues discussed.
The flow of the narration is done carefully and smartly, and it never felt confusing though there were several intertwined events. This novel has a nice course of action which makes the reader engrossed in the book with closing thoughts on each of the topics during the end of each story.
The style of writing is catchy, captivating, absolutely bold and blunt which makes this novel a one-sitting read.
About the Author: Hanisha Varma
Hanisha Varma is an author, YouTuber, blogger, and certified fraud examiner. Her debut book 'Padhi Likhi Gawar' got published in 2021 which challenges old customs that are now irrelevant to an extent in the 21st century.
Apart from her book, Hanisha creates content on her Youtube channel 'Hany&Tech' around technology and teaches people to avoid falling for cyber fraud.
Hanisha was born in Mumbai to a Gujrati Patel family. She got married to Ajay Varma. Read the exclusive interview of Hanisha Varma with Vowelor to learn more about her life, works, and future plans.