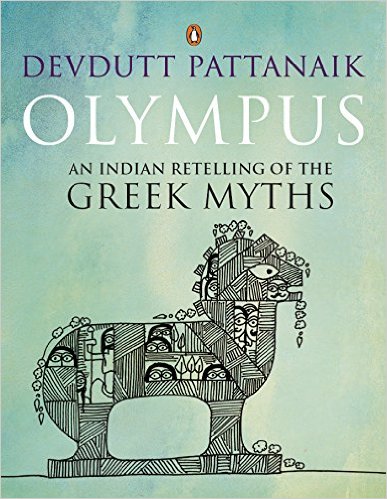 Book Review : Olympus by Devdutt Pattanaik
Devdutt's new book, Olympus,  presents a unique view of Greek Mythology with Indian eyes. It has been centuries that Indian Mythology is being retold by Americans and Europeans. But Olympus by Devdutt Pattanaik is the first book that retells the greek epics unveiling a startling connection with Indian mythological stories.
As known to everyone, Devdutt Pattanaik is well versed in mythology and an enchanting storyteller. In his book, Olympus, he cites some major Greek incidents in his own way and describes how similar they are with Indian mythology.
There are different parallel theories which Devdutt highlights in Olympus. It is surprising to know how Greek God Zeus is strikingly comparable to Lord Vishnu. And the Greek Hero Hercules may indicate towards Hindu God Krishna (Hari-kul-esha).
Another connection between Indo-European roots is revealed in form of two tales – The Greek epic of a husband sailing across the sea with a thousand ships to bring his wife, Helen, back from Troy and the story of Lord Ram rescuing Sita from Lanka across the Indian ocean.
To summarize, Olympus is a book where mythologist Devdutt Pattanaik turns his attention to ancient Greek tales and explores a new world of stories.
Storyline

Characters

Writing Style
Vowelor Review
A surprising and thought-provoking read. Olympus by Devdutt Pattanaik presents an all new version of Indo-European Mythology that hasn't been read before.
The release date of Olympus by Devdutt Pattanaik is 26 Oct 2016.
About the Author
Devdutt Pattanaik is considered as a profound Indian Mythologist. He is known for his famous television show Devlok which aired on Epic. Devdutt has written a number of books on Indian Mythology which connects the modern world with their past. He was a speaker at TEDIndia 2009 and spoke on Myths that Mystify, East versus West.
Being trained in medicine, Devdutt Pattanaik worked for 15 years in the healthcare and pharma industries before he focussed on his passion full time. He is the author of 30 books and 600 columns, with bestsellers such as Jaya, Sita, Business Sutra and the 7 Secret Series.