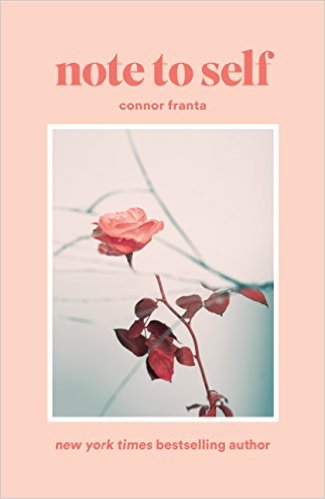 | | |
| --- | --- |
| Book Title | Note to Self |
| Book Author | Connor Franta |
| Publisher | Atria Books |
| ISBN | 1501158015 |
| Language | English |
| Pages | 320 |
| Year Published | 2017 |
Book Review: Note to Self by Connor Franta
Connor Franta, the famous YouTuber and internet sensation, is back with his second novel. Note to Self by Connor Franta brings out the light side of him in a simple and plain memoir which is usually behind the camera. Note to Self, releasing on 18 April 2017, gives and insight to Connor Franta's life after the success of his first book Work in Progress.
In his second book, Note to Self, Connor Franta opens up about how he fought depression and social anxiety. He also tells about the struggle of self-love and acceptance. Note to Self by Connor Franta is something a today's teen should read and learn how to maintain who we are in genuine. Connor has also talked on the subjects like love and loss which he himself felt.
The whole novel, Note to Self by Connor Franta, is told through a number of short essays, poetry and several letters to his future and past selves. In addition to that, there are few exclusive and original photographs by Connor Franta which combines to make Note to Self a fascinating yet inspiring read.
Watch the book trailer of Note to Self by Connor Franta below.
This is a pre-release review of Note to Self by Connor Franta. The book is set to release on 18 April 2017. 
About the Author : Connor Franta
Connor Franta is a 23-year-old American YouTube sensation, bestselling author, dedicated LGBTQ+ philanthropist, and an entrepreneur. Connor's YouTube channel has more than 5 million subscribers. In 2015, his first book A Work in Progress was published. And, it became a New York Times bestseller and the Goodreads Choice Award Winner for Best Memoir & Autobiography (2015).
Also, Connor is the founder of the lifestyle brand, Common Culture, which offers superior clothing, premium coffee, and a variety of undiscovered musical talent under Heard Well, the first label powered by social tastemakers.