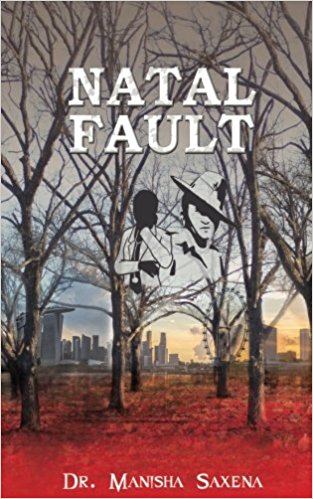 Book Review : Natal Fault by Manisha Saxena
Natal Fault by Manisha Saxena is her debut novel which explores love and war in a classic story expediting two different eras exceptionally. This 222-page novel, Natal Fault, is a strong and immersive read which is may not be an ideal choice for YA readers. But If you're a patient reader and like slow paced stories, then Natal Fault could be your next read. It is published by Frog Books, an imprint of LeadStart Publishing, in Nov 2016.
The Story: Natal Fault by Manisa Saxena
The story of Natal Fault by Manisha Saxena starts with an old-age specialist doctor, Suchitra Nigam, who has a dream to open a healthcare institution for the old age patients in the name of her mother – Rajshree Verma Memorial Foundation. Suchitra is never alone, her inner-self whom she calls Mystoria is always around her.
This novel, Natal Fault, starts slow but as it progresses, things become interesting. Suchitra starts receiving emails from an old age stranger from Singapore. These long emails reveal things that the protagonist didn't know about her past and eventually the socio-political scene of India in 1940s. It is very thoughtful of the author to tell two parallel stories this way. Suchitra – confused and baffled – has no other option then to at first believe what Samarjit has to tell.
Natal Fault is all about how Suchitra discovers about what actually happened in the country in the state of World War II and a warm love story that could never get accomplished. Author has tried an avant-garde attempt combining the contemporary and classic times thus creating a genre in itself against the run-of-the-mill romances and mythological fiction.
The contemporary part of Natal Fault by Manisha Saxena encompasses the examination struggles faced by school students, their career choices, and the elimination of corrupt modes of medical admissions because of the recent actions taken by the government like NEET. Also, the book highlights the kickbacks received by doctors on favoring certain pharmaceuticals.
The writing style is impressive with places for improvement. There could have been lesser use of medical terms and unnecessary synonyms. Also, the cover of the book could be better. All in all, Natal Fault by Manisha Saxena is an impressive debut novel with a touch of classic literary fiction and contemporary storytelling.
Storyline

Characters

Writing Style
Vowelor Review
An impressive debut novel with a touch classic literary fiction and contemporary storytelling.
About the Author: Dr. Manisha Saxena
Dr. Manisha Saxena is a pediatrician based at Bharuch, Gujarat. A National Talent Search Scholar of NCERT, New Delhi, she has received her education at Mount Carmel School, S M College and JLN Medical College, Bhagalpur.
Dr. Manisha has also received training in Indian classical vocal music and has a keen interest in reading, writing, travelling, public speaking, photography and painting. She was an active contributor of blogs, travel videos, film reviews and photographs to the Citizen Journalist show on the TV channel, CNN IBN, during the years 2013-14. Manisha is married to surgeon Dr. Anupam Saxena, and has two children, Shaurya and Shikhar.