Tim Hatch's book, Move: Entering into God's Promises for You, is a practical and uplifting book that focuses on 'movement mindset'. It is the debut book of Tim Hatch that was published by Sermon to Book in 2021.
The book discusses the lives of Joshua and Caleb and through their actions, the reader can learn to lead a life of acceptance, seek God's presence and his plans to move forward positively.
It helps you not to fear the change and move forward rather than being stuck into your current life condition.
Here's a snippet from the Book:
Nothing brings as much anticipation as a vacation. It means time away from the kids, away from work, away from social media, email, and phone calls. We look forward to these trips, oftentimes counting down the days or mapping out what adventures we will take once we're there.

But then what happens? We arrive, we look around, we do a few things, and then we start looking forward to going home. "I'm ready to get back into my routine," we say. "I miss being home." The vacation ends, and we head home. Then what happens? "I should have enjoyed that time more! If only I could be on the beach again!"

We go on vacation because we can't stand being where we are. Then we get there, and it's not enough. We want to keep moving. We habitually want to be somewhere other than where we are. We want movement.
Book Review: Move! Entering into God's Promises for You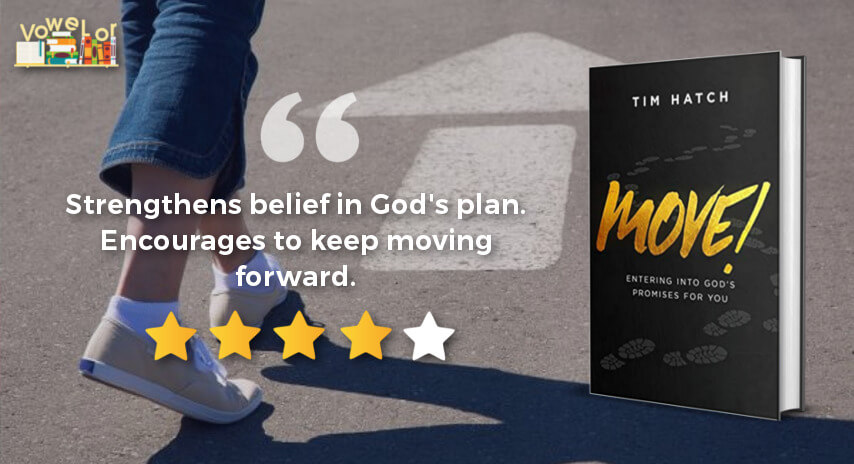 The writer tells us about the movement that is required for everyone in order to walk towards betterment. God has plans for everyone he created; with faith and patience in oneself, we can see the changes.
Joshua and Caleb were the only two who could follow God's plans till the end; the story further moves with the plans these two made to move with God.
There may be problems and setbacks while achieving a certain dream but it is recommended to take them as an opportunity or think of it as if God had set us up for a victory.
The book further talks about Karma that people are following but the author explains that God does not operate according to Karma. He operates according to grace, and grace is undeserved.
If we move with God we have to clear the negativity in our head, we have to forget the negative attitude moreover believing in better things and trusting the one who is in control.
The author also emphasizes that we are in a constant movement, be it inside our body between the blood cells and heart pumping blood or the earth's rotation. There are times when we doubt things about being so good in life, we stop for a moment and think about it; we actually miss a precious time of moving forward.
The belief and moving at a normal speed without rushing into things are planned by God; every plan is made up there; we just have to keep moving forward without taking a setback.
In the book, Tim also clarifies the thought that we all have in mind about ourselves that God loves us the way we are; God doesn't love us that way in fact we are in constant need of a change within us.
We are all one body playing different roles. There is no such thing as secular work for the people of God. The work we do is sacred because we are doing it as temples of the Holy Spirit.
In a world where people are constantly discouraged, be the shooting star for someone and encourage them in the right direction; remind them that God is with us.
Storyline
⭐⭐⭐⭐
Characters
⭐⭐⭐⭐
Writing Style
⭐⭐⭐⭐
Vowelor Review
Strengthens belief in God's plan. Encourages to keep moving forward.

4.0
✅ Get your copy of Move by Tim Hatch on
Amazon now
!
My Thoughts on the book
Apart from the guidance, every chapter has a workbook, in the end, to make the reader understand and clear their mind towards being optimistic. The chapters are divided beautifully with different topics and stories so it does not confuse the person reading it.
The stories are completely related to real-life incidents happening around us or within us; readers would enjoy how the negative thoughts that are captured inside will have a positive impact while turning each chapter.
The chapters and the divisions in it are totally encouraging for people like us to Move forward with a positive mind in life.
About the Author: Tim Hatch
Tim Hatch is an author and pastor at Waters Church, Massachusetts. Tim's debut book, Move, got published in 2021. Tim believes in sharing gospel-centered solutions to modern-day problems of the young generation. And, that is one of the inspirations behind writing this book.
Not only writing, but Tim also runs a podcast 'The Deep End' where he discusses faith, the Bible, politics, society, etc. Tim also leads a TV show 'You Matter to God' which is aired across Southern New England reaching 400,000 homes every week.
Read the exclusive interview of Tim Hatch with Vowelor to learn more about his life, works, and future plans.