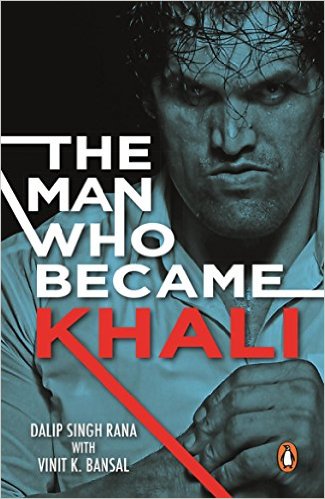 | | |
| --- | --- |
| Book Title | The Man Who Became Khali |
| Book Author | Dalip Singh Rana, Vinit K Bansal |
| Publisher | Penguin Random House |
| ISBN | 0143426230 |
| Language | English |
| Pages | 192 |
| Year Published | 2017 |
Book Review : The Man Who Became Khali by Dalip Singh Rana
The Man Who Became Khali is the biography of Dalip Singh Rana which is co-authored by Vinit K Bansal. This inspiring book, The Man Who Became Khali, traces the journey of a common man rising from the mediocre life to the heights of fame. No Doubt, The Man Who became Khali is the unimaginable journey of Dalip Singh Rana who became the first Indian wrestler to enter the WWE ring.
Life of The Great Khali, formerly known as Dalip, was something not everyone could survive. During the early years, he has to leave his studies and work as a daily wage laborer. It wasn't easy for Dalip right from his childhood as he was always a subject of fun and ridicule because of his extraordinary size.
The Man who Became Khali is all about the passion and determination of Dalip Singh and how he blended his energy and the abnormal size to achieve his goal of wrestling. It was his passion and hard work that made Dalip Singh, The Great Khali. And eventually, he became the winner of the WWE World Heavyweight Championship. The Man Who Became Khali by Dalip Singh Rana is emotional, inspiring and revealing account of the life of Dalip who actually became the international icon – Khali – fighting his destiny and physical anomalies.
Inspiration

Writing Style
Vowelor Review
Inspiring to the size of the man himself. Proves how negative could be turned into positive.
Get your copy of The Man Who Became Khali on Amazon now! – Click Here.
About the Author : Dalip Singh Rana, Vinit K Bansal
Dalip Singh Rana is an Indian heavyweight wrestler who became the first Indian to enter the WWE and win the World Heavyweight Championship. His determination and passion are truly inspiring and something everyone could learn from.
Vinit K Bansal is an Indian author who started his journey as a poet and soon, he made his mark as a famous author and editor. His first novel 'I am Heartless' created a sensation in the Indian writing industry. His books are widely considered as one of the top ten Indian romantic novels that redefined romance.
Vinit's anthology series 'Uff Ye Emotions' has been the synonym of success in the romance segment. Apart from writing, he is a creative consultant and a motivational speaker as well.