Love Unexpected is a romantic fiction written by Ritu Kakar and published by Srishti Publishers in 2020.
This is Ritu Kakar's second book. Her first book 'One Precious Moment' came out in 2018. Love Unexpected brilliantly packs the emotions of love, friendship, family bonding, and care; all of them in one interesting story.
Here's a snippet from the book 'Love Unexpected' by Ritu Kakar.
My hands are in the air, grasping for support. Alas! Despite all efforts, things are blurry and moving so fast all around me that I know my attempts to save my fall would fail.

My tote bag is now on the ground somewhere. I am cursing aloud without realizing I am doing so, while I try to break my fall. When all of a sudden, out of nowhere, I am pulled hard to safety by strong, warm and caring hands. He yanks me close, right against his chest.
Book Review: Love Unexpected by Ritu Kakar
The story is about an independent girl named Kaira, who loves being herself and cannot compromise with her ambitions. She is a charming lady who has very little control over emotions and loves to be the center of attraction.
Characters:
Kaira – The protagonist
Sam – Kaira's brother
Tasha – Sam's wife
Drew – Tasha's brother
Brag – Tasha's father
Kaira is a strong independent woman who is full of life and runs a book cafe someday. Kaira is the apple of the family and bonds well with every member of the family.
Sam, who happens to be Kaira's brother, plays an essential role in the story. He stands by his sister through thick and thin and doesn't mind picking up a fight to protect his baby sister.
Tasha and Kaira are best buddies and neighbors too. They are inseparable and are the first ones to know about each other's life.
Tasha warns Kaira about her brother Drew when she finds out their closeness. Kaira ignores the warning and gets closer to Drew. She loves everything about Drew without actually knowing his real personality.
Unfortunately, Drew turns to be a jerk, and uses every opportunity to get into her pants. When Kaira faces the bitter truth, she attempts suicide, impacting the wedding of another love birds – Sam and Tasha.
The story takes a turn when Kaira meets Aveer, the business tycoon who's willing to invest in Kaira's cafe. Aveer, the most sorted and matured man, falls in love with Kaira and proposes to her.
The plot revolves around how Kaira copes up with her past experience and starts her life all over again, trying to trust a stranger and fall in love again.
Storyline
⭐⭐⭐
Characters
⭐⭐⭐⭐
Writing Style
⭐⭐⭐⭐
Vowelor Review
Quirky writing and relatable characters keep you hooked till the end.

4.0
✅ Get your copy of Love Unexpected by Ritu Kakar on
Amazon now
!
My Thoughts: Why You Should Read this book?
The story is very predictable, yet one is hooked to the book. The characters are well defined, and every character plays an important role in the protagonists' life.
Needless to say, the language is quirky, and the writing style definitely deserves an appreciation. One would definitely resonate with the story and feel the connection with the characters. I am sure there is Kaira, Sam, Tasha, and Drew in everyone's life.
I enjoyed reading the story plot, and the twists in the story kept me expecting more from the author. If you are on a vacation or are planning for a quick read over the weekend, this book is apt.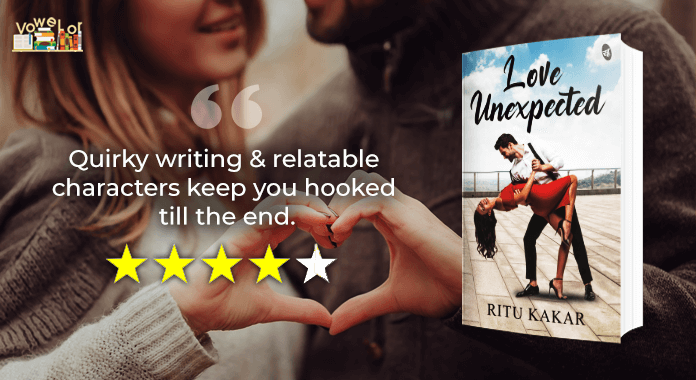 About the Author: Ritu Kakar
Ritu Kakar is a Delhi-based author who has written two books. Her first book was One Precious Moment which she published in 2018.
Ritu loves reading and telling stories since her childhood. She got married at an early age and did not complete her graduation. She has two teenage children and a loving husband.
And, with the support of her family after marriage, she pursued her passion for writing. Her second book 'Love Unexpected' was released in January 2020.
Read our exclusive interview of Ritu Kakar to know more about her life and her future books.