Pawan Badalani's book 'Level Up' is a collection of 12 actionable lessons from 12 different life coaches to level up your life conditions – physical, mental, professional, and social. The book was published in 2021 by Penman Books.
Among the 12 contributors to this book, there are celebrated experts from different countries including Krissann Baretto, Julie Mullins, Dr. Anamika Chawhan, Jitesh Chhabria, Michelle Diaz, and more.
Each of these life coaches shares their experience on different aspects of life including mental health, relationship, productivity, social media, fitness, food, handwriting, positivity, and more.
Here's a snippet from the Book:
Every single thing that you want, you believe that when you get it or when you achieve it, you will feel better, better than you are feeling right now Your emotions are the motivator. So, the end result is that you want to feel good. So, you have these beliefs that you have made up in your head that this person needs to be a certain way or I need to have this expe-rience in life or I need to reach this goal and after that I will be happy. This is absolutely not true.

You can be happy right now. You can choose to be happy right now. You can choose to be positive every day, you can choose to be grateful every morning when you wake up, you can choose to leave a situation, live your life in a certain way, no matter what your condition and what is happening to you in life right now, you have the ability to be happy right now. And believe me, it works.
Book Review: Level Up by Pawan Badlani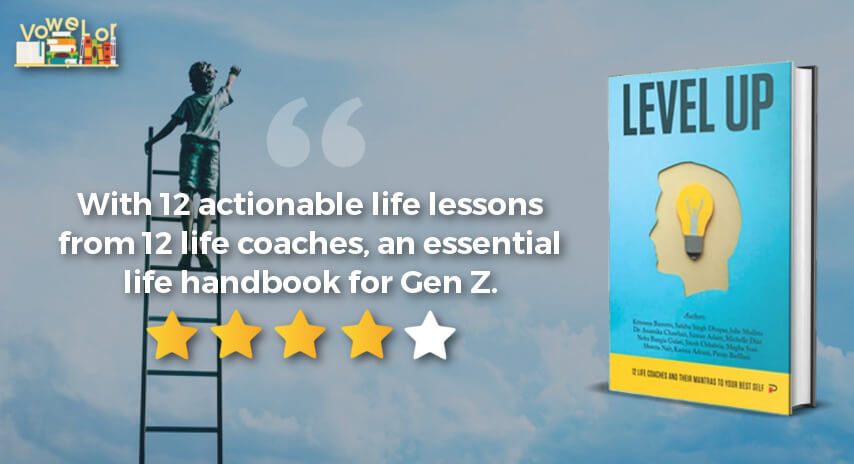 The book, Level Up, has 12 chapters, each written by a different author and about a different topic. So, you can read any chapter separately without having to worry about what's there in the previous chapter or the next chapter.
The first chapter is Happiness Life Hacks from Krissann Barretto who is an actor and a happiness coach. She talks about how school never taught us to be happy and what we need to understand in order to feel happy in every moment. She introduces readers to the types of happiness and shares happiness life hacks along with exercises including manifestations, daily rituals, visualizations, etc. that you can practically do in your life and see the difference.
The next chapter is Decoding Your Persona by Sahiba Singh Dhupar, a personality coach with over 6 years of experience. Here you'll learn to first understand your persona and then work on it to transform your personality. Sahiba shares helpful communication methods, important etiquettes, dressing, grooming, and body language. Lastly, she focuses on finding and accepting what you are really with Self-love.
Julie Mullins, a renowned healer and a mentor from LA, takes the topic of Self Love even further. Julie explains what actually is self-love, how it is different from self-care, and highlights 10 ways to absolute self-love. These methods will help you to heal, forgive, trust and accept yourself fully.
In the fourth chapter of Level Up, Dr. Anamika Chawhan, a cognitive scientist and Ph.D. from IIT Bombay, discusses the Formula for Premium Pricing. Anamika shares really interesting insights on pricing and the perceived value of the product. Entrepreneurs can learn a lot about optimally pricing their product/services thus improving their brand perception as well as revenues.
The next chapter, Fuel Your Fire, comes from Saman Aslam, Pakistan's first female and youngest graphologist. She talks about how modern lives can be exhausting and what are the ways to refuel yourself with motivation, emotion, intelligence, mindfulness. In the end, you get 9 exercises to explore your inner-self.
Michelle Diaz, a mediation teacher from Miami with 20+ years of experience, brings the next chapter on Unlearning and Rebuilding. She highlights how humans are accustomed and we must unlearn to rebuild ourselves. Michelle tells you how simple it is to start meditating and unravel the infinite power inside you.
In the seventh chapter, Neha Bangia, a renowned fitness coach, talks about physical fitness and what being fit actually means. It is a motivating chapter that gives you the hacks to start your fitness journey, overcome the hurdles, eating right, and balancing the workout regime.
The eighth chapter is about Social Media and its impact on our mindset. Jitesh Chhabria, an experienced performance marketing expert, talks about the negative influence of social media on millennials and the right ways to use it for self-improvement instead. Jitesh also shares tips on how to grow social media accounts organically.
The next chapter, You are your own Therapist, is by Megha Soni who is a student and a graphologist. Here you'll learn that a healthy state of mind is a journey, not a destination. Megha brings a psychological perspective to mental health and how our subconscious can help you to be at optimal mental health.
Another student and spiritual learner, Shweta Nair, talks about the Power of Belief. She highlights challenges are the most common thing among all human beings and most of us fear facing these challenges. You'll learn how powerful belief in ourselves, our wisdom, our actions can help you burst the bubble of negativity.
The 11th chapter is Food for Thought from Karena Adnani, a nutritionist and celebrity dietician. Karena talks about the impact of what we eat on our mind and body. She shares food types that positively impact our mind, feelings, and mood. She also provides 10 ways to control emotional eating.
In the last chapter, Pawan Badlani himself discusses the effect of handwriting and signatures on your personality. He shares how minor details like letter size, pressure etc. can tell so much about you as a person. Understanding these traits, you can work on yourself and improve.
In each chapter, there's something to learn for every kind of person. Overall, Level Up by Pawan Badlani is an essential life handbook for the young generation who fall prey to different problems in their lives.
Relevance
⭐⭐⭐⭐
Practicality
⭐⭐⭐⭐
Writing Style
⭐⭐⭐⭐
Vowelor Review
With 12 actionable lessons from 12 life coaches, an essential life handbook for Gen Z.

4.0
✅ Get your copy of Level Up by Pawan Badlani on
Amazon now
!
About the Author: Pawan Badlani
Pawan Badllani is an author, a renowned Graphology & Handwriting analyst from Mumbai, India. He has written 3 books. His debut book 'Inspire Me with Your Success' was published in 2018 while the latest one 'Level Up' was released in 2021.
Pawan is also a certified NLP practitioner and has helped 10000+ clients across the world with his workshop sessions. He also had his own TV show on handwriting/signature analysis.
Read the exclusive interview of Pawan Badlani with Vowelor to learn more about her life, works, and future plans.